A driver is in custody facing potential smuggling charges after Texas deputies were alerted by cries and knocks from inside a trailer during a traffic stop.
According to the Atascosa County Sheriff's Office, a deputy was conducting a traffic stop near Poteet, south Texas, when she decided to conduct a search of a vehicle and trailer.
"There, after hearing knocking and pleas for help from under a pile of construction materials, 16 victims of human smuggling were located," said the Sheriff's office in a statement published on May 20 on Facebook.
Photographs suggest that the timber had been arranged to create a crawl space where the victims were found.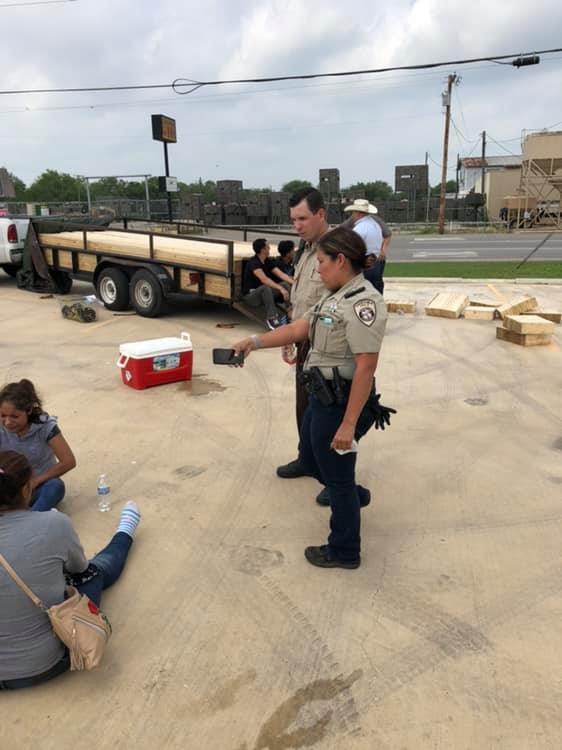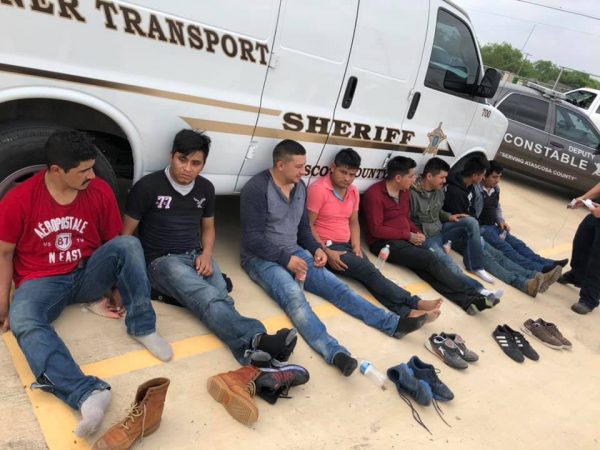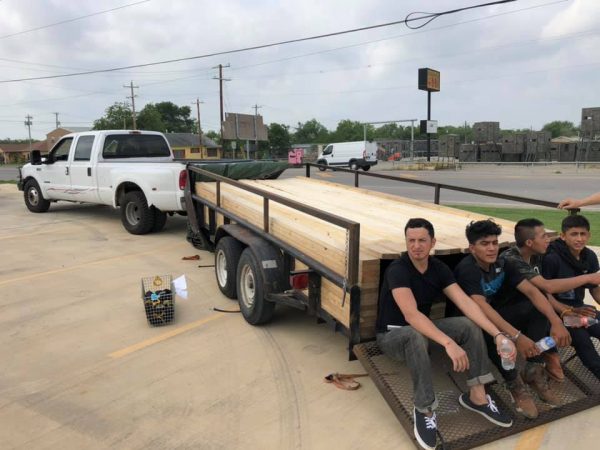 "Two female victims were transported to Methodist South for heat-related medical issues," said the statement. "This could of been much worse, but with proactive police work, we feel 16 lives were saved today from untold trauma. The driver is in custody and could be facing possible federal smuggling charges."
The driver is not named in the report and there has been no update on whether authorities have charged them with a crime at this point.
In March this year, Texas deputies caught a pick-up truck on camera just north of the Mexico border with around 20 people crammed inside. When the deputies pursued the truck, all 20 individuals tumbled from the vehicle and fled on foot.
Brooks County Sheriff's Office shared footage of the moment in a Facebook video.
Illegal immigrants pay smugglers up to $20,000 to cross the Rio Grande River that forms part of the border nearby, according to the Border Patrol.
"There has been figures from $1,500 to all the way up to $20,000," Border Patrol agent for the Rio Grande Sector, Carlos Ruiz, told NTD News on April 18.
According to Border Patrol, immigrants can be split into two camps: those who actively seek out border patrol once they've entered the United States, and those who try to avoid them.
Family units often get a discount because they seek out agents.
"These people are charged a little bit less, from what we understand, since they're just being dropped off and they actively look for Border Patrol," Ruiz said. "So all they have to do is bring them across the river, so their charges are less, the smugglers don't have to work as much."
Out with #BorderPatrol in Mission, Texas, and just caught 7 Chinese, 1 Mexican, and 1 El Salvadoran minor. All trying to evade capture. Chinese man said he paid $15k for the whole package (flights to Mexico, smuggled across border) pic.twitter.com/Ic9MPhg7le

— CharlotteCuthbertson (@charlottecuthbo) April 18, 2019
460,294 = Border Patrol apprehensions for first 7 months of FY19

$1,500 = low-end price per head paid to smugglers

$690,440,000 = total paid to smugglers/cartels.

This is a low estimate—illegal immigrants from some countries, such as China, pay up to $15k per head. pic.twitter.com/l2Un0SGEdH

— CharlotteCuthbertson (@charlottecuthbo) May 14, 2019
Those attempting the border crossing don't just come from Mexico, or even from South America. Chinese nationals have also been detained at the border.
About 300,000 migrants from around the globe entered Mexico with the intention of illegally crossing into the United States in the first three months of 2019, according to Mexican officials.