A Texas man is dead after he lost control of a Lamborghini Gallardo on a Dallas street, according to reports.
Citing Dallas police, The Dallas Morning News reported that 36-year-old Taylor Sims was speeding in the Lamborghini on Friday, June 7, when he spun out.
The Gallardo hit a curb and wooden pole, CBS reported, before rolling and coming to rest on its roof.
The news outlet reported Sims was pronounced dead at the scene of the crash.
The accident took place several blocks away from Dallas Performance, a luxury-car customization and repair shop that Sims founded.
"Taylor serves as the President of Dallas Performance and is the exclusive engine tuner," the shop notes on its website. "He routinely flys [sic] around the world to help push shops and other teams to the next level. He also serves as the new product development and design lead for the company."
Sims was married with three children, according to a GoFundMe page set up to help his family with funeral costs.
"Anything will help them through this extremely trying time," the campaign page states. "We are never prepared for things like this whether it be physically, emotionally or financially. Anything can help even just a prayer. Please keep the Sims family in your thoughts as they adjust."
Condolences have poured in via GoFundMe and social media.
"I met Taylor in person just 2 weeks ago," writes Brian Ulrich. "I showed up at the shop with just a 1 day notice. I know he was a busy man but that didn't stop him from showing me around the entire facility, taking me out to lunch and even giving me a ride in a twin turbo huracan. Hard to come across good people now a days. He will be missed."
"God speed brother," writes Skip Harmon. "May your family be supported by the culture of our racing family."
Texas Motorplex posted a photo of Sims and his family, along with the note, "We are saddened to hear of the tragic passing of our friend Taylor Sims, owner of Dallas Performance. Please join us in praying for his family and friends."
By Sunday the GoFundMe campaign had raised more than $75,000 to help the family.
Crash Deaths in the United States
Tens of thousands of people are killed and millions injured each year from motor vehicle crashes, according to the Centers for Disease Control and Prevention. The CDC says these deaths cost more than $380 million in direct medical costs in 2013.
The major risk factors for crash deaths in the United States are: not using seat belts, car seats, and booster seats (factors in over 9,500 crash deaths); drunk driving (a factor in more than 10,000 crash deaths); and speeding (contributing to more than 9,500 crash deaths).
According to 2017 data from the CDC, the 10 leading causes of death in the United States were: heart disease, cancer, unintentional injuries, chronic lower respiratory diseases, stroke, Alzheimer disease, diabetes, influenza and pneumonia, kidney disease, and suicide.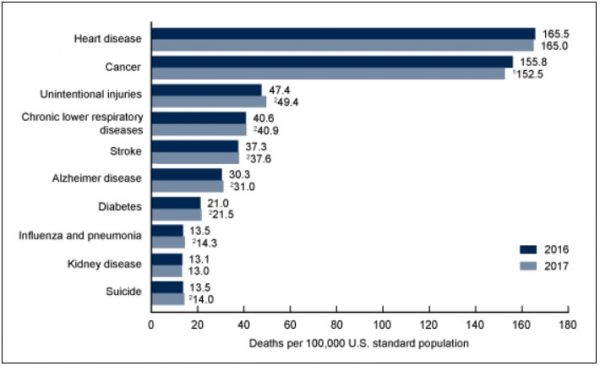 The most common unintentional injuries were: unintentional poisoning deaths (58,335), followed by motor vehicle traffic deaths (40,327), and unintentional fall deaths in third place (34,673).
The total number of emergency department visits for unintentional injuries in the United States in 2017 was 29.2 million, according to the CDC.
These 10 leading causes accounted for 74 percent of all deaths in the United States in 2017.