PASADENA, Calif.—Hundreds of gallons of fuel flowed into the Alhambra Wash Dec. 19 after a vehicle struck the gasoline pump in Pasadena, authorities said.
The incident occurred Sunday around 3 p.m. at the 76 gas station located on Arroyo Seco Parkway and Glenarm Street.
What appeared to be a black SUV smashed into the pump while backing up, according to security footage.
After finding out the pump was damaged and oil spewing, the driver reported the incident to Pasadena Fire Department.
The nearby City of San Marino reported the damaged pump had spilled 800 to 1,000 gallons of gasoline.
The fuel leaked into the storm drain that ultimately lead to the Alhambra Wash, a Rio Hondo River tributary.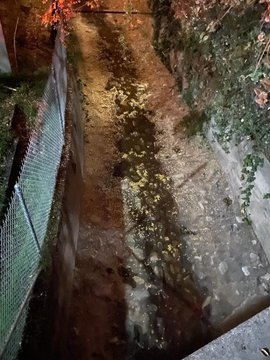 "LA County Hazmat and a private contractor will continue the clean up on the gasoline spill until 2pm [Monday]. They are coordinating the cleanup throughout the wash, starting in Pasadena, passing through Alhambra and ending in San Gabriel. All Alhambra crews have been released," City of Alhambra wrote on Twitter.
Los Angeles County hazmat crews, Pasadena Fire Department, Alhambra Fire personnel, and other area resources are all on scene responding to the oil spill, according to the City of Alhambra's Dec. 20 Twitter post.
The City of Alhambra is calling on residents living along the wash to stay inside and close all windows to prevent the unpleasant fuel odor.
As the clean-up work continues, LA County Hazmat will investigate and determine the environmental effects of the spill, a spokesperson from Alhambra said.