Drinking Water Containing Blood Flukes Only Way to Survive
August 28, 2006 12:00 am Last Updated: August 28, 2006 12:00 am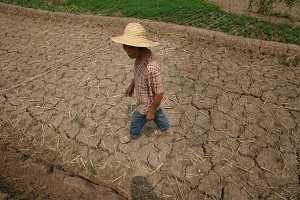 CHINA – Recently severe drought has hit many regions in China. Water reservoirs and rivers in these regions have virtually dried up. Residents are faced with the prospect of diminishing food and water supplies. Four hundred thousand residents in Zhangjiajie City, Hunan Province are facing the most severe drought in 40 years and are dealing with water shortages. Villagers in Nandang Village, Nanjing City, have been without clean water for two months and are forced to drink water containing blood flukes.
Over 4000 People Survive on Water From One Well
According to the Xiaoxiang Morning, the weather in Zhangjiajie City, Hunan Province continues to be hot as the average rainfall has fallen 93 mm—a 170 mm decrease compared to the same period last year. Ninety one towns and townships in the city, 1.16 million acres of farmland, 400 thousand residents, and 120 thousand large livestock are suffering from the extreme weather.
Currently, several mid- to large water reservoirs in Zhangjiajie City have reached their lowest levels. Yongding, a district within Zhangjiajie City, has 87 water reservoirs; 33 of which are at minimum storage capacities and the rest contain less than 20 percent of their storage capacities. Since mid-July, over 4000 residents from a township in Yongding have no running water and have to buy water from a small well in another village. Water from that well costs 20 yuan per cubic meter (approximately 1 cent per gallon), which is 200 times more expensive than tap water.
Villagers near Nanjing City Drink Water Containing Blood Flukes
Over 3000 villagers near Nanjing City in east China have had no drinking water for more than two months. Villagers have to drink water from Shuiyang River that runs by the village. Shuiyang River is infested with snails that carry blood flukes, which causes a parasitic disease known as schistosomiasis. Infected patients display symptoms of seizures, paralysis, or spinal cord inflammation. For people who are repeatedly infected over many years, the parasite can damage the liver, intestines, lungs, and bladder. The Jiangsu Provincial Institute of Parasitic Diseases has banned water usage from the River. However, villagers state that it's better to drink the 'contaminated water' than to die of thirst."
Mr. Sun, who is the village elder, told a reporter from Xiandai Express that there are over 3000 residents in the village. The residents had each paid 700 yuan (US$85) several years ago to have a domestic water system installed but the water supply had never met their needs. Since summer, there has been practically no water coming out of the taps.
Villagers, knowing that water from the Shuiyang River is disease-ridden, have to risk contracting schistosomiasis by drinking water from the river since there is no tap water. The water near the riverbank is stagnant and infested with flies and mosquitoes. Village authorities said that even so, villagers still get up at 5 am every day to retrieve water from the river. They come to the river about two to three times a day. Along the riverbanks, one can often see villagers waiting in line to get water. "Diseases can be cured but one can not survive without water. It's better to be sick than die of thirst," said a villager.