Emerging from Chicago's South Side, drill music is known for its dark and violent lyrics that often reflect the harsh realities of gang life.
Like grime in the 2000s, drill rap has become a controversial topic in the UK music world, with London police associating the hip-hop subgenre to the recent surge of violent crime in the capital.
In the UK, authorities are trying to restrict parts of the drill music scene that they believe incite violence.
Whereas in the United States, drill music is more likely to be seen as speech protected by the First Amendment.
Measures After Online Feuds Turn Real
Several murders in the UK have been linked to drill music videos.
In a killing last May, music producer Dean Anthony Pascale-Modeste was walking down a street in south-east London when he was surrounded by men on mopeds and stabbed 14 times. He was heading to a recording session with two men associated with a gang called "Splash."
Both Splash and their rivals "B-side" had traded insults with one another in drill rap videos uploaded to YouTube.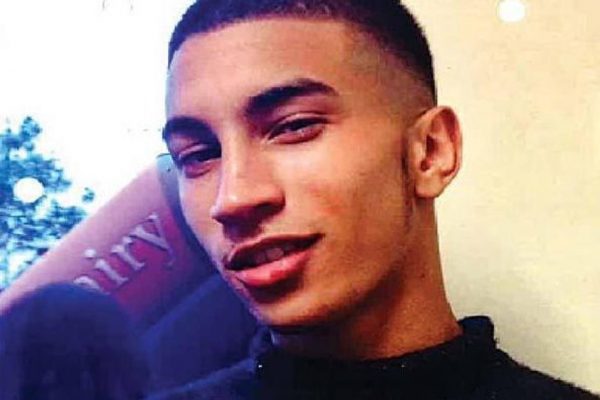 Such violent acts have led authorities to start imposing restrictions.
Since July 2016, London's Metropolitan Police has requested Google to remove a total of 98 drill music videos from YouTube. As of Oct. 4 this year, it had taken down 61. The online platform rejected 20 of those requests and 17 are pending.
Glamorizing Violence?
This isn't the only case where London police have restricted speech.
Over a two-year investigation, local police officers kept track of the "1011" drill music group in West London, and said they found evidence that the group's rap lyrics and social media activities were promoting violence.
Several of their videos referred to actual murders and stabbings, and contained graphic threats and gun hand gestures that authorities say incited violence against their rivals "12World."
All five members of that group whose online videos were viewed over 15 million times, pleaded guilty to conspiracy to commit violent disorder in June after police found them armed with machetes. The group appeared on British hip-hop DJ Tim Westwood's TV channel last October.
According to court documents, 1011 had planned a revenge attack on their rivals 12World, who filmed themselves verbally abusing and threatening the grandmother of a 1011 member in a drill rap video uploaded to YouTube.
In addition to time behind bars (ranging from 12 months to 3.5 years) members of 1011 were handed court orders, called Criminal Behaviour Orders (CBOs), "preventing them from making drill music glorifying violence."
Detective Chief Superintendent Kevin Southworth said in a statement that the music was being used to incite violence.

"This is one of the first times, if not the first time we have succeeded in gaining CBOs that take such detailed and firm measures to restrict the actions of a gang who blatantly glorified violence through the music they created," Southworth said.
The CBOs ban the men from meeting in public to make music without permission from police for the next three years. They must also notify police of any new official music videos within 24 hours of publication.
Further restrictions in uploaded music videos or live performances include, not being allowed to reference specific postcodes, street names, certain gangs, gang members' names including pseudonyms, or referring to their death or injury.
In a case in September, eight members of another West London gang were issued with similar CBOs and were sentenced to a total of 15 years and two months, after an altercation that left one minor with life-threatening injuries.
An increasing number of CBOs like these are being applied for and granted, said Detective Constable Steve Renny in a statement.
"We are not trying to prevent young people's artistic expression but when music is being used to encourage violent attacks we must act, as the public would rightly expect us to do so," said Renny.
A Reflection of Reality
Drill rappers describe the music is an expression of their lived reality.
Drill music erupted on the international scene in 2012 when YouTube videos by Chicago drill rapper Chief Keef went viral, and his hit "I Don't Like" was re-mixed by Kanye West.
Raw, repetitive, with heavy beats, it references gang life including weapons, illicit drugs, and attacking rivals.
Those beats infiltrated hip-hop, and a strand of the genre soon embedded itself among south London's public housing projects.
"The thing that really made drill music popular was that it was so raw and very uncut, it wasn't commercial," said Branden Tatum, a radio personality who grew up on Chicago's Southside.
"It was different from the 'gangsta rap' of 2012," he said. "They are just saying what they've been through, telling their struggle on how they have to live their life."
Charlie Ransford, director of science and policy at Cure Violence, a Chicago-based global non-profit, says the music itself isn't a driver of the violence.
"The music, rather than causing it, is more characteristic of people already wrapped up in violence," he said.
UK drill rapper Siddique Kamara, who was cleared of murder charges earlier this year before he was stabbed to death in August, spoke about the link between knife crime in London and drill music in June on Link Up TV.
"You see with the crime that's happening right now, music does influence it. You've got to put your hands up and say drill music does influence it," said Kamara, 23, who was part of the Moscow17 group.
He added, "But knife crime and gun crime has been going on way before drill music, so if you want to talk about 10 years, 20 years, people were still getting cheffed up [attacked with knives]."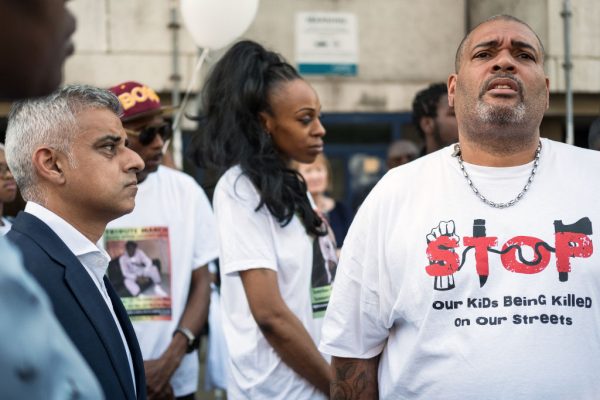 Just Wait On It … 🇷🇺💦 pic.twitter.com/V2MfHw2bu9

— Moscow Music (@Moscow17Music) March 27, 2017
British DJ Tim Westwood is with band members from Moscow17 in the tweet above, including UK drill rapper Siddique Kamara (3L) who was stabbed to death in August and Rhyhiem Ainsworth Barton (R) who was shot dead in May.
Crossing the Line?
In legal trials, rap music lyrics have been used as evidence in hundreds of cases in the United States and the trend is growing in the UK as well. But American authorities haven't taken the road of restricting speech of convicted gang members in their music videos.
According to the National Coalition Against Censorship, unlike obscenity "the U.S. Supreme Court has never treated violent content as an exception to First Amendment protection, even though the opportunity has presented itself several times to the Court."
It says the only exceptions were when "the speech in question constitutes actual incitement to lawless action where the threat to public safety is imminent."
Simon Harding, a professor of criminology at the University of West London likened certain drill music videos to "a poison pen letter wrapped up in a musical quilt."
"It moves away from being a message to a form of hate speech directed at an individual," he said.
Christian Parenti, a professor at John Jay College of Criminal Justice in New York said that if police were to restrict selected violent videos in the same way in the United States, it would have to be through "fighting words."
Fighting words must involve an actual threat towards a specific person that could immediately unfold into violence.
Even so, Parenti hints that some videos might cross the line, even before they come under fighting words.
"I'm sure these videos, when they are not fighting words, and just speech in general, they do contribute [to violence] to some extent," he said.
He added, "It's the risk of horrible ideas having traction vs the risk of unbridled state censorship and the repression of ideas."