Two brothers in Texas caught a 12-foot-long tiger shark before releasing it back into the ocean.
The brothers, Andrew and Stephen Seaborn of Team Seaborn Fishing, captured the shark, and it measured at 11 feet, 11 inches. They were fishing near Bob Hall Pier, the Houston Chronicle reported.
The Seaborns, who are from Austin, used stingray as a bait.
They ultimately released it after taking the photo.
"Dreams came true today," Team Seaborn wrote on Facebook. "Two uneventful nights out on the pier. Friday night we had some beautiful baits out that barely got touched. Saw a few Kingfish caught and some pup sharks but none of the shark rigs were getting picked up," they wrote.
The post added, "As I increased the drag I looked in disbelief as line continued to slowly peel off my reel. Minutes passed and line was still steadily leaving my reel."
Then, after about 30 to 45 minutes of effort, they pulled in "a beautiful Tiger came to the surface, and with the help of others (massive shoutout to Allen for all his help)."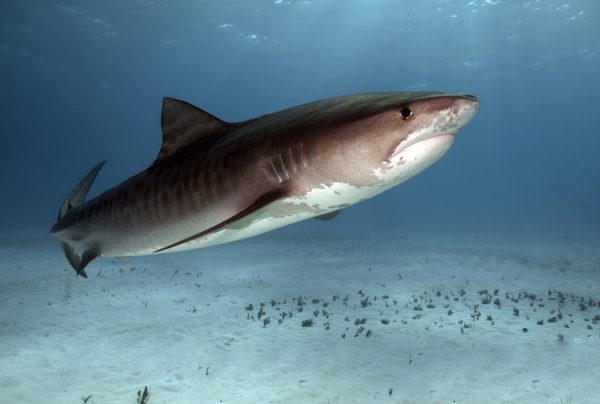 "We were able to bring this big girl to the pier, walk her to the beach, and watch her swim away," the post continued.
Seaborn said the pair are "avid fishermen who love chasing after big fish but it was even more important for us to get back in the water with her and watch her swim away," reported Fox News.
The two said that the tiger shark is their "personal best," according to the Chronicle.
"The only records we are hoping to break are our own," Andrew told the newspaper. "We are avid catch and release fishermen when it comes to big sharks, so we would never try to have a fish submitted for a record unless it's a catch and release record."
According to National Geographic, tiger sharks can get to as long as 25 feet and can weigh in excess of 1,900 pounds.
The big predators are "second only to great whites in attacking people," the publication noted.
However, because they don't have an "undiscerning palate" like great white sharks, "they are not likely to swim away after biting a human, as great whites frequently do," the publication noted.
"They are consummate scavengers, with excellent senses of sight and smell and a nearly limitless menu of diet items. They have sharp, highly serrated teeth and powerful jaws that allow them to crack the shells of sea turtles and clams. The stomach contents of captured tiger sharks have included stingrays, sea snakes, seals, birds, squids, and even license plates and old tires," says National Geographic.
Great White Near California
Authorities in San Mateo County are sounding the alarm after multiple pilots in the area reported seeing great white sharks in the water.
The San Mateo County Sheriff's Office urged caution on Thursday, July 11, saying that the sharks were spotted between the Ritz Carlton and Pillar Point in Half Moon Bay.
"If visiting the area please use caution," the sheriff's office said on Twitter Thursday afternoon.
Great White Sharks seen in #HalfMoonBay.
Multiple pilots flying over the San Mateo County coast have spotted great white sharks in the water today.

If visiting the area please use caution. ⚠️

Please refer any further questions to @CAStateParks or @PillarPointHMB image:Surfline pic.twitter.com/wTeGDwYCxm

— San Mateo County S.O (@SMCSheriff) July 11, 2019
Stephanie Roberts, a Half Moon Bay resident who lives a mile away from the beach, was cited by ABC7 News as saying that it is rare to see sharks in the area.
"It does make you nervous, because I do swim in the ocean every now and then, but it's nature," she told the news outlet. "That's why we love living here."
Local surfer Sam Huo told KPIX that she would think twice before hitting the waves.
"Uh, yeah … that's a game changer for me," she told the outlet.
Marine biologist Giancarlo Thomae told KPIX that shark sightings are a normal occurrence and people shouldn't be anxious.
Epoch Times reporter Tom Ozimek contributed to this report.