After 20 years of living by lipstick and stiletto, former drag queen Kevin Whitt picked up a Bible. Since then, he's been on a mission to spread hope to others trapped in the gay sex industry and warn parents about "family-friendly" drag shows.
Drag shows are never appropriate for children because they are designed to destroy family structures, said Whitt, who became a Christian eight years ago.
Whitt describes drag shows as equivalent to a strip club.
"Imagine going to a strip club, but not stripping—almost like a burlesque show," he said.
Whitt was a drag performer for 20 years. When he left, children were rarely seen at drag shows, he said.
Now, drag events that target children are rapidly spreading across America.
"The short version is, it's indoctrination and grooming," he said. "And it's all an agenda and a plan. The plan is to tear down the nuclear family."
Dragged Into Drag
Whitt got into drag because of childhood trauma, he said. He suffered a dysfunctional home, bullying at school, and sexual abuse.
One Halloween, he wore a French maid costume as a joke, and it impressed his friends, he said.
"Everybody was like, 'Oh my God, you're so beautiful,' and 'You look just like a girl,' and all this stuff. And people started to notice me," he said.

The attention Whitt got from dressing in drag was so addictive that he did it whenever he could, he said.
"And this is back in the 90s," he said. "And it was definitely not cool back then."
Whitt started doing drag shows. Then he started living dressed as a woman full time. Then he got into prostitution.
"I started escorting. And then from escorting, I was a phone sex operator and a dominatrix. And I did just about everything you could do in the adult entertainment industry," he said.
A dominatrix is a dominating woman, especially one who takes the sadistic role in sadomasochistic sexual activities. And that, he said, was the inspiration for his stage name, Dominique O'Hara Skyy.
Many similar performers, who refer to themselves as "drag queens," have similar stories, he said.
"Most of them have either been neglected or abused."
Whitt ended his drag career after a gay stripper invited him to church.
"I became a Christian," he said. "That desire to live as a female, that desire for sex with random people, and all of that went away. And the more I was involved with church and God, the less I was interested in those things."
However, leaving drag behind made many of his LGBT friends think he hated them, he said.
"I hope the LGBT community can realize that I don't hate them," he said. "I don't hate them, at all. I only oppose the indoctrination and exploitation of children under the guise of LGBT equality."
Strip Clubs for Small Fry

While drag shows usually have an element of obscenity, Whitt said today's shows are worse than in the past.
"For me, it was more about being glamorous and elegant and classy—and just a little bit trashy. But nowadays, it's more about being a real trash heap," he said.
"Drag is not child- or family-friendly," he said. "It's very adult entertainment. It's definitely not for children."
At drag shows, customers stuffed money into his underwear, Whitt said. Some audience members made him take money out of their mouths.
Only twice were children involved in shows, he said. In one, a young professional dancer took part in a brief dance, then left. In another, Whitt held a drag event for gay teenagers.
"It was never children like 5-year-olds," he said.
He's shocked by drag queen story hours and "child-friendly" drag events being promoted around the country.
Opposing Obscenity
It's public outcry that's forcing planned drag events for children to find other venues, Whitt said.
At first, they began appearing in public libraries, he said. When conservatives protested, the events moved to public school libraries.
"There was a huge backlash, even in the school library," he said.
Now, LGBT activists have moved child drag queen events to gay nightclubs during the day, he said. At one, drag queens performed for children in front of a nightclub sign reading, "It's Not Gonna Lick Itself."
"I think the majority of parents have no idea," said Whitt. "They think they're taking their kids to something fun. And they think that they're teaching them inclusivity and diversity."
Americans concerned about drag shows reaching children shouldn't blame the drag queens, said Whitt. They're just performers, not management.
"If you ask them to go perform in a back alley for a bunch of crackheads and you pay them $300 to do it, they will go," he said. "This is what they do for work."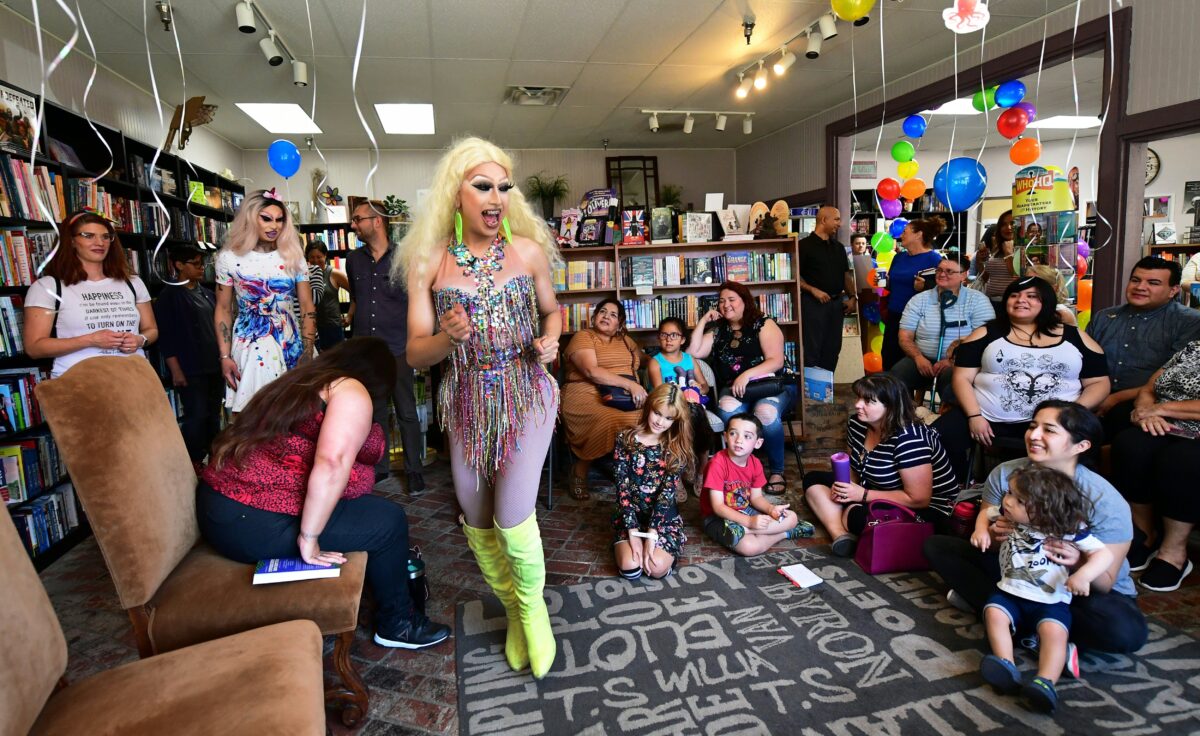 The blame should fall on the institutions that invite drag queens to perform for children, he said.
"Instead of attacking the drag queen, we need to attack the people that own the establishment that's having the drag shows, or the organizer of the drag show," he said.
"I think from a parent's perspective, they think they are taking their child to something fun. But they are not taking into consideration that these children are not adults. These are kids."