In an ongoing rescue operation, dozens of cats were found crowded against windows in an attempt to get away from the stench of the 200 dead cats lying in feces and garbage at a central Iowa residence.
Animal rights advocates said in a Facebook post on June 4 that the air quality inside the home was so toxic that the rescuers had to wear respirators and protective suits. They were limited to only 30 minutes inside the property.
"The ARL Mobile Response Team spent all day at a property in Central Iowa today, removing HUNDREDS of living and deceased cats and kittens from multiple buildings at a personal residence," Animal Rescue League of Iowa wrote on Facebook.
The rescuers said that the cats were found pressed up against open windows to get fresh air.
"Inside, multiple feet of feces and garbage covered every square inch of the home, including kitchen counters—and dead cats filled refrigerators and freezers, alongside the owner's own food," Animal Rescue League of Iowa wrote about the horrific case.
"It was unlike anything we had seen before. It was absolutely horrendous," the rescuers said in another post.
"We began rescuing cats from the house as quickly as we could and rushed them to our air-conditioned Emergency Rescue Trailer, where they were able to take their first breaths of clean air in a long time. After that, we moved to the outbuildings and outdoors. There were cats EVERYWHERE we turned," they said.
The organization's CEO, Tom Colvin, said it was the worst case he had experienced in ten years. "This is by far the worst hoarding case ARL Iowa has seen in more than 10 years. It's absolutely horrendous. I don't even have the words to describe how bad this is," Colvin said.
He asked for public help as the organization is already taking care of thousands of cats.
"We were already over capacity prior to this rescue, with more than 1,100 cats in our care, so we are going to need a lot of help from the public with this one," he said.
According to an Associated Press report, 65-year-old Dennis Carlson has been charged on three counts of failure to dispose of a deceased animal and five counts of animal neglect.
The charges were made in the Polk County court and Carlson is yet not represented by an attorney.
Dozens of cats were pressed up against open windows, trying to get fresh air. https://t.co/Z68VLUjAwV

— KCRG (@KCRG) June 5, 2019
Dog Rescue
In a similar case, animal shelters from around Georgia were called in to help authorities rescue 630 dogs from a home in Valdosta on March 2.
News outlets reported that the dogs were kept in small cages, and many of the animals had never been walked or held before. One shelter involved in the rescue, Release Atlanta, called the property "an extreme hoarding puppy mill case."
Another rescue group Atlanta Humane Society (AHS), said in a donation appeal on its website: "One tiny crate stacked on top of another. A puppy mill with about 500-700 Lhasa Apso's, Shih Tzus, Chihuahuas, and other small breed dogs was discovered by local authorities in South Georgia a few days ago."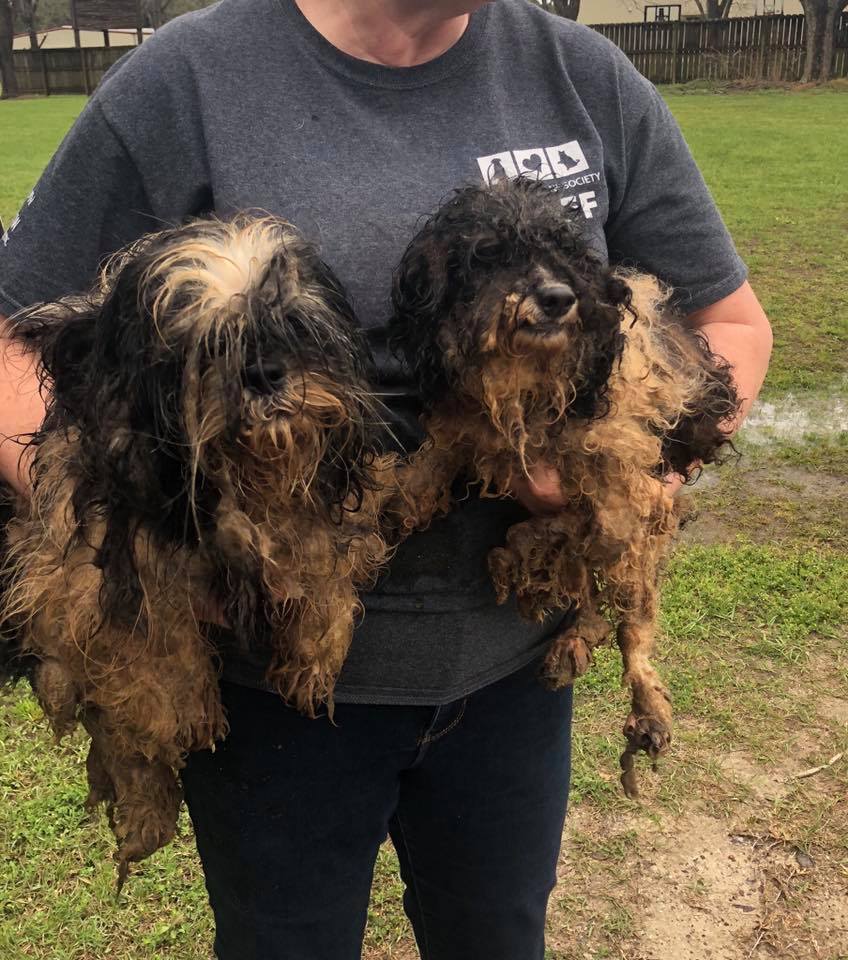 "Found stacked in crates, heavily matted, and covered in feces, these animals are getting a complete health checkup, appropriate care and most likely… their first walk ever," AHS said.
A transport coordinator with the Humane Society in Valdosta, Tim Hill, says the dogs did appear to have been fed and watered. He says the owner had asked for help from the state Department of Agriculture.
The owner has been identified as Reason Craig Gray of Nashville, according to The Berrien Press.
Gary sought help from the inspectors and voluntarily surrendered all animals in his possession. Inspectors with the Department of Agriculture said Gray told them the situation had gotten out of control several times before and that he was no longer able to take care of all the dogs, according to the local paper.