The Dow Jones plunged over 1,400 points on the day the World Health Organization declared the new coronavirus a global pandemic, with Wall Street's iconic blue-chip index officially entering bear market territory and putting an end to its longest bull market run in history.
All three major U.S. stock averages ended the session sharply lower, with the benchmark S&P 500 and Nasdaq composite index both about 19 percent below their Feb. 19 record closing highs.
A bear market is confirmed when an index closes 20 percent or more below its most recent closing high.
The Dow Jones Industrial Average (DJIA) fell 1,464.94 points on Wednesday, or 5.86 percent, to 23,553.22, according to Refinitiv Eikon data.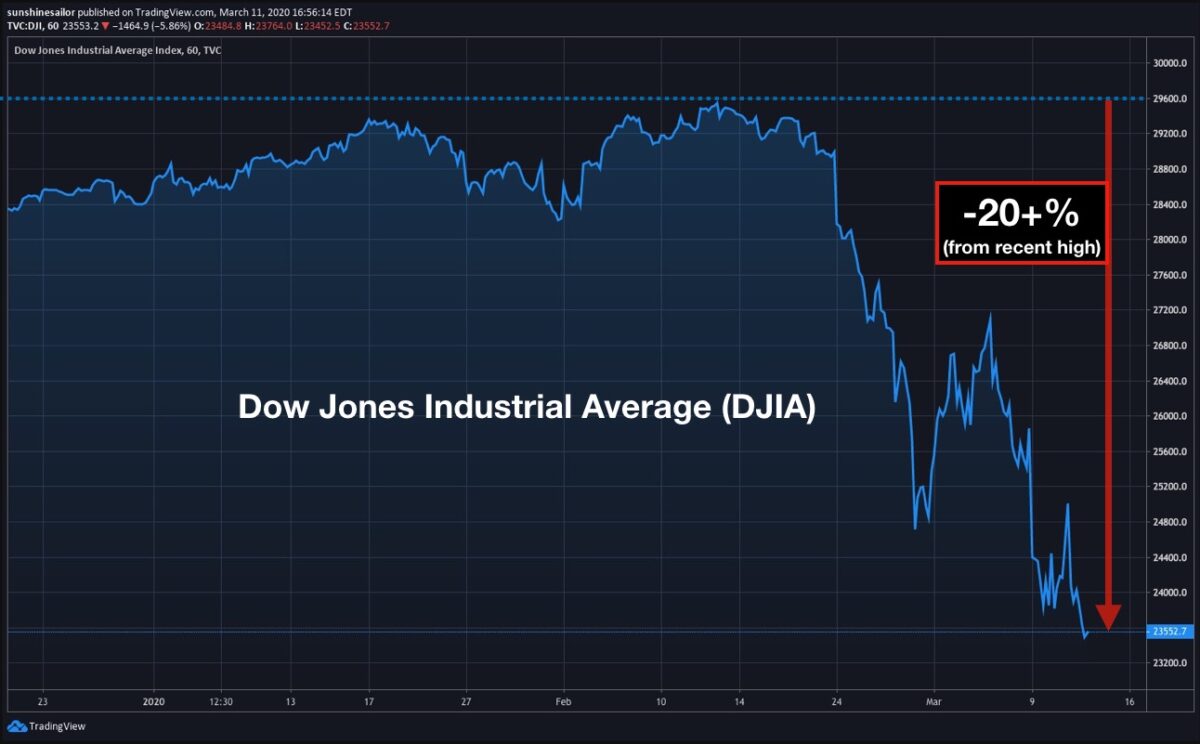 Boeing Co. was the biggest drag on the Dow, sinking 18.2 percent after announcing plans for a full drawdown of an existing $13.8 billion loan as early as Friday. The planemaker suffered its biggest ever three-day fall, surpassing the aftermath of the Sept. 11, 2001, terrorist attacks.
"There's just a plethora of bad news today, a growing number of people with the disease, there are different points of view in how stimulus should work, and the market is acting accordingly," said Peter Tuz, president of Chase Investment Counsel, in remarks to Reuters.
"You call this thing a pandemic and all hell breaks loose."
'Fiscal Help May be Slow In Coming'
A lack of details regarding the government's plans for fiscal stimulus, and partisan wrangling in Washington, added further unknowns to the mix.
"Fiscal help may be slow in coming, because of differences between the president and Congress on what form it should take," Tuz added.
Treasury Secretary Steve Mnuchin said Wednesday that a broader stimulus plan would need time to get through Congress and expressed support for a more modest measure in the short-term.
"The president very much wants to consider a stimulus bill, whether it is through a payroll tax or otherwise. We realize that may not get done this week, so we want to get done what we can do this week and we will come back," Mnuchin said during a House Appropriations subcommittee hearing, reported MarketWatch.
Mnuchin said the administration wants to delay the April 15 federal tax deadline for some taxpayers in a bid to soften the blow of the coronavirus outbreak on the U.S. economy.
Mnuchin told the House subcommittee that the tax relief plan would not be subject to a lengthy congressional approval process and would amount to a near-term injection of over $200 billion into the economy that would otherwise go to paying taxes next month.
The tax deadline delay would apply to most individual taxpayers with the exception of the wealthiest Americans, and would cover small and medium-sized businesses, he told reporters.
In practice, the scheme would allow people and businesses not to pay their taxes by the April 15 deadline and not to be subject to interest payments or a fine.
The move is part of a broader thrust by the Trump administration to seek the deployment of rapid stimulus measures that would bolster the economy and quickly reassure wildly fluctuating financial markets.
Market Instability
In a show of the kind of extreme volatility that has roiled markets in recent weeks, the Dow saw its worst-ever single-day drop of over 2,000 points on Monday, after Saudi Arabia announced oil price cuts and plans to pump more crude over the weekend. The blue-chip index then soared on Tuesday to close up by 1,167 points on hopes of a stimulus package hinted at by President Donald Trump.
Trump said on Monday that the White House would ask Congress to approve an assistance package for workers and businesses to deal with the economic fallout from the coronavirus crisis, including "a possible payroll tax cut."
"We're also going to be talking about hourly wage earners getting help," so they don't worry about missing a paycheck, Trump added.
Fearful investors have grown increasingly desperate for more stimulus than the Fed's recent 50 basis-point rate cut as the outbreak weighs on economic expectations. While the impact of the virus has yet to manifest in business cycle indicators like GDP and jobless claims, worries are mounting that, if left unchecked, the epidemic's economic impact could spark a recession.
Demand across various sectors of the economy is widely expected to take a hit as the outbreak as individuals and businesses seek to stay out of harm's way, by canceling travel plans and events, or ordering staff to work offsite.
"The recent sharp drop in Treasury yields suggests a massive slowdown in growth ahead, particularly over the near-term," said Nick Reece, senior financial analyst at Merk Investments, in an interview.
Reece said another indicator of economic concern was the drop in oil prices, even before the recent OPEC-Russia meeting ended in a fiasco and sparked a price war over crude.
He said virus-related worries had slashed sentiment so deeply that last week's exceptionally strong recent labor market report failed to counter market pessimism.
"You saw we had a very, very strong jobs report last Friday, and that was completely ignored by the markets because that is essentially stale data," he said. "It does not really reflect what we assume is going to be a very big impact from the coronavirus and from the precautionary measures taken because of this."
An example of measures that are likely to leave a mark on the economy are recent steps taken in the greater-Seattle area, which is suffering the United States' deadliest coronavirus outbreak.
On Wednesday, authorities imposed a ban on gatherings of over 250 people that targeted sports, concerts, worship services and other events in a number of Washington state counties.
Schools should be prepared to close for weeks or months, said Jeffrey Duchin, health officer for Seattle and King County, one of the counties to deploy the assembly ban.
The number of U.S. coronavirus cases has continued to rise steadily as around three-quarters of U.S. states reported confirmed cases of COVID-19, the disease the virus causes.
More than 1,135 cases and 32 deaths have been reported, according to a count by Johns Hopkins University, with 24 of these in Washington state.
Reuters contributed to this report.