A continuous sea of yellow, blue, and white could be seen moving down the streets of downtown Toronto on July 20 as adherents of the spiritual discipline Falun Gong walked in a parade to mark twenty years of persecution against their practice in China, which continues to this day. 
Falun Gong, also known as Falun Dafa, is a meditation-based practice whose adherens follow the three tenets of  truthfulness, compassion, and tolerance. After its public introduction in 1992 in China, the practice attracted a huge following across the country, with adherents citing improvements in their physical and mental wellbeing.  Government estimates in the 1990s showed an estimated 70 million to 100 million people had picked up the practice in China.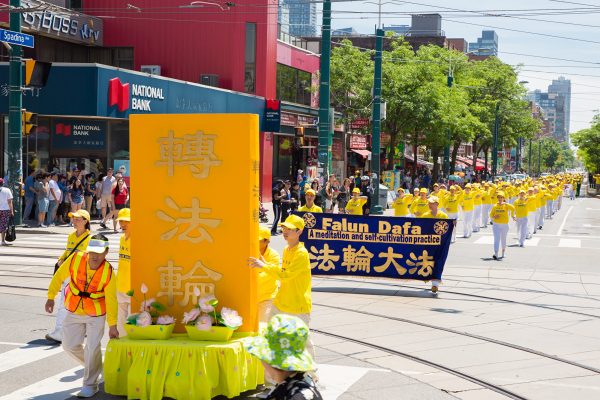 However, then-leader of the Chinese Communist Party Jiang Zemin felt threatened by the huge popularity of the practice, and launched a brutal campaign of persecution against it on July 20, 1999. 
The parade was both meant to raise awareness about the persecution, as well as call on the Chinese regime to end the injustice.
Calling for an End to Persecution
Beginning at Toronto's City Hall, the massive parade followed along Queen Street and then through Spadina Avenue, eventually rounding past Chinatown to return to its City Hall starting point once again.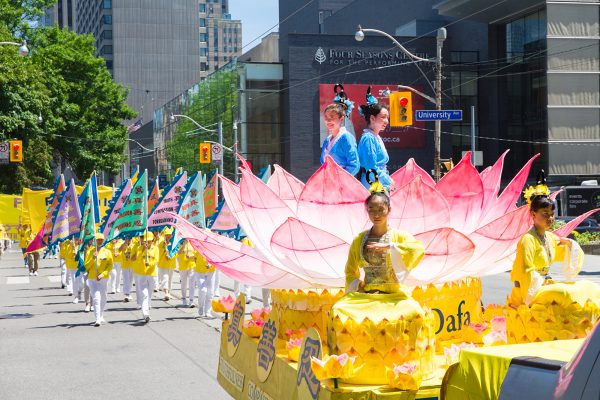 The parade was led by the Tianguo Marching Band and included colourful floats shaped to resemble lotus flowers, as well as a large model of "Zhuan Falun," the main text containing the teachings of Falun Gong.
An especially eye-catching part of the parade was near the end of the procession, where rows upon rows of practitioners dressed in white held up photos wreathed in flowers. At the front of their procession, a large banner embroidered with a single Chinese character was displayed: "remembrance," above the English caption "in memory."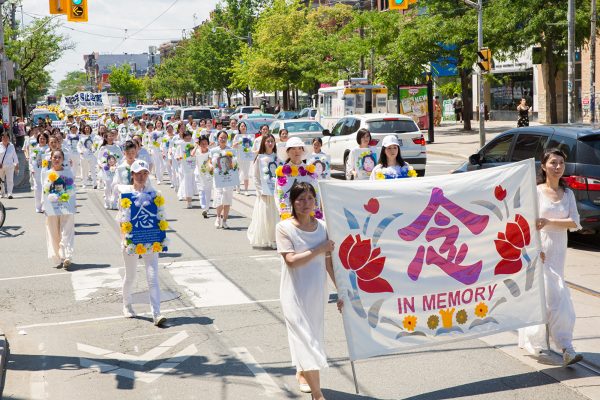 These photos all depict Falun Gong practitioners who were persecuted to death in China for their belief in Falun Gong.
"In China, there are still a lot of people who are detained and persecuted," says Zhifang Wang, a Falun Gong practitioner from Montreal who took part in the parade. "Here, we are free to practice and speak out and do what they can't do. We just want to put in our best efforts and call for an end to the persecution as soon as possible, so that the practitioners in China can regain their freedom."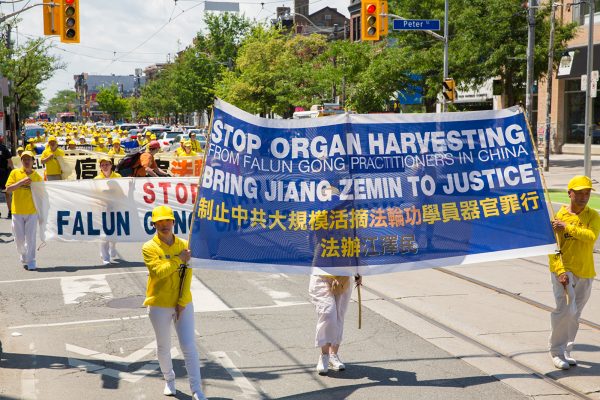 While living in mainland China, Zhifang says that she was captured and illegally imprisoned twice by the Chinese Communist Party for being an adherent of Falun Gong. But, she maintains, Falun Gong has remained a "beacon of light" in her world.
"After practicing it, I've gained more energy, and my body is healthy," she says. "But more importantly, I've found direction in my life."