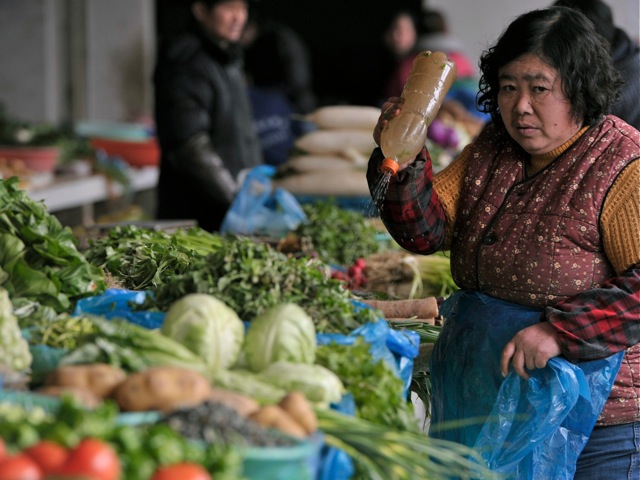 Economists and the public expressed skepticism over the accuracy of economic data recently released by the Chinese regime and feel the numbers have been manipulated.
An Aug. 9 report showed that the Consumer Price Index (CPI) went up by 1.8 percent compared to July 2011. This was the first time in two and a half years that the CPI went up less than 2 percent in a year-over-year comparison.
But people in China don't think it's accurate.
Ms. Wu from Shanghai told The Epoch Times, "Everything is becoming more expensive. Even though my pension is over 2,000 yuan ($314) a month, I can barely survive on it. Food is very expensive, and is still going up. One hundred yuan now buys less than 50 yuan." In smaller cities, the public expressed the same feeling about price increases. Mr. Cao from Nanchang said that he eats little meat these days because he can no longer afford it.
Mr. Cui from Shenyang told The Epoch Times, "It's obvious that prices are rising. Fruit, vegetables, and meat are all getting expensive." Cui also said that recent college graduates he knows also feel that prices are too high.
Radio Free Asia interviewed several residents in mainland China. The general feedback was that every month, prices for produce such as cooking oil and mutton have increased between 5 and 10 percent.
Lu Zhengwei, chief economist at the Industrial Bank of China, told Beijing News that although the speed of increase has slowed, prices are still going up.
The officially released CPI number has been going down for several months. Likewise, recent official GDP figures and forward looking PMI indicators show that the China's economy appears to be trending down. As a result, several major banking firms, including HSBC, Nomura, Bank of America, Barclays, and ANZ, all believe that the authorities will continue to pump money into the economy and reduce interest rates to stimulate "stable growth." In recent history the regime has always stimulated the economy if the CPI and economic growth were sluggish, as it strives to boost growth without risking elevated levels of inflation.
Xie Tian, a professor of marketing at University of South Carolina Aiken Campus, said that the CPI number released by the regime does not reflect real price increases. Instead, it's an artificial number it created to launch new economic policies.
Economics Professor Li Yiping from the People's University of China said in an interview with New Tang Dynasty (NTD) Television: "I don't know where [the CPI] came from. Usually a statistic is close to the general sentiment of the people. Here the discrepancy is too huge. It's completely lost all credibility. If the CPI can be set at will, then it has no objective value."
Since April, the Chinese regime's official policy has been to stimulate the economy. More than 200 projects per month are approved by the National Development and Reform Commission. At the local level, since late July, Ningbo, Nanjing, and Changsha all implemented policies to increase local government investment. The governors of Sichuan, Guangdong, and Guizhou all expressed an interest in increasing investment.
Economist Cheng Xiaonong said that as the Chinese regime further stimulates the economy, consumer prices will continue to increase, and high inflation will occur again. Whether it will show up in the official CPI is another question.
Read the original Chinese article.
The Epoch Times publishes in 35 countries and in 19 languages. Subscribe to our e-newsletter.