Double Digit Growth of China's Military Budget for the Last 20 Years
March 10, 2008 12:00 am Last Updated: March 10, 2008 12:00 am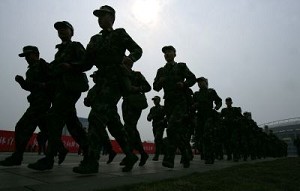 The Chinese communist regime's congress spokesman Jiang Enzhu revealed on March 4 that China's 2008 military budget would be US$57.2 billion, an increase of 17.6 percent from last year. China has sustained a double-digit military budge increase for 20 consecutive years since 1989.
This new increase places China's military expense beyond Japan and France and second only to the United States and England in the world.
The "Chinese Military Power Report" by the U.S. Defense Department pointed out that, China's military expenditure lacked transparency and that the actual expenditure could be three times higher than the official figure, and it has become a threat to regional stability in Asia. A Hong Kong media commented that, it was apparent that the new regime leader (Hu Jintao and Wen Jiabao) was unable to control the huge increase in the military expenditure in fear of offending the armed forces. Hong Kong Apple Daily pointed out that, since the Tiananmen Square Massacre in 1989, China's defense expenditure started rising dramatically, a growth of 14 times from 25.146 billion yuan in 1989 to 355.39 yuan in 2007. After the death of Deng Xiaoping, former regime leader Jiang Zemin lacked prestige in the eyes of the army. To win them over, Jiang promoted military officers in large numbers and greatly increased the military budget.
Xu Guangyu, a retired Major General from the General Staff Department of People's Liberation Army (PLA) and the China Arms Control and Disarmament Association director, disclosed to international media including Reuters, that the growth of this year's defense budget is normal and necessary, it is estimated that the growth rate for the next five years will be similar.
Before this, the regime's official military paper "PLA Daily" published an article supporting the huge increase of the military expenditures over the years that, the Chinese military expenditures had had negative growth or small growth in the past. The time had come to increase the military expenditures to make up the "historical debt." The article even claimed that, the growth of the expenditures to complete the compensation for the past insufficiency would need 20 years.
To this, Professor Yang Liyu of Seton Hall University, a Chinese military expert, indicated that, "PLA Daily" invented the term "historical debt" as an excuse for the huge growth of Chinese military expenditures. Apple Daily pointed out that, the tone of the PLA Daily was almost like a threat to the current leader. It showed that this year's defense budget exceeding US57.2 billion was of no surprise at all.
Last year China's deficit was US$ 35 billion, the education budget was only US12.2 billion and social security was only US 28.84 billion.