'Don't Buy a House for Three Years'
June 3, 2006 12:00 am Last Updated: June 3, 2006 12:00 am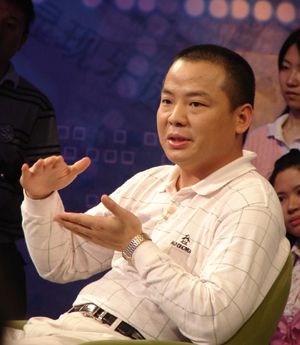 On April 27, 2006, Zou Tao, a resident in China's southern city of Shenzhen, started an Internet campaign called "Don't Buy a House for Three Years." The campaign spread very quickly to all of China, but the authorities suppressed Zou's initiative.
On May 11, Zou intended to personally hand an appeal letter to the Chinese premier in Beijing, but was detained for 10 hours by Shenzhen police before he could board his plane at the airport. For days, Zou Tao had no contact with the outside world. Then he appeared in Beijing but refused to comment. During our phone interview with him, his phone repeatedly cut out.
High Home Prices Spark Wide-Spread Support for Zou's Campaign
According to a survey conducted at the beginning of 2006, of 15,000 people surveyed, 91 percent used a mortgage to buy a house, and 32 percent pay over 50 percent of their monthly income for interest. Such people are known as "house slaves."
In recent years, although numerous policies and slogans for regulating the real estate market have emerged from all levels in the Chinese government, all measures have failed to stop the rising prices.
According to a report on the Shenzhen real estate market in the first quarter of 2006, housing prices had increased to over 10,000 yuan per square meter (approximately US$115 per square foot). This is a 35.5 percent increase compared to the same quarter last year. The soaring price increase with some other long-term unsolved problems triggered the campaign known as "Don't Buy a House for Three Years," which started in Shenzhen and spread all over the country.
On April 26, Shenzhen resident Zou Tao published an article entitled "Shenzhen Resident Zou Tao's Open Letter to All Citizens in Shenzhen to Initiate the 'Don't Buy a House' Campaign." In the letter, he wrote: "For the sake of not being a house slave and carrying a heavy debt for the rest of your life and for the sake of our next generation, please follow me. As long as housing prices in Shenzhen do not drop to the level that Shenzhen citizens can afford, let's act together and not buy a house for three years. What you need to do is just keep your money in hand and watch; just waiting is enough."
In just over ten days, the open letter received a strong response in Shenzhen, and the campaign spread very quickly throughout China. Using the Internet, many people from all over the country signed an Internet petition to support the movement. Many "Don't Buy a House" alliances cropped up in cities like Beijing and Tianjin.
According to one government survey, 79 percent of the people supported the "Don't Buy a House for Three Years" campaign.
Because the campaign was a grassroots movement that did not get involved politics and drew a lot of attention from the public, many mainland media reported on it and followed its progress.
The Shenzhen government was forced to respond to the mass request. On May 9, government officials from the Shenzhen Municipal Land and Real Estate Management Bureau had a meeting with Zou, who represented Shenzhen residents and put forth eight suggestions.
From April 27 to May 9, Zou often appeared in public in Shenzhen. He visited businessmen and buyers and gave his business cards to publicize the "Don't Buy a House" movement.
In a short time, Zou became the well-known representative of the grassroots campaign. He even appeared on a TV program in Hong Kong that featured the story of the "Don't a Buy House for Three Years" movement. But the TV program was a turning point, and Zou's fate completely changed only 15 days after beginning the campaign. Suddenly, he found himself surrounded by all kinds of danger, both visible and invisible.
Zou planned to fly to Beijing on May 11 to personally deliver a report: "Premier, Please help house slaves. The housing prices are too high; house slaves' lives are too stressful; and the real estate market is in jeopardy."
At 5: 10 p.m. on May 11, when Zou was about to board the plane to Beijing to submit his open letter, his airline ticket and ID card were confiscated at the Shenzhen airport. He was detained until 3:00 a.m. the next morning—10 hours.
The last words Zou wrote on his blog described his feelings at the time he was prevented from boarding the plane: "The moment I saw the name 'Zou Tao' listed on the blacklist in the security center at the airport, I completely lost all hope. At that moment, I started to doubt what I had done in those years, and even doubted all my education."
"Every second was painful. It was all dark, like a nightmare. I cannot but admit that in the present state of society, most people can only live without dignity. We live like dogs. Maybe after this, there will be another nightmare waiting for me. Maybe I can no longer stay in Shenzhen, the so-called frontline of economic reform. But I have to face all this. I will not complain, nor regret."
According to some sources, Zou again managed to go to Beijing despite the detention incident at the airport. He subsequently disappeared, and his whereabouts remain unknown.
On the night of May 17, Zou wrote an email to the Epoch Times reporter: "I am completely forced-out. My name and photos cannot appear in any newspapers, TV or the Internet. What will happen to me next is unknown, but I probably can no longer stay in Shenzhen. My company in Shenzhen probably cannot operate anymore. My cell phone is 13902957568. Normally, I always turn the phone on. If you cannot reach me by this number, it means that I have disappeared. What I did is a personal act as a citizen. No matter what happens, I will not complain nor regret. Thank you for everyone's concern."
At midnight on May 17, the Epoch Times reporter called Zou's cell phone, but there was no answer. During the following five days, there was no news from Zou by phone or email. At 5:00 p.m. on May 23, his cell phone was unexpectedly connected. However, his demeanor was completely different from the way he had talked on the television interview for the Hong Kong TV station.
When the Epoch Times reporter asked him how he was doing and where he had been for the past five days, Zou replied, "I can't say anything. Please understand." When asked where he was, he replied in similar fashion: "Sorry. I can't say anything. You know it."
"Do your parents know what has happened to you?"
"No. They are only simple farmers. They don't know anything…," Zou replied.
"What about your future life?"
After a moment of silence, Zou sighed, "There must be some place for me under the sky. Anyway, what I have done are the legal acts of a patriotic citizen." Then the connection was cut.
An hour later, Zou sent the following email to friends on the Internet: "Dear friends who have an interest in the 'Don't Buy a House' campaign: Thanks for your support. I've have already left Beijing. I made an effort to fulfill my responsibility as a patriotic citizen to ask the government to resolve problems. However, it is a pity that I am now completely closed down. My last blog was sealed. Thank you again for your concern and support. Zou Tou."
The renowned human rights attorney Gao Zhisheng foresaw what would happen to Zou. In one of Gao's articles he said, "Zou unconsciously touched the sensitive nerve of the monopoly group [the communist regime], which is most powerful and possesses evil energy everywhere in China. How can he not be in danger?"
This 32-year-old young man from the countryside of Hunan Province had strived to establish his own business and had just settled down. However, after he initiated the well received movement, his life undertook a tremendous change in only 25 days. His act, from the moment it began, was described by the Chinese media as "Don Quixote's fight."