IRVINE, Calif.—As businesses permanently close and families struggle to make ends meet this holiday season, many in Orange County, California, are flocking to homeless shelters and food pantries for Thanksgiving meals.
But at the same time, some of those facilities are experiencing a decline in donations.
The Orange County Rescue Mission (OCRM), one of the county's largest homeless-aid programs, is experiencing a 75 percent decline in donations this season.
"The big challenge really is having both [the decline in donations and] the holidays hit us like this, with more homeless in California than we've ever seen before—literally twice as many homeless as five years ago," OCRM President Jim Palmer told The Epoch Times.
Palmer said a lot of his organization's donors usually organize food drives through their churches or the schools their children or grandchildren attend.
"Those activities obviously are just not happening because of the county being in such a restricted level," he said. Orange County is currently in the most restrictive tier of the state's COVID-monitoring system. 
Gift of Giving
The No. 1 need in the mission for the approaching winter months is food and warm clothing, Palmer said, followed by unwrapped Christmas gifts for children and adults.
The mission is also facing is a shortage of volunteers. Volunteers are typically older adults, who are at higher risk for COVID-19, so they are avoiding contact with the public. The mission also has to limit gatherings, and thus the number of volunteers in one place. 
"We don't have as many volunteers coming onto campus. But really the big impact is just the huge drop in food donations, because our food is typically coming from food drives, from schools, from churches and temples, from corporations—and as you know very few people are in offices," Palmer said. 
Casa Teresa, a homeless shelter for pregnant women in Santa Ana, is also in need of donations. A spokesperson for the shelter told The Epoch Times it needs diapers, baby formula, water, fruit, canned food, and nursing pads. 
"We do have Amazon, and a Target baby registry, so [donors] … can go online, or they can actually bring it here, but they have to call to make sure that we know that they're coming," the spokesperson said.
The shelter also has "adopt-a-child" and "adopt-a-mom" services, through which people can provide for mothers and their babies during Christmastime. 
Holiday Hardships
Michael McGlinn, social services director for Share Our Selves (SOS), told The Epoch Times that on Nov. 23 and 24, SOS gave out a total of about 780 food bags. That's about 390 bags per day, while SOS usually gives out about 260 bags per month. 
SOS offers not only food bags at its pantry, but also many services to those in need, including health care and social services. It had some 2,500 visitors over the course of those two days.
The pantry adjusted to the demand, having expected an increase close to Thanksgiving. With the flood of people, instead of the usual walk-up service, recipients were also able to pick up bags via a drive-thru. Luckily, SOS's donations have been fairly steady, McGlinn said. 
"We were worried that we might get inundated … for Thanksgiving, [so] we didn't really spread the word like we normally would. We just kind of relied on the fact that people would come here, as they normally do," McGlinn said.
Their regulars came; many newcomers, too. Similar to OCRM, McGlinn had to cut some of his volunteers to adhere to county health guidelines. But he's hopeful the vaccine—Pfizer's COVID-19 vaccine could begin distribution in mid-December—will allow more volunteers to return by next year. He currently has about 20 volunteers helping to pack and hand out food bags.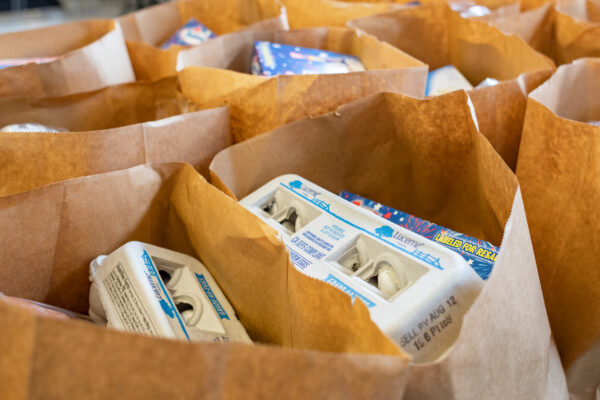 Some people who pick up bags live out of their cars, others have lost homes and jobs during the pandemic. 
"A lot of them haven't been able to pay their rent, … [or] maybe pay a portion of it, but they still know they have an outstanding amount there [and] feel some anxiety … about that," McGlinn said.
"We definitely saw more middle-class people come into the pantry, but then they became the regulars. Some of them went back to work, but then there's a few that haven't been able to go back to work," he said.
Despite the challenges, McGlinn said he's always "amazed at how grateful people are.
"I know they're going through very difficult circumstances. I know that they're worried about losing their apartment, or they're living in their car. … And yet, people still come through these lines with smiles on their face, gratitude for what is being given, and it's so humbling, it really is."