Donald Trump Jr. recently shared a rare personal photo of President Donald Trump with his eldest grandchildren.
The photo was apparently taken in West Palm Beach, Florida.
"Kai and Donnie had a great time with grandpa @realdonaldtrump last night," Trump Jr. wrote on Instagram on March 24. "It's always fun for them to be able to get some time in with him since he's not around NYC much these days."
View this post on Instagram
Trump Jr. and his ex-wife, Vanessa Kay Haydon, have five children: Kai, Donnie, Tristan, Spencer, and Chloe.
Overall, President Trump has nine grandchildren.
View this post on Instagram
Trump's youngest grandchild is Luke, who was born to Eric Trump and his wife, Lara.
Eric's sister, Ivanka, posted a photo of Luke when he was born.
View this post on Instagram
April Proclamation
For April 2019, President Trump issued a proclamation for National Child Abuse Prevention Month.
"We recognize the importance of all Americans working together each day in defense of the most vulnerable among us—our children. We must make every effort to ensure that they are treated with dignity and respect, and have the opportunity to pursue their dreams in secure and healthy environments," Trump said in a White House statement on March 29.
He added, "When they are subjected to abuse and neglect, they are exposed to toxic stress that can disrupt early brain development and increase the risk of depression, suicide, substance abuse, developmental disabilities, future violence, juvenile delinquency, and other unhealthy behaviors. These and other devastating effects of child abuse can last a lifetime, and can even affect future generations."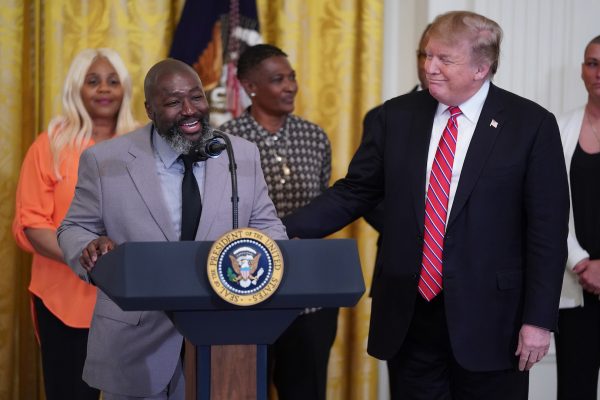 According to Childhelp.org, more than 3.6 million referrals are made to local child protection agencies every year, which involve about 6.6 million kids on average.
"A report of child abuse is made every 10 seconds," the website stated.
The site noted that individuals who had at least six abusive childhood experiences saw an average life expectancy of two decades shorter than those who had none.

"Ischemic heart disease, chronic obstructive pulmonary disease, liver disease, and other health-related quality of life issues are tied to child abuse," according to Childhelp.org.
For the April proclamation, the president said, "We pray for all those who have suffered from the terrors of child abuse and neglect and who continue to suffer from its devastating psychological and physical impacts," adding that, "It is critically important for our children to have parents who care for their physical, intellectual, and emotional needs. But we also must acknowledge the friends, neighbors, educators, and faith leaders who help in promoting the well-being of children."