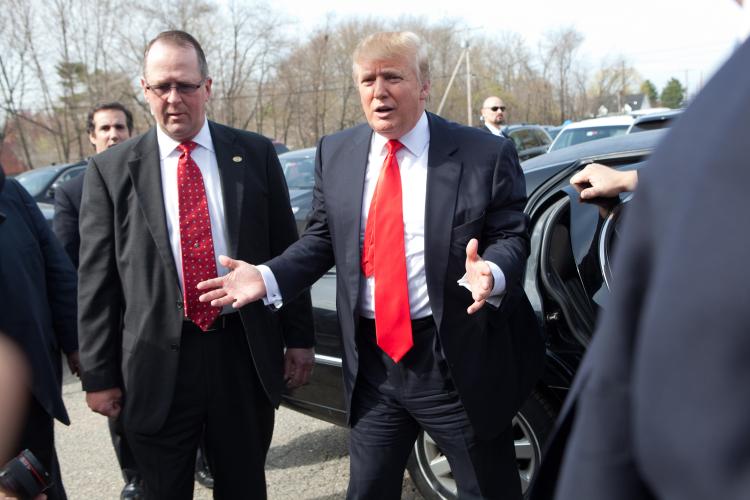 While taking a high profile presidential tease tour to New Hampshire on Wednesday, business magnate and television personality Donald Trump said that he cannot announce if he will join the presidential race until his show ends on May 22.
Nevertheless, he said he will decide before June whether or not he will contend for the Republican nomination bid to run against Democratic President Barack Obama in the 2012 presidential election.
"I think you will be surprised at what my announcement is," said NBC's The Apprentice host in the early primary voting state of New Hampshire, as reported by Reuters. "I think if I do run, I'll do very well. I think I'll beat Obama."
The 64-year-old Trump claimed victory on Wednesday, saying that Obama's release of his long form birth certificate was his doing, even though his accusations of Obama being born overseas were proven incorrect.
Even though some polls show that Trump could attract strong support, as no clear contender against Obama has surfaced in the Republican field, a Gallup Poll issued on Tuesday revealed that 64 percent of Americans said they would "definitely not" vote for Trump for president.
The negativity toward Trump is significantly higher than the public expressed toward two other potential candidates—former Massachusetts Gov. Mitt Romney and incumbent Arkansas Gov. Mike Huckabee—but lower than they expressed toward former Alaska Gov. Sarah Palin at 65 percent.
Among registered voters nationwide, polled between April 20 and 23, 54 percent said they might or will definitely vote for Obama, 48 percent for Romney, 46 percent for Huckabee, 35 percent for Trump, and 34 percent for Palin.
Despite his flashy style and big business appeal, Trump's prospects look grim as The Apprentice star is still suspected of an elaborate publicity stunt and ratings grab with his repeated political campaigns over the years.