Don Mills Resident Writes Memoir on Surviving Holocaust
December 8, 2011 11:12 am Last Updated: December 9, 2011 12:17 am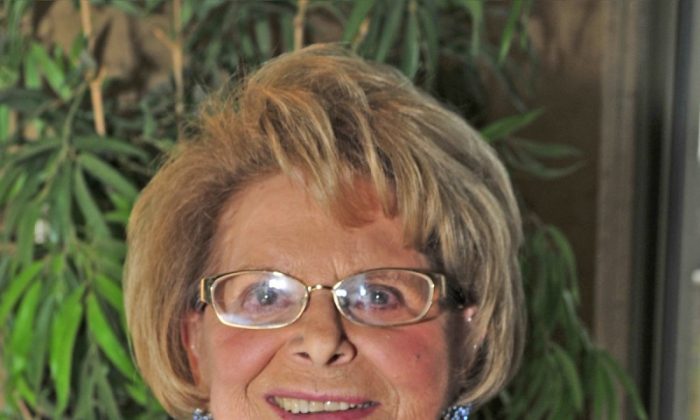 After over 60 years of bearing the memories of living through the Jewish genocide of World War II and surviving Soviet forced labour camps, Don Mills resident Betty Rich finally decided to put her memoirs on paper. It was a past filled with hardship, but one that she found necessary to pass on to her children and grandchildren lest the next generations forget.
Rich tells the story of her life since birth in a small town in Poland up until her current life in Canada in a memoir titled "Little Girl Lost," published by the Azrieli Foundation as part of its Holocaust Survivors Memoirs Program.
Rich looks out the window of a well-lit study in her North York condo, trying to focus her thoughts. She could have written much more, she says, but wanted the readers to take in the most important parts of her recollections. A full shelf of large white binders in her closet containing a chronological record of her life before, during, and after the war are a testament to that.
Born in a small Polish town dominated by textile factories in 1923, Rich was the second-youngest of seven children. By the time she was born, her father, who owned a small textile manufacturing plant, came down with a chronic illness and the family's financial situation dwindled.
A large age gap made Rich distant from her older siblings, and since her mother was away doing business to support the family, Rich grew up mostly under the care of other family members.
It was in 1939 that the Nazis made their way to her town, first starting by defaming Jewish men in the market, signalling the start of something horrible about to occur. With the help of a farmer friend, Rich and some of her friends escaped to Soviet Russia.
But Joseph Stalin's Russia wasn't exactly the safe haven she was hoping for. She was captured because of her faith and sent to a labour camp in northern Siberia. At the break of World War II, with communist Russia finding a new enemy in Nazi Germany, Rich was freed and allowed to migrate anywhere within the Soviet Union. She chose to go to the much warmer Georgia.
She began a modest life in Staliniri, and because she knew many languages, landed a job as a secretary at a university. It was there that one of the professors gave her the nickname "the little girl from nowhere."
"Until today … I've always felt that it's not me that I'm dealing with, it's the little girl that I protect," Rich says. "I saw the world through the eyes of the little girl I protected."
She says it felt natural to detach herself from the woman in the memoir and think in the third person to talk honestly and openly in telling her story.
When the war ended, Rich made her way back to her home in Poland, only to find that most of her family members had been killed in the Holocaust, with the surviving few migrating elsewhere.
She got married, and shortly after escaped communist Poland to Canada with her husband in 1948.
In Canada, however, reconnecting with other Holocaust survivors wasn't a priority as the mere thought of the tragedy brought Rich great pain and she didn't want to give Hitler another chance to "rob her of life."
'Journey of Survival'
Rich describes her newly published memoir as a "journey of survival"—a journey that first took her out of her hometown to flee the Holocaust, a world war, Soviet camps, and communist Poland, and later took a metaphorical path as she tried to come to terms with her difficult past.
Her encounters in life have nonetheless given her a strong belief in fate and humanity. She recalls some of the people she came across who made a deep positive impact on her which bolstered her belief in the goodness in people.
"Still, what helps one in difficult times is other people," she says, as she tells the story of a prison guard in Georgia who helped release her friends detained by Soviet authorities.
"People have a good soul."
After facing another tragedy in 1971 when her husband died in a drowning accident, Rich finally decided to face her past by collecting every note and detail about her early years.
She started putting her memoirs on paper, and after many years turned it into a book.
When the book came out, she received calls from teary friends and fellow Holocaust survivors admiring her courage and efforts in writing it. They told her that it helped them deal with their past too.
Seeing the power of her written work, Rich now wants to see the book made into a movie so that more people can learn about the Holocaust and learn about her story of survival.