A 53-year-old Phoenix woman recovering from deep wounds after her neighbor's dogs attacked her is terrified of facing the two pit bull mixes again.
"It scares me, I wouldn't want anybody to have to go through this. It's awful," Donna Faulkner told 3TV/CBS5 reporters from a hospital bed.
Faulkner recently learned that the two dogs that seriously injured her have been returned to their owner and are likely settling back into the neighborhood after 10 days in quarantine at an animal care facility.
"I'm not thrilled about the dogs being next door, but we'll take one step at a time," Faulkner said.
Following the attack, the dogs were taken to Maricopa County Animal Care and Control.
Jose Santiago, a spokesman for the institution, said their owner will face charges for letting them run loose.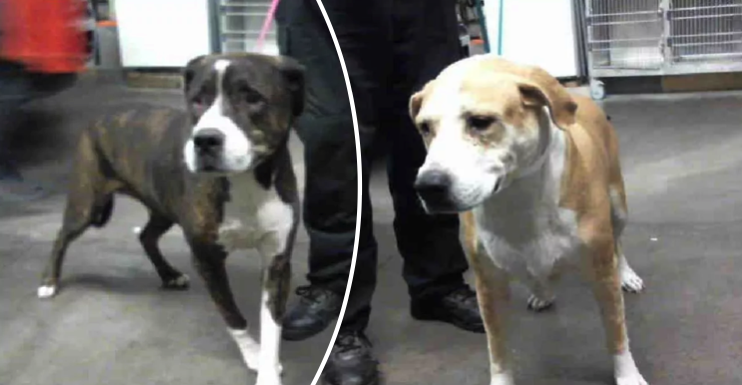 "This was an unfortunate incident, and by filing these charges against the owner we're trying to ensure it won't happen again," Santiago told reporters.
The owner faces accusations of not properly restraining or enclosing the animals—what's known as a "dog-at-large" charge.
"I'm happy (about the charges)," Faulkner reportedly said. "He's got to be accountable for something. Something's got to happen."
According to Santiago, a conviction on a "dog-at-large" charge, a misdemeanor, does not mean the dogs will be taken away from the owner. And that's something the victim's daughter, Staci Faulkner, doesn't agree with.
"I'm very upset. I'm very disappointed in the system and how this can happen," Staci Faulkner said.
She believes the dogs are dangerous and wants them removed from the custody of the owner. But the only way that could happen is if a judge or city magistrate rules that the dogs pose a danger.
"It doesn't make any sense how they can justify giving these dogs back to this guy," she told 3TV/CBS5 reporters. "It's not so much about him. It's [that] you can't have these type of animals out that can attack people."
"We're going to go the avenue to filing the vicious dog petition just so my mom can feel safe going home," she added.
According to Arizona law, a "vicious animal" is one a that has a "propensity to attack, to cause injury to or to otherwise endanger the safety of human beings without provocation."
And if a dog is classified as vicious, it could even be put down.
Faulkner is still recovering from deep dog bites to her arm and calf.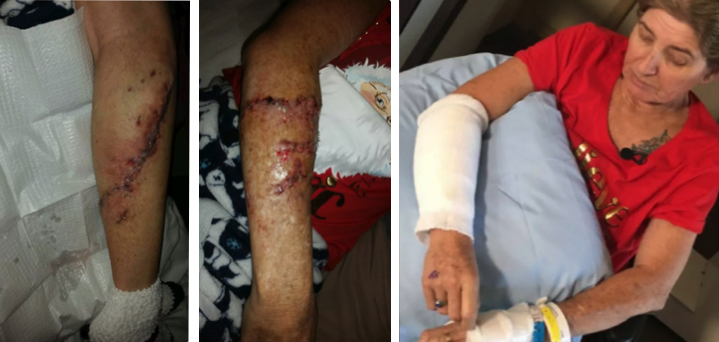 The woman said she was walking to her mailbox on Wednesday, Dec. 13, when she noticed her neighbor's dogs loose.
She says they attacked without provocation.
"It was like they snapped when I said go out in the yard," Faulkner is reported to have said. "Just latched on and tore it all open."
"I have 16 staples in the back of my calf that we can see. And numerous ones on my arm; we can't even count how many there are. There's possibly nerve damage," Faulkner said.
The victim's other daughter, 11 weeks pregnant at the time, allegedly came to her rescue.
"Before I knew it, she was screaming for me to help her, so I ran out there and did what I had to and got the dogs off of her," said Stephanie Faulkner, according to 3TV/CBS5. "There was blood everywhere; there was blood on the gate, all over the ground."
The family has set up a GoFundMe account to help with medical expenses.
"I need help. This is going to be tough for me for a long time. I don't make a whole lot of money. I have a job that I won't be able to go to for I don't know how long. It's going to be rough for a while," said Donna Faulkner.
Efforts by 3TV/CBS5 reporters to contact the dog owner for comment have been unsuccessful.
2017 Year in Review