"Dog the Bounty Hunter" star Beth Chapman has started treatment for cancer, according to reports.
According to TMZ, the 51-year-old reality television star has started chemotherapy for throat cancer that doctors said had returned in November last year. Chapman has been traveling to Los Angeles with her husband Duane "Dog" Chapman to receive treatment while spending the majority of her time resting at her home in Colorado.
Sources have said that although the cancer was serious and the treatment has been tough, Chapman has been responding well and is in good spirits, according to the entertainment news website.
ET Online reported that Chapman began chemotherapy last month.
"The [treatments] are going well, but they certainly take their toll on Beth," according to the news website. "She's a trooper though and a very tough lady."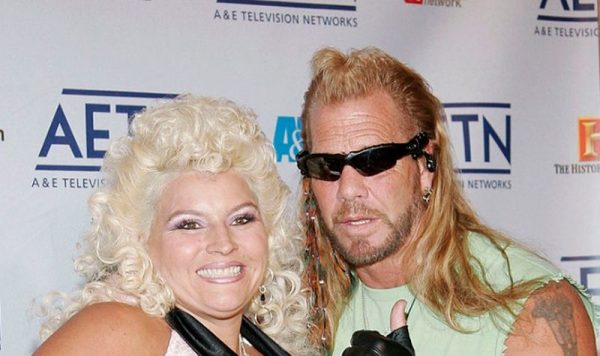 Doctors discovered her cancer had returned during emergency surgery at the Cedars-Senai Medical Center to clear a blockage in her throat. Before being rushed to the hospital, she was having difficulty breathing. Chapman had defeated throat cancer once before in 2017.
Back in December last year, Duane provided an update on his wife's condition.
"I have to keep faith, I am the leader of the family," he said, according to the Daily Mail.
"I have to keep it (faith) where I don't have any doubts and keep everything positive. I love my honey so much, I don't know what I'm gonna do," he added.
Chapman said he's praying and said that "I cry all the time" due to his wife's medical troubles.
A few days after the cancer diagnosis, he posted a photo of the two in bed. "'Another bend in the road, yet not the end of the road, #faith, #love #stayhumblepray.' Beth Chapman," Duane Chapman wrote on Facebook on Nov. 29.
"Another bend in the road, yet not the end of the road,#faith, #love #stayhumblepray." Beth Chapman
Beth Chapman revealed she was diagnosed with throat cancer in 2017.
"After months of a nagging cough, a routine checkup resulted in a diagnosis of stage 2 throat cancer," she wrote at the time. "I have what is referred to as a T2 Tumor in my throat that is blocking my breathing. My doctors are suggesting immediate treatment and surgery before the disease progresses."
In the fight against cancer, the couple credited their family's faith.
"Faith is probably the number one thing in our lives, no matter what we're faced with. … Through this cancer episode, we had to drum up as much faith as we could. And the Bible talks about having faith as small as a mustard seed. And that's not much. … And I thank God that we had at least that much faith to get her through that," Duane said at the time.
Duane and Beth, who have been in a relationship for 30 years, both rose to fame in the mid-2000s on their A&E series "Dog the Bounty Hunter," which stopped airing in 2012. They had another show that aired from 2013 to 2015.
In September last year, Duane joined the search for an elusive fugitive, Shawn Christy, who made posts on Facebook that he would shoot President Donald Trump and a local district attorney in Pennsylvania. Christy was later captured by U.S. Marshals.
Epoch Times Reporter Jack Phillips contributed to this report.
Watch next:
North Korean Defector Ji Seong-Ho: North Korea Was Bad, China Was Worse