Duane "Dog the Bounty Hunter" Chapman is staying positive after his wife, Beth, underwent surgery on tuesday, Nov. 27, to remove a cancerous growth in her throat.
"'Another bend in the road, yet not the end of the road, #faith, #love #stayhumblepray.' Beth Chapman," Duane Chapman wrote on Facebook on Nov. 29 on Facebook. It shows a photo of him and Beth in bed.
It comes after Duane told TMZ that his wife is "not doing good" after the surgery.
Beth went on Instagram on the evening of Dec. 1, reposting kind words from a friend, Rainy Robinson, with the couple. holding hands. "It is the small things … He indeed holds her heart in his hands. In the wee hours as we await the call of her emergence from the event, I am struck by many things," the caption read. "There isn't much to do while you wait. Literally time feels like it's standing still. So, you think. You watch."
"While many don't understand the chaos and super cells this family weathers," Robinson continued. "I do. They are indeed the crazy glue that keeps each other together. They fight large and love even larger. I watch as the patriarch fields content contact from the outside wanting any shred of news."
"Beth is still at the hospital recovering from Tuesday's surgery," the Chapmans' family lawyer, Andrew Brettler, told ETOnline that same day. "Her family is with her and she is trying to stay in good spirits. We're all still rooting for her and her doctors, who are working hard and running tests to come up with the best treatment option."
Chapman said she was diagnosed with throat cancer in 2017. "After months of a nagging cough, a routine checkup resulted in a diagnosis of stage 2 throat cancer," she wrote at the time. "I have what is referred to as a T2 Tumor in my throat that is blocking my breathing. My doctors are suggesting immediate treatment and surgery before the disease progresses."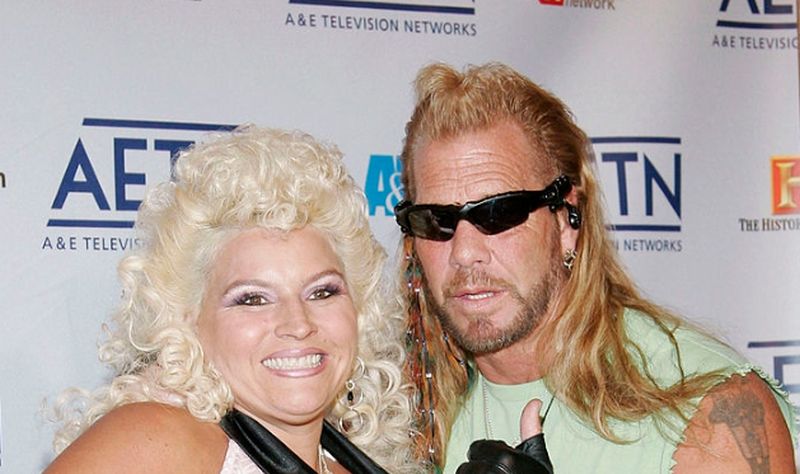 In the fight against cancer, the two credited their family's faith.
"Faith is probably the number one thing in our lives, no matter what we're faced with. … Through this cancer episode, we had to drum up as much faith as we could. And the Bible talks about having faith as small as a mustard seed. And that's not much. … And I thank God that we had at least that much faith to get her through that," Duane said at the time.
Duane and Beth both rose to fame in the mid-2000s on their A&E series "Dog the Bounty Hunter," which stopped airing in 2012. They had another show that aired from 2013 to 2015.
Several months ago, Duane said he would join the search for an elusive fugitive who made posts on Facebook that he would shoot President Donald Trump and a local district attorney in Pennsylvania.
He was hired by a friend of the then-fugitive, Shawn Christy. "I have a very hot lead," Chapman told the Mansfield News Journal at the time. "I have delivered messages to him. My goal is not to shoot him but get him to surrender."
Christy was later captured by U.S. Marshals.