Duane "Dog the Bounty Hunter" Chapman said his wife isn't doing well after she had emergency surgery this week
"Listen, I appreciate the question and please say a prayer," he told TMZ on Nov. 29. "She's not doing good."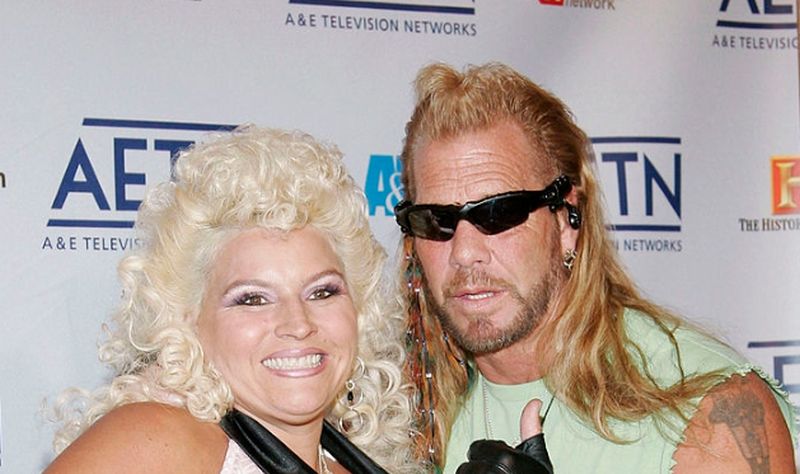 His daughter, Lyssa, also issued a statement on her mother's condition.
"We really appreciate the prayers of our fans and we appreciate the support of our fans. We're all so devastated, we love our mommy so much. We got such an amazing outpour from our fans and we just really appreciate it. Poor daddy," she said, according to the Daily Mail.
On Tuesday, Beth Chapman was rushed to the hospital to deal with a life-threatening mass in her throat.
Their family attorney, Andrew Brettler, told Fox that she underwent surgery because doctors discovered her throat cancer had returned. "Unfortunately, Beth's cancer has come back. It's serious and her doctors are evaluating her treatment options," Brettler said.
Duane Chapman said the newly discovered cancerous lump is twice the size of the mass she previously had.
"She had a lump in her throat twice the size of last time, and they performed an emergency surgery yesterday," he told the Mail. "They cut a hole in her throat so she can breathe; she can still talk," he added.
Beth was diagnosed with throat cancer in 2017, after which she issued a lengthy statement to fans.
"I've been dealt my share of unexpected blows over the course of my almost fifty years but nothing as serious as the one I heard from my doctors two weeks ago when they uttered those dreaded three words, 'You have cancer,'" she wrote.
"After months of a nagging cough, a routine checkup resulted in a diagnosis of stage II throat cancer," Beth added. "I have what is referred to as a T2 Tumor in my throat that is blocking my breathing. My doctors are suggesting immediate treatment and surgery before the disease progresses."
Duane credited the family's faith for helping her survive.
"Faith is probably the number one thing in our lives, no matter what we're faced with… Through this cancer episode, we had to drum up as much faith as we could. And the bible talks about having faith as small as a mustard seed. And that's not much… And I thank God that we had at least that much faith to get her through that," he said.
Duane and Beth both rose to fame in the mid-2000s on their A&E series "Dog the Bounty Hunter," which stopped airing in 2012. They had another show that aired from 2013 to 2015.
Hunting Man Who Threatened Trump?
Several months ago, Dog, whose real name is Duane Chapman, said he would join the search for an elusive fugitive who made posts on Facebook that he would shoot President Donald Trump and a local district attorney in Pennsylvania.
Dog was hired by a friend of the then-fugitive, Shawn Christy.
"I have a very hot lead," Chapman told the Mansfield News Journal. "I have delivered messages to him. My goal is not to shoot him but get him to surrender."
Christy was arrested after spending three months on the lam in Ohio in September, federal marshals said, according to the Allentown Morning Call. "He was actively hiding," U.S. Marshal Anne Murphy told the paper. "And he was hiding from the time that he heard our guys moving. He eventually surrendered, yes, but he hid from our team on the ground."