Duane "Dog the Bounty Hunter" Chapman denied assaulting someone at the Denver International Airport this week.
"There was no assault. A young man approached Dog at the Denver Airport in a very hostile and aggressive manner, clearly looking to start trouble," the Chapmans' family attorney, Andrew Brettler, told People magazine on Dec. 6.
Chapman was reportedly taking his wife, who is stricken with cancer, from the airport after she underwent emergency surgery late last month.
DOG THE BOUNTY HUNTER – Denver, Colorado.
"In the video, Dog and Beth can be seen getting into an elevator with an airport handler, and appear to be trying to leave the situation before it… https://t.co/FsRDLsGXGO

— Akwesasne Today (@akwtoday) December 7, 2018
The attorney added: "He insulted Dog and Beth, hurled racial slurs at Dog, and threatened to 'cut' Beth if she could 'get out of her wheelchair.' The Chapmans attempted to distance themselves from this individual, but he followed them to the elevator where he continued to shout profanities at them."
"The Chapmans called for airport security," Brettler said. "Eventually they were able to get in their vehicle without further incident. According to the Denver P.D., airport surveillance footage show this individual was the aggressor and that Dog did not assault him, as alleged. The Chapmans intend to press charges against this individual and his father for harassment and for disturbing the peace."
According to the Blast, a man threatened Beth, who was in a wheelchair, saying, "Tell that [expletive] to get out of the chair, I'm gonna cut her in half."
A video of the alleged incident was posted by The Blast, showing Duane Chapman and Beth Chapman in an elevator with a baggage handler. A group of men are seen jeering them.
"This is my son and you put your [expletive] hands—you put your hands on my son," one of the men in the clip said. Another said, "Dog Bounty Hunter put his hands on a juvenile."
In the video, Duane yells back: "Let's go outside, brah." When Duane and Beth landed, a man allegedly went up to the two and said, "Hey Dog, I got a bounty on my head; what the [expletive] you gonna do about it?"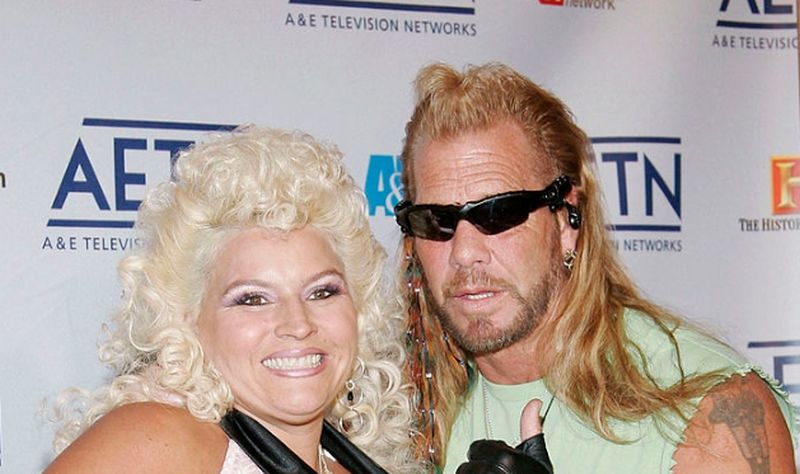 Denver Police told the Blast that an allegation of simple assault was made against Duane Chapman and an investigation is underway. No arrests have been made.
The Chapmans added to the website that the allegations aren't true, saying they are the real victims. Investigators also reviewed airport surveillance video, and "our sources claim the video defends Dog's story," The Blast said.
Colorado Visit
Duane Chapman told a publication that the pair decided to go home to Colorado following his wife's procedure in Los Angeles.
"They say the cancer follows the path of least resistance, so it goes downward. Half of her lung was full of water," Duane Chapman told Us Magazine on Dec. 2. "But she's much more comfortable now [that] she can breathe, but she just wanted to come back to Colorado, she loves it here."
The report claimed she left the Los Angeles hospital against the wishes of her doctor. "They told us they didn't want her to leave the hospital, but she was adamant, she just wanted to be home," Chapman explained. "We have the test results coming in tomorrow."
He said Beth was "in a wheelchair to the plane and then a wheelchair on the other side" before they were brought home.
He added: "Beth slept for almost an entire day, and she was more comfortable, then she got up and she was trying to do things around the house, trying to do laundry and wash the dishes, I said to her, 'I've done all that, don't worry.'"
Chapman said she'll get the results of his wife's biopsy soon. "Yes, I'm nervous about the test results tomorrow," he told the magazine. "It's like you kinda know what's gonna happen, but you're hoping and praying it's not."
In September 2017, Beth revealed she had stage II throat cancer and was undergoing treatment.
"After months of a nagging cough, a routine checkup resulted in a diagnosis of stage 2 throat cancer," she wrote at the time. "I have what is referred to as a T2 Tumor in my throat that is blocking my breathing. My doctors are suggesting immediate treatment and surgery before the disease progresses."
According to reports in late November 2018, her cancer appears to have returned.
"She had a lump in her throat twice the size of last time, and they performed an emergency surgery yesterday," Dog told Us magazine after this week's procedure. "They cut a hole in her throat so she can breathe; she can still talk. … [She's] doing the best she can and remains incredibly strong."
Previously, the two have credited their faith for her beating cancer the first time.
"Faith is probably the number one thing in our lives, no matter what we're faced with. … Through this cancer episode, we had to drum up as much faith as we could. And the Bible talks about having faith as small as a mustard seed. And that's not much. … And I thank God that we had at least that much faith to get her through that," Duane said at the time.
Duane, earlier this year, said he would help hunt down a fugitive who made threats against President Donald Trump.
He was hired by a friend of the then-fugitive, Shawn Christy. "I have a very hot lead," Chapman told a local news outlet time. "I have delivered messages to him. My goal is not to shoot him but get him to surrender." Christy was later captured by U.S. Marshalls.