Australians seeking compensation for adverse reactions after receiving the jab have complained of having their symptoms dismissed or not investigated by doctors, according to a personal injury lawyer.
Clare Eves, national leader for Shine Lawyers' medical negligence division, says the lack of proper post-vaccination care was one of several challenges hindering Australians from successfully making claims under the government's COVID-19 Vaccine Claims Scheme.
"It's a bit of a slow process," Eves told The Epoch Times. "And it's maybe a bit more involved than people were anticipating that it was going to be."
"The first hurdle really is, do you have one of the recognised covered conditions?" she said. "If you don't, then you're probably not going to be eligible."
"We've had just under 350 inquiries about adverse outcomes, and they have been extremely varied, but most of them have a condition that has some ongoing impact," she added. "Not many seem to fit within the criteria of the six categories."

Under the program, individuals can make claims of A$1,000 or above for medical costs or lost earnings caused by an adverse reaction to an approved COVID-19 vaccine.
These adverse events include anaphylactic reaction, thrombosis with Thrombocytopenia Syndrome (blood-clotting), myocarditis, pericarditis, capillary leak syndrome, demyelinating disorders including Guillain Barre Syndrome (GBS), and Thrombocytopenia, including immune Thrombocytopenia.
Eves revealed that over the past few months, she has encountered individuals complaining of deconditioning, headaches, fatigue, strokes, and seizures—which fall outside the scheme.
Services Australia—the government department responsible for the program—told The Epoch Times that the claim assessment process was complex and could also require independent medical verification.
Further, there were "many cases" where additional information had to be obtained from claimants, a process which has seen some applications withdrawn.
"If found eligible, applicants will be given up to six months to accept an offer of compensation, therefore finalisation of claims may also take some time," the government department said.
As of Feb. 9, 861 applications for compensation have been submitted, a far smaller number than the 10,000 Australians who registered their initial interest in November 2021.
"When you look at some of the criteria that's actually involved in the process, I don't think that's really surprising," Eves said, noting the red tape involved.
"There's not many cardiac surgeons in a public hospital who are going to be filling out extensive 6-to-8-page forms (for a claim) for one of their public patients as a priority," she said, adding that getting the forms completed was not covered by the government's Medicare program and could end up being "lengthy and expensive."
"I think people with smaller claims might just think it's all a bit too intrusive and hard," she added.
Eves did not rule out a class action saying in some cases, the duty of care owed to patients may have been breached.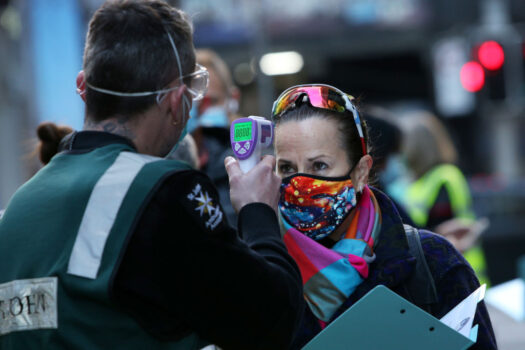 "We have spoken with a number of people who have suffered symptoms consistent with an adverse outcome following the vaccine, so shortness of breath or a rapid heart rate, and their symptoms have been dismissed and not investigated," she said.
"It may be that the vaccine was contraindicated for that person, it wasn't administered properly by the practitioner, or there's an element of that complication that hasn't been managed which has worsened the condition," she added.
As of Feb. 14, over 52.3 million doses have been administered in Australia.
Many recipients of the hundreds of millions of vaccine doses in Australia and the United States have reported either brief or no reaction to the jab. However, a growing number of individuals have begun reporting severe reactions while struggling to get treatment.
Erin Sullivan, a speech pathologist in Connecticut who received the Moderna jab on Jan. 6, 2021, told The Epoch Times she has suffered tingling in her limbs, severe fatigue, and other symptoms for over a year.
While Dr. Danice Hertz, a retired gastroenterologist who received a Pfizer shot on Dec. 23, 2020, said she had experienced severe facial pain, chest constriction, tremors, twitching limbs, and tinnitus.
"I felt like someone was pouring acid on me," the Los Angeles resident said.
Philip Burcham, associate professor in the School of Medicine and Pharmacology at the University of Western Australia, said the number of side-effects from current COVID-19 jabs—and extensive vaccine mandates—proves authorities have "lowered the bar" on what medicines are suitable for public use.
"It's as if we've shredded the toxicology handbook that guided the pharmaceutical innovation sector since the 60s thalidomide disaster and thrown its remains to the four winds," he wrote in The Epoch Times on Jan. 23.
"Experimental drugs that elicit such overt neurological symptoms as severe headaches during 'Phase 1' testing in healthy volunteers should promptly be sent to the trash can. Or at least back to the medicinal chemistry lab for a structural re-design."