A no-make-up selfie as she woke up, a snap before her therapy session, a picture with hair removal cream. When Stina Sanders took part in a social media experiment, where she posted "honest" pictures on her Instagram account, she said her followers initially dropped by a few thousand – but the engagement increased.
It was a risky decision for the 25-year-old model and blogger to share those "real" moments in her life, particularly in an online world where there's so much emphasis on impeccable looks and feel-good photos.
But those real moments resonated with many who feel the pressure from society to always be perfect. After her story went viral, her followers shot up.
Growing up in the modelling industry, she knew how fake it could be, with photographs enhanced through lighting and airbrushing technology. Yet the perception of a model's life is often judged by their flawless looks.
People would come up to me and be like: 'Your life is so perfect.' And I'd be like: 'You have no idea.'
"People would come up to me and be like: 'Your life is so perfect.' And I'd be like: 'You have no idea.' I suffer from depression and I have an autistic brother. Just because I look healthy and I'm on holiday in this image you just assume."
Sanders is working on a book, "#UNFILTERED: The Benefit of Making Mistakes," and has spoken openly about being in an abusive relationship with an ex-boyfriend, having panic attacks, and suffering from anxiety.
"I haven't had any [panic attacks] for ages now. I still get those pings when I go, I don't feel right about this situation, then I tell myself, get over it. It's just about managing it. I'll always have that [anxious] side to me."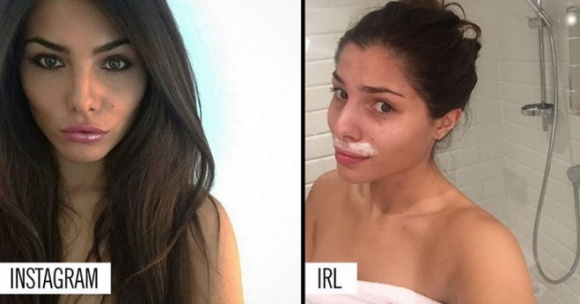 Catfished
When Sanders was 19 someone she didn't know created a fake online profile using her photographs. She'd been "catfished", but she only knew about it when a group of people turned up at her house. Some travelled far and expected to stay. That's what "she" had promised.
"I say she's a she, I don't actually know. She made an account of me as Christina Saunders and made friends with all these people," she said.
It's particularly difficult for the police to identify who is behind fake accounts like these.
"Anything I post online, I have to be aware that it can be used against me. That's exactly what she does," she said. "They can bully you, they can do anything."
But Sanders hasn't let the catfish put her off. Passionate to stop catfishing and not judge others by appearances, Sanders co-founded a social app called Huggle with blogger Val Stark. The app connects people based on where they go, emphasising similarities in lifestyle rather than appearances.
In a similar way to the dating app Happn, the app uses location-tracking technology. The safety features include a one-minute photo verification, to stop fake profiles.
While Huggle is her main project, she still posts real images alongside her modelling images on Instagram.
The model thinks a trend will start to emerge on social media, where people will either be really honest with what they post, or they will stop sharing.
"It'll become uncool to be, like, here's me with a bikini on the beach, it'll become here's me with my food baby – that's what I see happening," she said.
---
The Power of 'Likes'
Likes on social media feel empowering. How real are they, though? When others "like" your photo, does it validate your ideas or you as a person?
Sanders' story about "honest" photos went viral, probably because users faced real images that people wouldn't usually share, photos that were not curated and marketed in a way to gain likes.
Sanders said she had so many emails from parents thanking her for posting honest images, because their children didn't realise how filtered some images can be.
Real life and offline life has become blurred, especially for the younger generation. Many tweens feel the pressure on social media to have enough likes.
Kiera, 12, from south London explained how she feels when posting photos of herself on her personal Instagram account: "I get really happy when I get a lot of likes. I feel as if a lot of people like it. As in, like it in real life," she said.
Kiera added that if her personal posts don't get 20 likes in a week she normally deletes them because she feels as though they aren't good pictures.
A similar sentiment was found among children in qualitative research by Ofcom, where children said they would remove posts if they didn't have "an acceptable number" of likes. The research also revealed some children took this further, timing posts for 8 p.m. to 10 p.m. – Instagram "prime time" – so their posts received more interaction.
Likes can be addictive, but 12-year-old Jade Jiang said she's not bothered by people liking or not liking her photos on Instagram. "Sometimes people only like the posts if they like the person, even if they don't really like the photo – they're not real likes," she said.