Distrust Over Donated Relief Funds
May 22, 2008 12:00 am Last Updated: May 22, 2008 12:00 am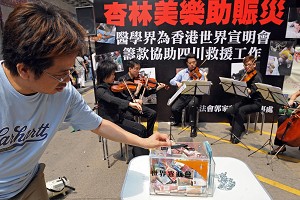 WASHINGTON D.C.—China has received 9 billion yuan (US$1.29 billion) in donations and materials from inside and outside of China since a large earthquake devastated Wenchuan County, Sichuan last week.
Analysts say 85 percent of the donations have come from Mainland Chinese, but it is still too early to judge whether the outpouring is a sign of lasting social change.
The 8.0-magnitude earthquake hit Sichuan on May 12, and has left tens of thousands of people dead.
Reports from China suggest that many people who have made contributions to the relief effort are common citizens on meagre incomes. One peasant laborer reportedly contributed 600 yuan (US$86.05), the equivalent of what he would earn in a month. At the same time, many famous billionaires have been criticized for not contributing to the relief effort or for donating too little.
Chinese writer and critic Zhao Dagong said he believes there is a reason behind the negligible donations from billionaires, and the Chinese state-controlled media would not dare to expose it.
"I don't think China's billionaires aren't willing to donate. The question is to whom should the donations be made? Will this money get to the disaster victims? Can China set up civilian charitable organizations? The Chinese Communist Party (CCP) monopolizes charitable organizations. Since all these donations have been made to it [the CCP], how will it be spent when the CCP is rife with corrupted officials?"
Mr. Zhao said that he and his colleagues had made donations for disaster relief; but he wasn't sure how much of the monies would actually get to the victims. He said that even if one tenth of their donations reach the people in need he would consider that good.
Hong Kong Chi Heng Foundation Secretary Du Cong said that many Chinese felt compelled to make a donation after seeing news reports about the crisis, but whether they will continue to make donations depends on how the money is used.
"Of course, I hope the process will be transparent enough to clearly report how the money is being used. However, it is too early to make any comment," he said.
The Associated Press published a report on May 19 from the disaster area in Dujiangyan saying, "It was too early to tell whether the outpouring of charity is a sign of lasting change. The Chinese authorities remain wary of non-governmental organizations and citizens pushing into areas they see as their rightful domain."