A distressing video posted online this week shows the executions of alleged fighters loyal to the ISIS terrorist group—at the hands of Iraqi soldiers.
In the clip, the soldiers are seen throwing the ISIS terrorists off a cliff and shooting their bodies as they hit the ground, according to the New York Post. Iraqi officials are now investigating the clip after it was posted on Twitter and taken down.
Brig. Gen. Yahya Rasool, who is a spokesman for the Joint Operations Command said they're "keenly observing and following what is being published on social media outlets about the conduct of a number of our soldiers, or those who are wearing uniforms," as reported by the Independent (which posted the graphic video).
He continued: "We are following this affair very closely, and all the leadership of Iraqi forces and military are keen to know the details of this matter … . If there's any violation of human rights from any force—counterterrorism forces, police, army, they will be held accountable militarily and we will be really severe."
Specifically, according to the Post, an alleged ISIS fighter is dragged by soldiers to a cliff and is then dropped at least 30 feet. The soldiers then open fire on his body when he hits the ground. The execution is reminiscent of methods used by ISIS terrorists during their reign over the area.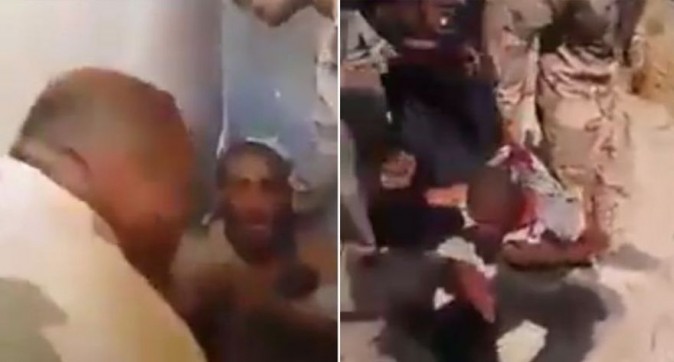 According to the Guardian, the video was filmed in Mosul, Iraq, where Iraqi soldiers have mostly retaken the city that was controlled by the terrorist group.
The video was first uploaded to the Mosul Eye blog—two days after Iraq's prime minister declared victory over ISIS. "Executing the ISIS way," the site tweeted. "Video allegedly shows ISF executing IS fighters, throwing them, then shooting in Mosul."


A Human Rights Watch researcher, Belkis Wille, commented on the clip, "These horrific reports of mistreatment and murder have been met by silence from Baghdad, only further fostering the feeling of impunity among armed forces in Mosul."
Wille also raised concerns over Iraq's establishment of a tent camp by Mosul used for ISIS suspects' family members. "So-called ISIS families should be sent to receive psychological and ideological rehabilitation," HRW added.
An Interior Ministry spokesman told the Guardian that if the videos are real, the perpetrators would be brought to justice.
"These abusive acts are war crimes and are sabotaging efforts to promote reconciliation in areas retaken from ISIS," explained Lama Fakih, deputy director of the Middle East and North Africa portion of HRW.