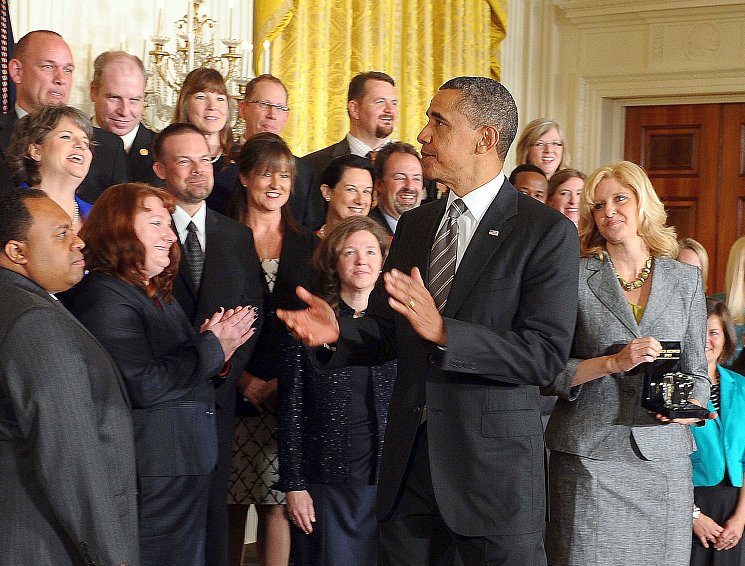 Teachers are tasked with imparting practical knowledge to children during their formative years, teaching the essential skills necessary in life. For some educators, the occupation is not only a job but also a responsibility that brings joy to their lives as they form personal connections with students.
North Carolina educator Regina Johnston is one of them. As a child, Johnston and her parents were involved in a devastating car accident that caused her to miss school and risk falling behind in her studies. Her parents did all they could for Johnston during that difficult time. "My parents are wonderful," she said.
But it was teachers who gave Johnston a steady hand and encouragement during her family's hard time, a time when she witnessed what she calls "the power of a teacher."
She grew up to become a fourth-grade science and math teacher and North Carolina's 2012 Charter School Teacher of the Year. "In teaching, there is nothing in the world like the feeling of a child when the light goes on," said Johnston, adding that there may be no other profession like it on the planet.
This year, Johnston had a student struggling with long division. They worked one-on-one every day for weeks until the student could master it. "When he was finally doing long division, he was like 'I can do this,'" said Johnston, recalling her student's smile and sense of accomplishment.
A popular part of Johnston's teaching style is adding music. She'll sing a song with math-fact lyrics, and her students remember the catchy tunes.
"Once they catch the joy of learning, it can become a lifelong pursuit," she said.
But Johnston, who has taught for over a decade, knows there are challenges. "Society has changed so much," she said. "Teachers do not necessarily feel the support that they used to feel at one time. That doesn't mean it's not there, but you may not see it the same way."
She said that on the news one often sees stories criticizing teachers, which gives a feeling that society may lack respect for teachers. Moreover, fewer students today than in the past feel obliged to follow authority.
Additionally, students' motor and learning skills need refinement after excessive use of technology. "Movies that have 3-D effects and video games that train the brain to think in an entirely different way" add challenges in the classroom, according to Johnston.
In conducting a hands-on science experiment, students accustomed to playing fast-paced video games might need extra time to understand how to use their hands in making a careful scientific investigation, she said.
Johnston said she once struggled with focus in school and wants to make sure her students are fully prepared and able to focus.
Charter schools do not require federal nutrition programs, such as school breakfasts and reduced-cost or free meals for low-income students. "Teachers find themselves feeding kids or bringing clothes to children who may not have a new set of clothes," Johnston said.
'Teachers Persevere'
Teachers nationwide share a passion for teaching, a welcoming heart, and a bottomless well of belief in students and their potential, says California seventh-grade English teacher Rebecca Mieliwocki, the 2012 National Teacher of the Year.
Mieliwocki spoke at a White House ceremony for teachers, hosted by President Barack Obama. She said challenges are enormous and complex, and there are barriers to student success beyond a teacher's control. "Despite these burdens teachers persevere."
At the ceremony, Obama said, "I wouldn't be here today if it were not for teachers like these who challenged me, and pushed me, and put up with me, and inspired me—and set me straight when they had to."
In a February 2012 letter to teachers, Secretary of Education Arne Duncan wrote, "The United States must do more to ensure that teaching is highly respected and supported as a profession and that accomplished, effective teachers are guiding students' learning in every classroom."
The Department of Education (DOE) is asking public school teachers to get involved with changes to their profession. The administration has allocated $5 billion in the 2013 fiscal year budget to changing the teaching profession.
Duncan invited educators to the National Conversation on the Teaching Profession, an online discussion board where teachers can get involved in changing the profession.
Other activities include the new project called RESPECT (Recognizing Educational Success, Professional Excellence, and Collaborative Teaching), and Teaching Ambassador Fellows, who spend a year working at the Education Department.
The projects are funded by federal grants.
The Epoch Times publishes in 35 countries and in 19 languages. Subscribe to our e-newsletter.