UPDATE ON MONDAY – 5:30 P.M. ET:
Walt Disney World near Orlando dodged major hurricane damage as Irma, now a tropical storm, passed over Florida on Sunday and Monday.
The park, dubbed "The Most Magical Place on Earth," will now open on Tuesday. Universal Studios Orlando will also open on Tuesday.
The parks were closed down on Sunday and Monday due to Irma's destructive winds and flooding.
"We hope to resume normal operations on Tuesday, September 12," wrote Disney's website on Monday morning.
————
Earlier update:
Disney World won't be open when Hurricane Irma slams Florida this weekend.
"In anticipation of inclement weather, Walt Disney World Parks and Disney Springs will be closed Sunday, September 10 and Monday, September 11," a statement from Disney World reads.
But it adds the park "will be operating as planned Friday, September 8 and will have modified hours on Saturday, September 9."
According to Orlando's News 6, Magic Kingdom, Epcot, and Disney Springs will close Saturday at 9 p.m. ET.
Meanwhile, Hollywood Studios and Animal Kingdom will close at 7 p.m. ET.
Blizzard Beach is closed Friday and will reopen next Tuesday. Typhoon Lagoon will close at 5 p.m. on Saturday.
ESPN Wide World of Sports will be closed Saturday until Monday.
More details can be accessed at Disney's website (here).
In its 46-year history, it's the fifth time Disney World closed due to a hurricane. Hurricane Matthew in 2016 closed Disney World for a day. Two 2004 storms, Hurricane Frances and Jeanne shuttered Disney World for two days. Meanwhile, Hurricane Floyd caused the park to close its gates Sept. 15, 1999.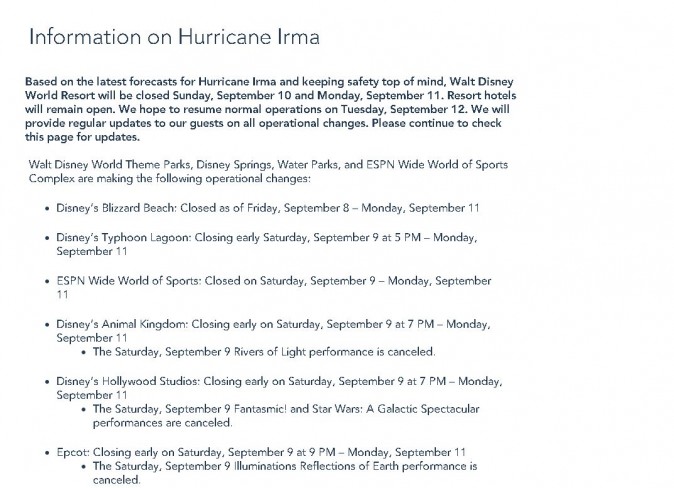 Hurricane Irma is expected to make landfall in South Florida on Sunday night.
The National Hurricane Center says that Central Florida in is in path of the major hurricane. They eye will remain over Central Florida until early Monday as a Category 2 storm.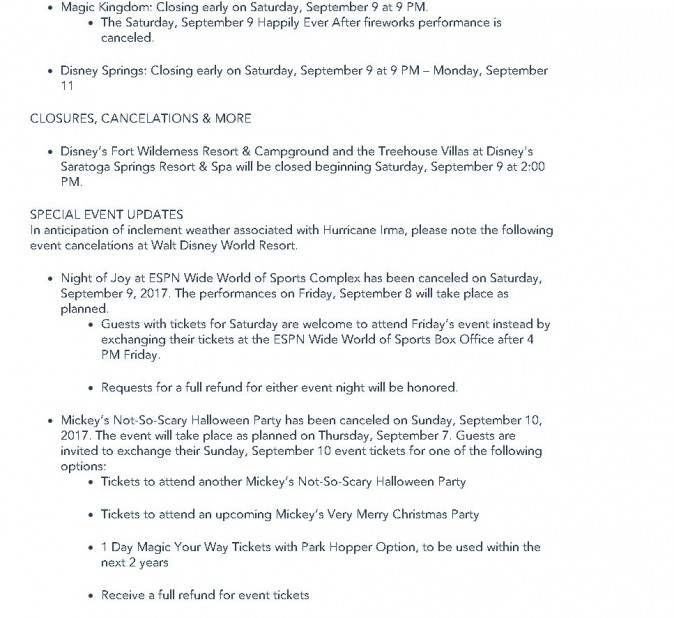 The region will feel the effects of the storm as early as Saturday night.
"Regardless of which (Florida) coast you live on, be prepared to evacuate," Florida Governor Rick Scott said Thursday, CNN reported.
"This is not a storm you can sit and wait through," he said, adding: "You don't have to drive hundreds of miles or leave the state to be safe. Go to shelters."
"We are running out of time. If you are in an evacuation zone, you need to go now. This is a catastrophic storm like our state has never seen," Scott told Reuters, adding that both Florida coasts will be impacted.
Irma was about 225 miles east of Caibarien, Cuba, and 380 miles southeast of Miami, the National Hurricane Center (NHC) said in an advisory at 2 p.m. EDT (1800 GMT) on Friday. Hurricane conditions were spreading westward over parts of Cuba and the central Bahamas as the storm skirted near Cuba's northern coast.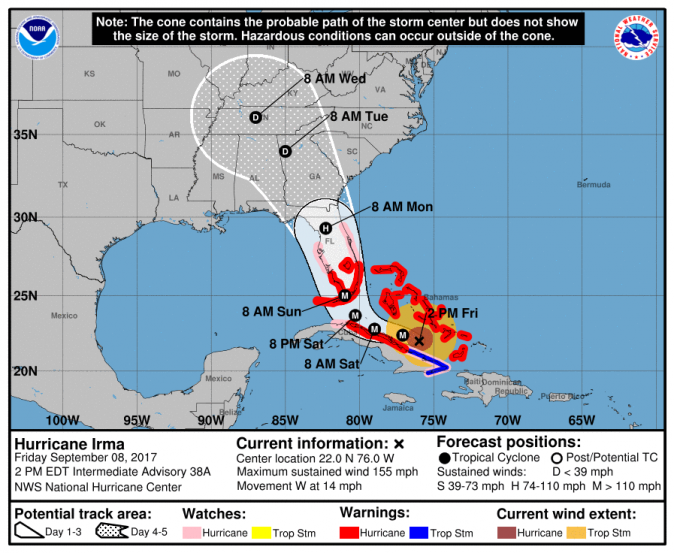 Reuters contributed to this report.