Discovering an Underwater World in Palm Beach Aboard the Wet Temptations
April 8, 2013 9:05 pm Last Updated: April 28, 2016 4:40 pm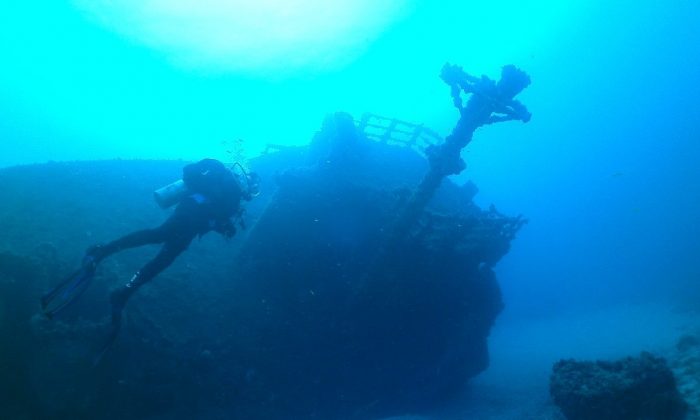 The vessel is christened Wet Temptations. It is the newest dive boat launched in Palm Beach County, Florida. Custom made by Newton Boats in Sidell, Louisiana, the 46-foot long, 16-foot wide vessel can carry 36 divers in spacious luxury. Powered by two C 9 engines that deliver 1,200 horsepower, Wet Temptations has a cruising speed of 24 knots and can make 29 knots.
Sea trials, under the auspices of its owner Captain Daniel Macias, have been successfully completed along with Coast Guard licensing. "It is an awesome dive boat," Captain Zack McGowen said. Zack and Captain Daniel were bending lines in ship-shape fashion at the North Palm Beach Marina.
Wet Temptations uses what is officially called the Lake Worth Inlet, most commonly known as the Palm Beach Inlet, to get out to the ocean. It's a fast trip, even with speed restrictions in some places along the Intracoastal Waterway, motoring to the Inlet. The powerful new vessel has a great diving range because of its speed and ability to reach dive sites quickly.
Wet Temptations was designed by diver, and NAUI (National Association of Underwater Instructors), dive instructor Daniel Macias. "We can carry 36 divers but we are going to keep it to 22. There is lots of space. We designed it with two hot water showers on deck. We provide shampoo and conditioner. We have a head in the forward 'V' berth with a big vanity table. We are fully equipped with Diver's Alert Network oxygen and first aid equipment in addition to U.S. Coast Guard safety equipment," Captain Dan explained.
Captain Dan Macias lives in Lake Worth, Florida. He grew up in El Paso, Texas where he attended Socorro High School. Upon graduation Dan joined the U.S. Army at age 17. He was assigned to Alaska for 3 years. During his 4th year Dan was part of Operation Anaconda and sent to Afghanistan in 2005-2006. He was then assigned to the Army base at Vicenza, Italy with the 173rd Airborne unit. Dan was transferred to Heidelberg."
I started diving in Vicenza, Verona, Italy in the Military Welfare and Recreation program. I had the opportunity to take my advanced dive training then my instructor's course with Dave Ochs, through NAUI. I could only finish my Master Diver training with Dave then had to return to Germany. When I left service in 2011, I completed my instructor's course. I've been teaching diving and loving it every day," Dan said on the bridge of Wet Temptations.
 Captain Dan began planning Wet Temptations with another operator that he'd been diving with and working for as a divemaster. When that captain's plans changed, Dan continued the project on his own. "We talked about everything we liked about dive boats. We couldn't do it with a 36-foot boat so we went to 46-feet. Tops on our list was space, speed and hot showers. Zack and Jean made it come together," Captain Dan smiled.
 Jean Petruck is also a NAUI instructor. She hails from River Forrest, Illinois and lives now in Lake Worth, Florida. "This is the best diving in North America," Jean proclaims. "What I love about it is all the marine life. The reefs are easily accessible. There is clear water. Just so much to see here. People go to a lot of other places. In my view, why go anywhere else," she added.
 Captain Zack headed south out of the Palm Beach Inlet into the Atlantic Ocean. Along shore mansions of the rich and famous could be seen. Jean pointed out homes of prominent people. Wet Temptations passed the Breaker's Hotel with its imposing twin towers and cabana-studded beach. The captains chose a reef off Lake Worth.
 It was a beautiful day. We got into our wetsuits and gear. Captain Dan gave a site briefing then Jean jumped in to act as our dive guide. The ocean was clear blue. We could see the bottom from the surface as we descended to a 60-foot deep reef. Diving reefs in the Atlantic Ocean off Palm Beach County is called drift diving. The Gulf Stream meanders inshore here bringing warm waters in a prevailing northerly flow from the Florida Straits between Cuba and Florida. The Gulf Stream heads north as far as Cape Hatteras where it encounters southern flowing cooler waters and veers off across the Atlantic toward Europe.
 Early Spanish explorers navigated in the Gulf Stream using its flow to carry them back to Spain. The current eddies and meanders in shore. It can be swift or gentle. Jean carried a dive flag on a surface float attached to a reel that she took underwater. That way Captain Zack could keep track of the divers and follow the flag to pick us up when we surfaced.
Captain Daniel dove with us. There were only two days left in Florida's lobster season and we hoped to make a catch for dinner. There was only a slight current and visibility was amazing. It was spring. Turtles come to the area to mate offshore. Female marine turtles lumber ashore and lay their eggs on the beaches along Florida's coast to begin life anew when babies hatch out and swim back into the ocean.
 Reef life abounded under ledges and in nooks under coral reefs. We stopped to take pictures framed with Gorgonian soft corals or sea fans. Jean was right, there was something interesting to see everywhere we looked.
 Captain Zack picked us up when we surfaced after a safety stop under the dive flag. Getting onto Wet Temptations is easy. The vessel was designed by divers for divers. Twin heavy duty ladders with convenient railings and wide steps facilitated getting aboard still wearing tanks and weight belts.
 "I designed the ladders for my size," Daniel laughed. He is convivial and good-natured, just the kind of diver that brings a happy spirit to the adventure.
 "I've been diving here all my life. I'm from this area," Captain Zack said. He steered the vessel close inshore between dives so we could eat lunch. A special feature offered aboard is catered lunches. Divers can pre-order what they like and hot or cold lunches will be stowed aboard. Captain Zack motored north and chose a calm spot off Palm Beach's famous Breaker's Hotel.
 No one was rushed. There was good conversation, diving stories and a happy relaxed atmosphere aboard. The second dive was made off Palm Beach just north of the Breaker's. It was another reef at about 50 feet to the top and 60 feet to the sand. We cruised along the edge of the reef taking pictures of fish. We saw a friendly nurse shark seemingly asleep in the sand with its head under a ledge. The shark let us take its photo before swimming off.
 Marine turtles abound in the area, especially during spring and early summer. It is amazing to see these large reptiles swimming gracefully underwater. As ungainly as they may be when females come on land to lay their eggs, they are at home on the reefs off Palm Beach.
 When we surfaced Captain Zack said he saw a Leatherback marine turtle. The captain positioned the boat so we could see the rare and endangered sea turtle swimming northward. Cameras snapped away as the large Leatherback surfaced to breathe then submerged.
 "You want to jump in?" Captain Daniel asked. His eyes sparked with enthusiasm. "I've never seen a Leatherback turtle."
 I jumped in as Captain Zack positioned the boat so I could get in front of the Leatherback. It took a couple of tries to find it. On the third attempt I saw the largest of marine turtles placidly swimming north with the Gulf Stream. Remoras kept it company swimming along on its back. This was one of the rare encounters that makes diving off Palm Beach special.
 The Leatherback quickly outdistanced me. Captain Daniel threw me a red ball float attached to a rope. I held on best I could with one hand, gripping my underwater camera with the other. "It's right there. Right there," Captain Daniel shouted from the deck. I looked where he pointed, let go of the float line and finned toward shore.
 There it was again. Leatherbacks do not have armored shells, their hide is softer, with ridgelines. The shell is what gives the turtle its name. I took photographs with my SeaLife digital camera. I had it set up with the 16 millimeter fish eye lens. I couldn't get closer. I still had my wetsuit on and was very buoyant so couldn't dive down.
 I returned on board to an atmosphere of happy discovery. All of us were thrilled. We were among the very first divers aboard for Captain Dan's official launch and we sighted a Leatherback turtle. Whatever time it took was generously afforded the adventure.
"I love diving. I love the ocean. That's why I do this," Captain Daniel said. His face radiated happiness that he could share his new dive vessel and love of the ocean with others.
   For more information visit   www.dansdivecharters.com or call him at 561 531 2569.