News Analysis
The Chinese Communist Party's (CCP) repression of ethnic minorities was the reason for a widespread diplomatic boycott of the Winter Olympics. Now, a Uyghur skier who lit the Olympic flame has gone missing.
Just days into the 2022 Beijing Winter Olympic Games, and controversy already abounds. A Dutch reporter was mishandled by Chinese authorities while filming. Athletes and coaches have complained about inhuman treatment during forced quarantine. Top foreign athletes have been disqualified on questionable grounds, including improper attire. Security experts from around the world have warned about the Chinese regime spying on athletes and visitors, through a mandatory health monitoring app.
Human rights groups were appalled when the CCP selected an ethnic Uyghur, Dinigeer Yilamujiang, to light the Olympic flame, calling it a political stunt to distract attention away from the CCP's human rights violations.
After her event on Feb. 5, journalists waited for Yilamujiang, but she never showed up. Reporters were also unable to reach her through China's National Olympics Committee. At a press conference, Beijing Olympics organizers refused to comment on her disappearance.
The CCP had a Uyghur athlete light the Olympic flame to show the world that in spite of overwhelming evidence to the contrary, accusations of genocide in Xinjiang were just misinformation. The 20-year-old athlete from Xinjiang's northern Altay Prefecture placed 43rd in her cross-country skiathlon Olympic debut, which raises the question of whether she had even been qualified to compete in the Games.
The fact that she was chosen to light the cauldron was clearly a political decision. China's U.N. Ambassador Zhang Jun said that out of the 174 members of China's Olympic team, 20 athletes are ethnic minorities. Yilamujiang is one of six athletes from Xinjiang, but she was the only ethnic Uyghur. Consequently, the CCP hoped that by allowing Yilamujiang to represent China at a crucial moment, it could stave off claims of racism and genocide. Overseas Uyghur human rights groups called the move "offensive."
During interviews at the beginning of the Games, Yilamujiang thanked the state for giving her so much, but said nothing of her ethnicity or how significant it was to be an ethnic minority who was chosen to light the flame. By contrast, her fellow athlete, Adake Ahenaer, a speed skater from Xinjiang, specifically mentioned how important it was for her, as a Kazakh, to represent her ethnic minority group and succeed in the Olympics. Ahenaer even commented on how emotional she got when she saw Yilamujiang on TV representing the minority peoples. But somehow, Yilamujiang never said anything similar and it would seem that she had been coached on what not to say.
Beijing used similar publicity stunts at the opening ceremonies of the 2008 Summer Olympics. At the time, to prove the CCP's racial equality, it had Chinese children, dressed in the ethnic costumes of China's 56 recognized ethnicities, dance around the national flags. Journalists later discovered, however, that the children portraying China's minorities were not actually from those ethnic groups. In reality, tensions with ethnic minorities had been increasing, leading up to the Games, with pro-Tibet independence advocates protesting in front of the building of state broadcaster CCTV in Beijing.
In 2008, the CCP chose a Uyghur, Kamalturk Yalqun, to be an Olympic torchbearer, but he did not light the cauldron. He has been living in exile in the United States since 2014. His father disappeared into China's state security apparatus in 2016. Yalqun was one of many voices calling for a boycott of the 2022 Winter Olympics.
While there were no full boycotts, numerous Western governments—such as Canada, Australia, the United Kingdom, and the United States—held diplomatic boycotts, specifically because of human rights violations against Uyghurs.
In response, Beijing warned that boycotting nations will "pay a price" for their "mistake."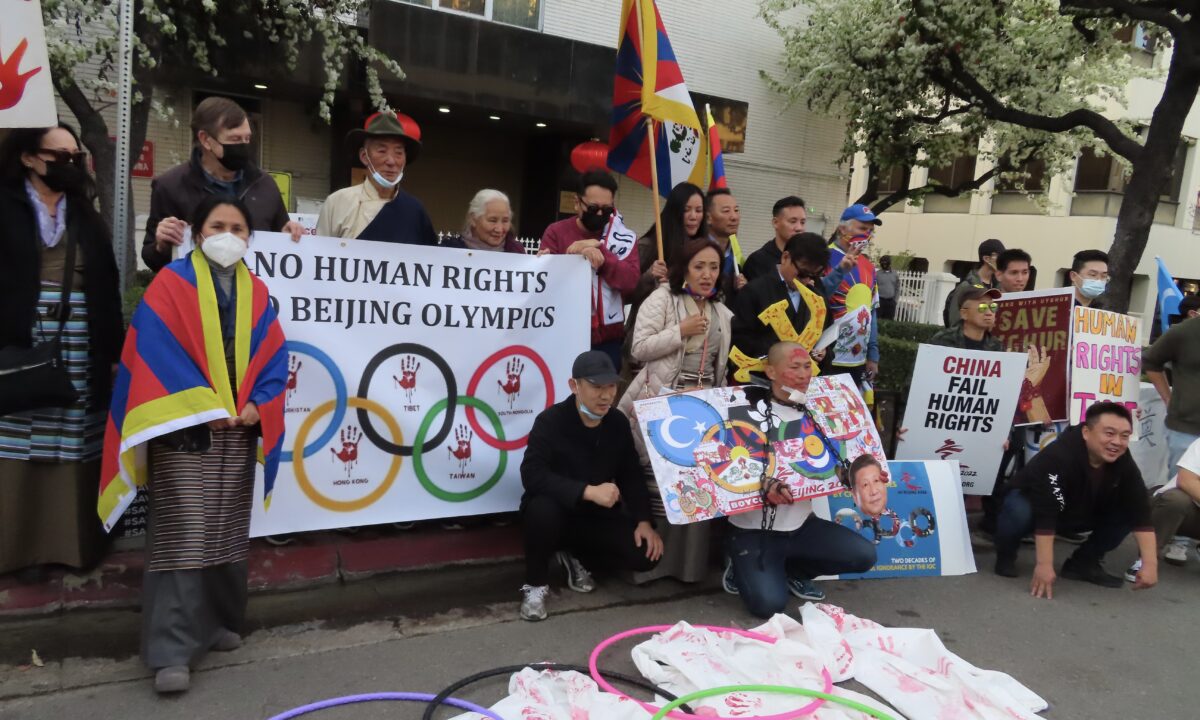 Uyghurs who have managed to flee to the West have reported various forms of abuse by the CCP, including forced labor, torture, forced conversion, organ harvesting, forced sterilization, imprisonment, sexual abuse, mass detention, and separation from family members. Uyghur victims describe having been forced to eat pork, sing the praises of CCP leader Xi Jinping, drink alcohol, and burn a Quran. The CCP forbids women in Xinjiang from wearing head scarves, while men are prohibited from sporting beards. The Islamic greeting "As-salamu alaikum" is banned, as is fasting during Ramadan. According to a July 2021 report by Time magazine, camp guards told detainees that "all ethnicities will be as one and must share the same language and food."
The rules are enforced through facial recognition surveillance cameras that blanket much of Xinjiang. Being caught in a violation could result in detention.
The CCP claims that the measures taken against the Uyghurs are necessary to combat the "three evils" of "separatism, terrorism, and extremism." It also says that the accusations of abuse and genocide of Uyghurs is a web of "lies and absurd allegations."
In spite of the CCP's claims that all ethnic minorities are treated equally, its repression of Uyghurs extends beyond China's borders. As a result of the oppression, many Uyghurs flee to other countries, where they are often pursued, harassed, and intimidated by agents of the CCP. In some cases, they are pressured into spying for Beijing. Chinese officials conduct interrogations of Uyghurs at "black sites" in other countries, Sky News reported on Feb. 9. If a particular Uyghur is considered a "troublemaker," then he/she simply disappears.
In December 2021, Congress passed a law that bans imports from Xinjiang over concerns about slave labor. The CCP responded to the ban, calling it "economic bullying."
The U.S. Congress passed the Uyghur Human Rights Policy Act of 2020, which imposes sanctions on individuals and entities responsible for human rights abuses in the Xinjiang Uyghur region.
Views expressed in this article are the opinions of the author and do not necessarily reflect the views of The Epoch Times.