Americans have been asking for disability benefits over the past year at the slowest rate in 15 years, showing that Americans are trading government benefits for jobs, according to Social Security Administration data.
Americans filled some 2,146,000 disability applications over the 12 months ending May, which, as a percentage of the U.S. population, is the lowest rate since January 2004.
The application rate had been climbing with little pause since the late 1990s, and dramatically so after the 2008 financial crisis. It actually doubled between 2000 and 2011.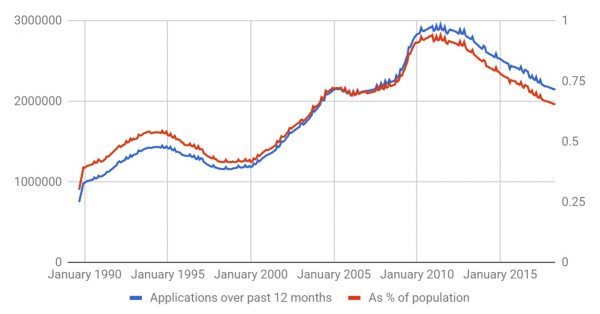 Since then, it's been declining, partly thanks to the recovery and partly because it's been harder to get the benefits.
In 1999, more than half of applications were granted. In 2016, it was less than a third.
As people flooded the system after the crisis, the media exposed that many cheated their way in.
Partly for that reason, the Obama administration quietly tightened the approval process for the benefits, according to Mark Duggan, director of the Stanford Institute for Economic Policy Research, The New York Times reported.
With budget cuts kicking in, almost 70 Social Security field offices have closed since 2010, making it harder for people to apply.
In 2017, however, the approval rate increased to 35 percent—more people were approved for benefits than the year before, despite fewer applications.
Recent economic indicators suggest more Americans are choosing employment over government dependence—unemployment dropped to 3.8 percent in May, while the smallest share of the population since 2009 asked for food stamps in March.
Still, giving up the government check can be daunting.
Christian Borrero, 31, born with cerebral palsy, always wanted to work full-time. Twice he refused an offer to switch his part-time job for a full-time one.
"I knew deep down if I took it, I would lose my benefits," he told The New York Times. "I was terrified."
Finally, friends convinced him to take the step, and when the offer came again, he took it. The company even gave him a better paid position when it learned he was looking for another job to replace the lost income from the government.
"I haven't had an easy life," he said. "But I love the feeling of earning enough money to pay my bills and do what I want to do. I feel very blessed."
Watch Next:
US Border Patrol: 'There is no policy to separate families'
The United States Border Patrol on Sunday allowed reporters to briefly visit the facility where it holds families arrested at the southern US border, responding to questions over the Trump administration's "zero tolerance" policy.