DAEGU, South Korea-Ms. Han Sori, director of Woori Sori Research Center, watched the performance of Shen Yun Performing Arts New York Company on Feb. 26 at the Daegu Suseong Artpia. She was amazed by the grandeur of the performance. "I have lived more than half of my life, and great to finally see such a very special show," she said. The Woori Sori Research Center is a teaching center of Korean folk music, such as Samulnori and Gyeonggi minyo.
A friend of Ms. Han's introduced her to Shen Yun. "My friend told me that the show presented the Chinese history in such a magnificent and majestic way and that it is like no other show," she said.
New York-based Shen Yun's performances bring to life 5,000 years of traditional Chinese culture through classical Chinese dance, and ethnic and folk dances, solo vocalists, a stunning digital backdrop, and an orchestra that combines classical Western and traditional Chinese instruments.
Ms. Han said she loved the colorful performance. "The performance is very special and has great variety. Included are solo vocalists and solo performances of musical instruments. It's a great program."
Being a specialist of music, Ms. Han adored the Shen Yun Orchestra. "The live music is a lot more lively than recorded music," she said.
Ms. Han said she would come and see the show next year, and at the same time, highly recommend it to her friends. "I will tell people that this show is the only one of its kind and the most special."
A Ray of Hope for the People of the World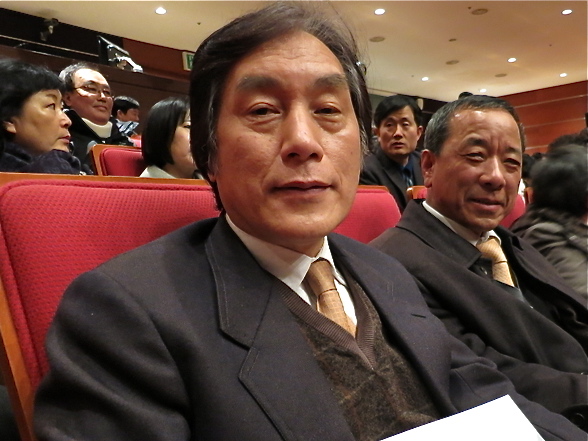 After the performance, famous architect, Mr. Kim Nanjie (translation name), highly acclaimed the magnificence of the performance, and hoped that all people around the world would be able to see the show. He said, "[Shen Yun] can really give people hope for a better future."
Seeing the curtain of Shen Yun's sixth show in Daegu fall amidst tumultuous applause, the architect was really moved. He said, "The perfect synchronization of the dynamic backdrops and the performance on the stage seemed to usher us into another dynasty in the endless time-space of a dreamland.
When recalling the programs that really touched him, Mr. Kim said, "What impressed me the most was the magnificent opening, An Era Begins, the dance How the Monkey King Came to Be, and the program depicting the steadfast faith of Falun Dafa practitioners in their cultivation practice, which is indeed an icon of the free world."
Falun Dafa, a traditional spiritual discipline, has been targeted by the Chinese regime for persecution, as the regime's ideology is in stark contrast to the traditional culture of China, states Shen Yun's website. In the dance, it is shown that people of faith are ultimately rewarded for their courage and conviction.
Mr. Kim hoped that all people in the world would be able to have the opportunity to see Shen Yun, which is full of authentic compassion and beauty, so as to brighten up their future. He noted, "Whenever thinking of people's lives, struggling with hunger, terror and despair, I feel as if they are at the brink of death. People really need to live with hope … [Shen Yun] is something that can really give them the biggest hope. If they could see such a beautiful show, they would feel that life is very beautiful."
"I really hope that they could experience the magnificence of life."
When learning that Shen Yun cannot currently perform in China, where freedom of expression and belief is violently suppressed, he commented, "It is lamentable that such a wonderful show cannot perform in China. If it could perform in China, Africa, and North Korea, it would be great."
As Mr. Kim was from Busan, he said that he fervently hoped Shen Yun could perform there next year, and then he would actively promote Shen Yun to more people. He added, "In order to allow all people to have the opportunity to see Shen Yun, I will actively recommend Shen Yun to others. If necessary, I will create this kind of opportunity and find someone to help me. Anyway, I sincerely look forward to seeing Shen Yun in Busan!
Reporting by Li Meijing & Lin Hsin-Yi and Li Ahen and Billy Shyu.
Shen Yun Performing Arts, based in New York, tours the world on a mission to revive traditional Chinese culture. Shen Yun Performing Arts New York Company will perform in various cities in Korea until March 4 and then continue to top venues in Taiwan, Australia and New Zealand.
For more information visit ShenYunPerformingArts.org
Read the Chinese article
Read the Chinese article