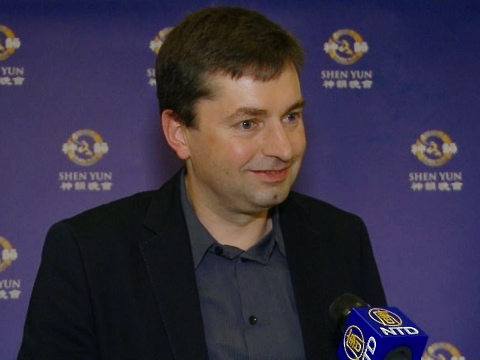 FRANKFURT, Germany—The Jahrhunderthalle in Frankfurt am Main hosted the Shen Yun Performing Arts International Company's closing show on the evening of March 31.
Mr. Bernd Kristofic, director at the German branch of Haestens, the oldest Swedish family-owned manufacturer of beds, attended the Shen Yun show for the first time.
"It was very interesting to see a show about Chinese culture. It was so rich in colors," said Mr. Kristofic.
"Shen Yun presents colorful and exhilarating performances of classical Chinese dance and music. A performance by Shen Yun is a presentation of traditional Chinese culture as it once was: a study in grace, wisdom, and the virtues distilled from the five millennia of Chinese civilization," according to the Shen Yun website.
"The type of dancing was a totally new experience for me. But, it was absolutely beautiful. I'm thrilled to have seen this show," said Mr. Kristofic.
The Shen Yun also website states, "At the core of Shen Yun's performances is classical Chinese dance with China's numerous ethnic and folk dance styles rounding out the evening."
"I love tradition and that is why I'm here tonight. I have no knowledge about Chinese culture, but I can sense what it is trying to impart."
"I was touched deeply by the traditions and culture that are still presented during this modern times."
He spoke of the scenes that depicted the persecution of Falun Gong in China, a peaceful group of people that lives by the principles Truthfulness, Compassion and Tolerance.
"To be suppressed and yet to bring to the public the old cultures touched me deep in my heart. What is so amazing that despite these modern times with its hustle and bustle these people are up keeping old traditions and old cultures."
"What touched me the most is that although there is so much badness in these modern times, goodness is reviving and coming back."
"I definitely will tell everyone to see this show and to understand what it represents—the old traditions and culture."
Reporting by Alexander M. Hamrle and Detief Kossakowski.
New York-based Shen Yun Performing Arts has three touring companies that perform simultaneously around the world. Shen Yun Performing Arts International Company will next perform in Stockholm, Sweden from April 4-6.
For more information, please visit ShenYunPerformingArts.org.