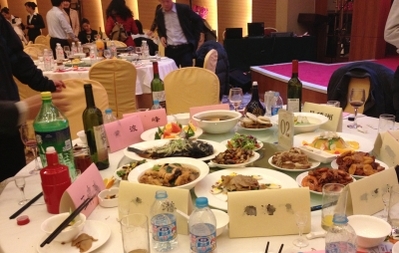 As the Chinese New Year approaches, Chinese officials are not stinting on their meal expenses. Recent reports indicate that some cadres regularly drop over $1,000 on banquets at pricey state-run restaurants in Beijing, despite a recent policy by the new Party leader Xi Jinping calling for thrifty living.
Each province and major city in China has a restaurant in Beijing that features local cuisine, catering to out-of-town officials who feel like some hometown fare, according to the Beijing News. The restaurants are managed by the provincial government branch offices in Beijing—including Gansu, Fujian, Hebei, Henan, Inner Mongolia, and Sichuan provinces, among others.
The Beijing News spoke to over 10 owners of these restaurants, who explained the expensive tastes of Communist Party officials, and their enjoyment of large, private eating areas.  
"Many officials have switched from fancy clubs, restaurants and hotels to Beijing-based regional restaurants, because of the strict regulations and surveillance," a manager of Jiangsu Plaza, a restaurant in Beijing that specializes in Jiangsu food, said.
Some of the private rooms at Jiangsu Plaza occupy a whole floor, and come with their own staff and concierges. Reservations are essential. 
A worker at another Beijing restaurant in Chaoyang District conceded to the Beijing News that the Party's new policy was ostensibly to "enforce thrift and cost saving," but that officials still demand luxury and hospitality. The restaurants fill the gap.
A Fujian Hotel worker said that they mainly serve leading cadres, noting that a few days ago they hosted a banquet of 1,450 yuan ($232) per official. The meal included lobsters and sea cucumbers. 
According to the manager of Jiangsu Plaza, speaking to Beijing News, a dish of a few hundred yuan is too ordinary. The minimum should be around 800 yuan ($128), while 10,000 yuan ($1,605) is a must for high-level officials.
Many of these Beijing-based local restaurants derive much of their profit from sales of Maotai, a popular alcoholic beverage.
According to a lobby manager of Hainan Tower, their 15 year-old Maotai bottles are worth at least 18,000 yuan ($2,880), while "ordinary" bottles are 3,380 yuan ($540). A table of 10 guests will usually drink at least two bottles of those, along with top-of-the-line French red wines such as Château Duhart-Milon. The report said that a bottle of that red goes for about 5,400 yuan, or roughly $864.
Read the original Chinese article. 
The Epoch Times publishes in 35 countries and in 21 languages. Subscribe to our e-newsletter.