Digging Into the Housing Market Recovery
April 10, 2013 9:05 pm Last Updated: April 11, 2013 5:42 am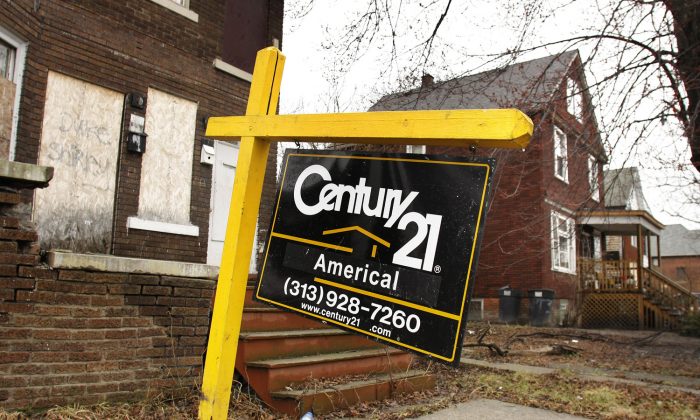 The National Association of Realtors (NAR) reported that home sales were virtually flat in February compared to the prior month. The NAR statement was based on the Pending Homes Sales Index, which is a forward-looking indicator based on contacts signings.
The index was 104.8 in February, a 0.4 percent decrease from 105.2 in January. NAR suggests that a low inventory level and the inability of builders to obtain construction loans are responsible for the stagnancy.
NAR chief economist Lawrence Yun projects that approximately 5 million homes will be sold in 2013. At the same time, the median housing price could rise by 7 percent. Interest rates should remain low, with a possible increase to 4 percent by the end of this year.
The housing inventory of listed homes was close to 1.5 million at the end of February, according to the Realtor.com website, with a decrease of close to 16 percent since the end of January. As of April 1, a total of 679,128 homes were listed for sale in metropolitan areas, according to the HousingTracker inventory on the Department of Numbers website.
At the end of March, the housing inventory in 38 U.S. cities was 98,336, down by 21 percent from the 124,808 houses a year ago, according to the blog of real estate firm Movoto LLC.
"Inventory fell across the majority of the cities we track. Thirty-two of the 38 cities saw a decrease in inventory on a year-over-year basis; in total, inventory has declined by about 21 percent," the Movoto blog states.
Disagreement Among Experts
Not all housing inventory statistics suggest a decrease in housing inventory. YCharts reports an increase in home inventory from 1.77 million in January to 1.94 million in February, an increase of 9.6 percent. However, this represents a 19.2 percent decrease when compared to the 2.4 million homes listed in February 2012.
According to an article on the Calculated Risk website, between January and April 1, the housing inventory grew faster than during the same period in 2011 and 2012. As of April 1, existing home inventory was up 6.5 percent, which is higher than at any time during the same period in 2011 and 2012. The article suggests that housing inventory might "not bottom until 2014."
Reducing Shadow Inventory
Shadow inventory, has dropped 28 percent from 3 million homes in January 2010 to 2.2 million homes in January 2013, according to a March 26 report on the CoreLogic Inc. website.
The shadow housing inventory decreased to 2.6 million houses by January 2012. Given that another 4 million such houses were put into the homes-for-sale inventory, the drop of shadow inventory between January 2012 and January 2013 was 18 percent.
The total value of shadow inventory in January 2013 was $350 billion, a reduction of $52 billion from the $402 billon in January 2012, and a drop of $31 billion from the $381 billion recorded in mid-2012, according to CoreLogic's report.
Shadow inventory is mostly foreclosed homes, homes that are under foreclosure proceedings, and houses that have not been put up for sale by the lenders who repossessed the homes, given the low housing prices. The result is an understatement of the housing inventory.
A 2010 article on the Real Estate Economy Watch website suggests that it is impossible to estimate the shadow housing inventory. The article states that the Home Mortgage Disclosure Act (HMDA) does not require small lenders, mainly located in rural areas, to collect and disclose foreclosed housing information, as required by their larger counterparts.
Institutional Investors
Shah Gilani wonders in an April 4 article on the Money Morning website if the upswing in housing prices is an indication of a U.S. housing recovery or maybe the next investor-driven housing bubble.
According to a review of home sales statistics published by NAR, 30 percent of homes purchased in February were by first-time buyers, a decrease of 2 percent from February 2012.
During the same month, 32 percent of homes were sold for cash, a 4 percent increase from January. Of these cash sales, 22 percent were made by investors, an increase from 19 percent in January and down from 23 percent in February 2012.
According to a March CoreLogic report, institutional investors—those who buy at least five houses—have been quite active, buying homes in specific areas. The majority of institutional purchases were made in Florida, Georgia, Arizona, Nevada, and North Carolina, increasing the home purchase activities in these areas by 50 percent in 2012. The CoreLogic report focuses mainly on institutional investors rather than individual investors, because institutional investors affect home prices more so than an investor who buys one or two homes.
It is difficult to predict, and only time will tell, if the increase in institutional investor activity will destabilize the market; however, it has already been noted that these activities have had an effect on the sales prices of existing homes.
Prices for existing homes, especially those that came into the market as distressed properties, have increased more so than prices on new homes. The problem is that institutional buyers could crowd out potential individual homebuyers by driving prices up.
"Just because institutional investors are thought to be long-term investors … it doesn't mean they won't head for the exit doors all at the same time like they did with the mortgage-backed-securities they all speculated in," according to the article by Gilani.
The recovery of the housing market appears to herald an improving economy, but when digging deeper, it appears the recovery is not being driven by individual home buyers, but by institutional investors, and the long-term effects may not be known for some time.