Diesel Price Surge Slows China's Trucks
November 19, 2010 2:19 pm Last Updated: October 1, 2015 6:27 pm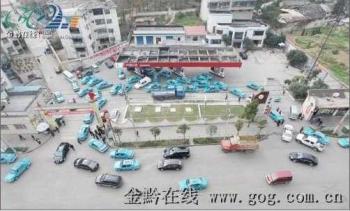 China's chronic diesel shortage continues to cause long lines at gas stations and serious traffic jams. Since trucks can only purchase 500 yuan ($75) worth of diesel, more time is spent waiting in gas lines than transporting goods to market.
The lack of fuel in Sichuan Province has interrupted the production and delivery at Tingyi instant noodles, China's largest brand. Because of the shortage, transportation cost hikes are affecting other sectors.
Long Lines and Disruptions
Sanxiang Daily reported that early on Nov. 15, more than 100 trucks lined up at a gas station on Tanshao Highway in Hunan Province for diesel refueling. A driver from Jiangxi Province, who had waited four hours in line, said that there is a diesel shortage all across China. Two days prior, over 1,000 vehicles lined up at the border of Sichuan and Shaanxi Province for refueling, and Gansu Province also saw 1,000 drivers waiting three days to buy fuel.
The shortage's effects have already rippled into the broader economy. It's hard to hail a cab, since taxis operating on diesel are either lining up at gas stations or have stopped operating. Construction companies have to send staff to hunt for fuel. Loaded cargo trucks from logistics companies can't move. Shipping costs for vegetables, delivery services and cross-country transportation are also higher.
Tingyi Holding Corporation's chief financial officer, Frank Lin, confirmed that production and delivery have also been interrupted. During his phone interview with China Business News on the Nov. 15, he said that the diesel shortage has inconvenienced company operations.
A Hard Life With Little Profit
Yanzhao Metropolis Daily reported that whenever truck drivers meet, they mostly chat about where they can refuel. In the diesel fuel retail market, there is generally a cap on each refueling of 200 or 300 yuan ($45). A typical truck needs to go to two or three gas stations to fill up.
Mr. Zheng transports coal between Shenmu in Shaanxi Province and Shijiazhuang City. He said that each trip consumes 630 to 680 liters (165 gallons). The diesel price hike is cutting into this year's already scanty profit even further. "Truck driving is a hard life to begin with", Zheng said, "but our income this year is far lower than previous years."
Yanzhao Metropolis Daily reported on Nov. 3 that Yan, the owner of a large-scale private oil company in Shijiazhong, said that they can only get 40 to 50 tons of oil from Petro China daily, so they have to limit their sales. "Now the purchase price of diesel is 8,100 yuan (US$1,220) per ton plus a freight charge of 100 yuan per ton, but I can only sell for 7,700 yuan (US$1, 160) per ton. So I lose 400 yuan ($60) per ton of diesel."