Diego Garcia, an island south of the Maldives occupied by the United States Navy, has been named as one of the many possibilities for where missing Malaysia Airlines Flight MH370 went.
Police are urgently investigating whether Captain Zaharie Ahmad Shah, the pilot of the flight, had practiced landing at the runway on the island, which is long enough to land a Boeing 777.
Shah had a flight simulator at his home and was well-known in the pilot community for giving lessons on how to use simulators. He posted multiple videos on the subject on YouTube.
Shah had the remote island in the middle of the Indian Ocean programmed into his simulator, raising the possibility that the plane was headed there even if it didn't land there. 
Files that included locations such as Diego Garcia were deleted last month from the simulator, officials said in a news conference this week. 
Malaysia's defense minister Hishammuddin Hussein emphasized that Shah is considered innocent until proven guilty, referring to the speculation that Shah and/or his co-pilot Fariq Abdul Hamid hijacked the flight. 
Shah's family is cooperating with the investigation, Hussein said.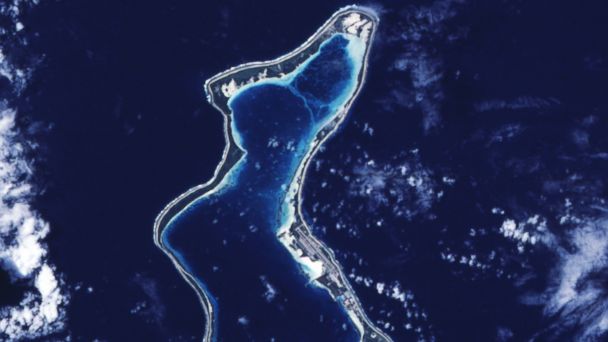 A satellite image of Diego Garcia. (NASA)
Diego Garcia is a footprint-shaped atoll that is about 1,970 nautical miles east of the coast of Tanzania in Africa, 967 nautical miles south-southwest of the southern tip of India, and 2,550 nautical miles west-northwest of the west coast of Australia.
The United States Navy operates a facility there that includes a military air base that helps support regional operations. There are two parallel runways that span 12,000 feet each. 
Thousands of people were resettled from the island by the British government to allow the U.S. Navy to build a base there. 
The island, named after 16th century Spanish explorer Diego Garcia de Moguer, gained some notoriety recently after it was reported that the United States detained suspected terrorists at its facilities on the island. 
The investigation into whether Diego Garcia is in any way involved with the disappearance of MH370 comes as eyewitnesses in the Maldives reported a "low flying jumbo jet" on the day that the plane disappeared.
A number of countries have been involved with the extensive search for the aircraft, which initially focused on the area between Vietnam and Malaysia and near Malaysia but has since shifted to the Indian Ocean.
No trace of the plane has been found despite the efforts.