Dick's Sporting Goods CEO Ed Stack said the company destroyed approximately $5 million worth of so-called "assault-style" rifles after the company changed its firearm policies and stopped selling the guns.
Stack said that Dick's removed AR-15s from its stores after the 2012 mass shooting at Sandy Hook Elementary School in Newtown, Connecticut but after the shooting at Majory Stoneman Douglas High School in Parkland, Florida, in early 2018, he felt it was time to do more.
"We found out that we sold this kid a shotgun," Stack told CBS. "That's when I said, 'We're done.'"
Nikolas Cruz, the alleged Parkland shooter, bought a shotgun from Dick's legally, authorities later said. He did not use the gun in the shooting.
"It was not the gun, nor type of gun, he used in the shooting. But it could have been," Dick's said in a statement last year.
Dick's said in the statement that "thoughts and prayers are not enough." While it said that executives supported and respected the Second Amendment, "we have to help solve the problem that's in front of us," the statement said, adding, "Gun violence is an epidemic that's taking the lives of too many people, including the brightest hope for the future of America—our kids."

The company said it would no longer sell AR-15s, also known as modern sporting rifles, along with other measures.
Following that decision, Dick's took the guns that were removed from store shelves and destroyed them, Stack, the CEO, told CBS in an interview published on Oct. 6.
The guns were turned into scrap metal.
"I said, 'You know what? If we really think these things should be off the street, we need to destroy them,'" Stack said.
The measures implemented by Stack, whose father started Dick's in 1948, has cost the company about $250 million.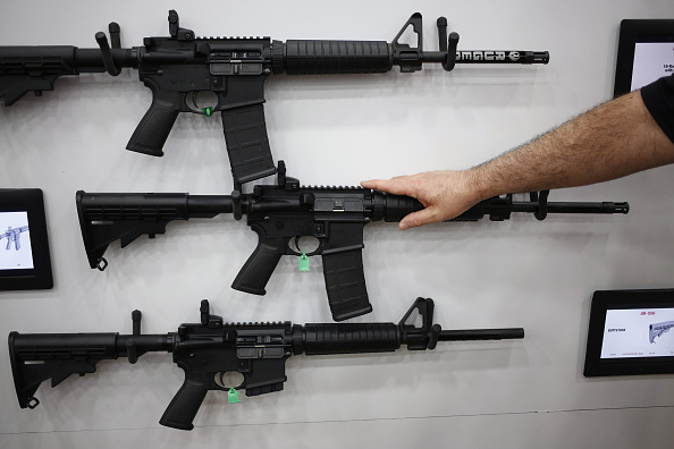 Stack and over 100 other CEOs have been pushing lawmakers to implement new policies cracking down on guns on a national level. They signed a public letter (pdf) to the U.S. Senate in September that said, in part, "Doing nothing about America's gun violence crisis is simply unacceptable and it is time to stand with the American public on gun safety."
"As leaders of some of America's most respected companies and those with significant business interests in the United States, we are writing to you because we have a responsibility and obligation to stand up for the safety of our employees, customers and all Americans in the communities we serve across the country," the letter stated.
Some companies and executives have increasingly embraced political activism and indicated support for policies like gun control.
Conde Nast, AirBnB, and Postmates were among the companies backing the letter while executives from companies such as Twitter and Reddit signed it as well.
Postmates said in a blog post about signing the letter that employees have attended events held by Moms Demand Action, a group that pushes for gun control, and that the company has donated to the Giffords Law Center, a policy group that pushes for gun control.