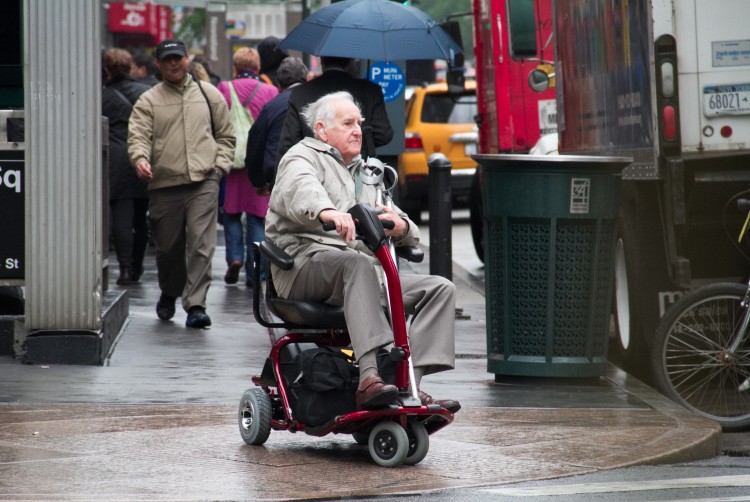 NEW YORK—The confusing tangle of regulations from multiple unrelated federal entities, along with state and local regulations, has lead to increased accessibility lawsuits against unsuspecting local developer and architects. These professionals and others gathered on April 24 in Greenwich Village to learn how to avoid lawsuits over accessibility deficiencies.
"One of the biggest misconceptions is that you don't need an accessibility consultant," said Harold Bravo, an accessibility consultant from Steven Winter Associates.
"It's a lot easier to fix something in the beginning process of a project than to come back later, with all the legal fees," he said.
Many New York City developers and businesses thought it would suffice to meet the accessibility standards under Local Law 58, but unmet federal regulations have triggered recent lawsuits.
"It's way too much information," Bravo said. "You might get all the requirements in one [regulation], but miss some in the others."
According to Mark Ginsberg, a partner in architecture firm Curtis + Ginsberg, although the deputy mayor has signed letters certifying projects as compliant with fair housing, several do not meet the Department of Justice's (DOJ) accessibility requirements.
Older Regulations, Recent Enforcement
The Fair Housing Act (FHA) incorporated provisions for the disabled in 1988. But widespread enforcement did not begin until the early 2000s, according to Peter Stratton, senior VP of Accessibility Consulting at Steven Winters and Associates.
Enforcement was not across the board. New York had successfully avoided major accessibility lawsuits until recent years.
"Finally, we're in New York," Stratton joked.
Architects and developers were not paying much attention to the requirements because it wasn't enforced, Bravo said. But now "people are waking up. …There's lawsuits everyday."
Since the DOJ's crackdown on New York, the Department of Housing Preservation and Development has been "running around like a chicken with its head cut off, trying to figure out how to deal with this," Ginsberg said.
Restaurants Targeted for ADA Violations
The Department of Justice (DOJ), under the Americans With Disabilities Act (ADA), is currently targeting the top 50 New York restaurants for accessibility inspections.
"These are big-deal, famous-chef restaurants," Stratton said. "They use the Zagat guide to identify the top restaurants."
Some restaurants may be subject to fines and construction modifications for not following federal codes, even if they follow local ones.
"We are involved in some of those cases working on behalf of the restaurants, trying to negotiate," Stratton said.
Signs of Cooperation
As of March 15, some local and federal accessibility regulations merged.
"They don't like talking to each other," Stratton joked.
Having one set of rules would be ideal, but unlikely to happen. "They each have their enforcement ideas, going in their own direction, Bravo said. The branches are currently trying to make sure the NYC building codes align with federal requirements, "at least on a basic level."
"When you go to architect school, you learn structural, mechanical, and other requirements—but there's not much emphasis on accessibility," Bravo said.
Steven Winter Associates gives talks on accessibility regulations at various universities and provides specific trainings to architectural offices.
Stratton has also published a book, "A Basic Guide to Fair Housing Accessibility," to help prevent developers from overlooking accessibility requirements.
"It is important to keep in mind why these regulations exist," Ginsberg said.
He recalls an old story about his former professor in Italy, who moved his whole family to the United States solely to provide a more accepting environment for his disabled son.
"In Italy, he was always expected to stay in the house, couldn't go to school," Ginsberg said. "Having his son partake in the world and be a member of society was important enough to move his family to the U.S."