Detroit: $444 Million Arena Still Being Built for Red Wings
July 26, 2013 8:37 pm Last Updated: July 18, 2015 5:19 pm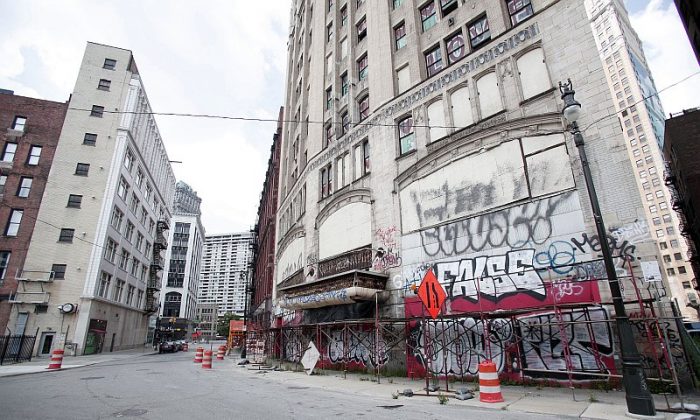 Detroit's $444 million arena is still being built, a report says, amid the city's attempts to declare bankruptcy.
The construction of the arena, which is funded by taxpayers, is for the Detroit Red Wings, according to CNN. Proponents of the arena have said the arena is needed to spur economic development, including jobs and private investment.
"I know there's a lot of emotional concern about should we be spending the money," said new Detroit emergency manager Kevin Orr. "But frankly that's part of the economic development. We need jobs. If it is as productive as it's supposed to be, that's going to be a boon to the city."
Critics of the arena say that construction of schools and spending money on vital services, including the city's strapped police force, are more important.
"If you want people to live in the city, and not just visit to go to games, you have to invest in schools, in having the police to respond to calls," Gretchen Whitmer, Micigan's Democratic leader, told the network. "There are so many investments that should trump a sports stadium."
Michigan Governor Rick Snyder approved the go-ahead with the stadium, but he has said the city doesn't need a bailout.
"I do what I believe is the right thing, and I don't get caught up in all the politics," Snyder told Bloomberg News. "The state of Michigan is on the comeback path, in some measure I hope because of the good things we've done over the last three years, and Detroit is part of Michigan."
Snyder told Bloomberg that he wants to rebuild the city and gain some population. Detroit had early 2 million residents in the 1950s during its manufacturing heyday, but it's lost nearly two-thirds of its residents and is down to 700,000 people.
"If people have better services, they'll be in Detroit," he said. Snyder envisioned Detroit's Midtown as "this environment where you have watchmakers, you have microbrewers, you have people living in lofts," he added.