The partner of detained Chinese-Australian journalist Cheng Lei has accused Chinese Ambassador to Australia Xiao Qian of lying when he said the journalist had access to her family.
Speaking at Australia's National Press Club on Aug. 10, Xiao said the basic rights of Australian citizens detained in China were protected.
"There are a couple of Australian citizens in China. They are under custody according to Chinese rules and laws," Xiao said. "Their basic rights are well protected. Don't worry about that."
The ambassador said there were times when custody was not accessible to relatives because of the pandemic, but the situation had changed.
"Now they can get easy to get access to their relatives either in Australia or also they have embassies in China," he said.

However, Cheng Lei's partner, Nick Coyle, disputes this, saying Cheng was allowed only one 30-minute consular visit a month from Australian Embassy officials and only via a video link provided by Beijing's secretive Ministry of State Security. No family visits are allowed.
"There have been no phone calls, no family visits at all," Coyle told The Daily Telegraph. "Only consular visits and visits from her Chinese lawyer (at the time of her trial)."
Cheng, 47, previously worked as an English-language anchor for China Global Television Network (CGTN), the international arm of the Chinese regime's state broadcaster, CCTV.
She was detained in Beijing on Aug. 13, 2020, on suspicion of "illegally spreading state secrets overseas" and was formally arrested in February 2021.
On March 31, Cheng's case was tried in secret at Beijing's Second Intermediate Court after 19 months in custody, with the authorities refusing to allow Graham Fletcher, Australia's ambassador to China to attend.

"This is deeply concerning, unsatisfactory and very regrettable," Fletcher told reporters at the time.
Coyle, who is the outgoing CEO of the Australian China Chamber of Commerce, revealed in June that monthly consular visits and regular 30-minute video meetings between Cheng and Australian officials had been suspended due to the Chinese Communist Party (CCP)'s tight COVID-19 restrictions.
"I find that just totally unacceptable," Coyle told Sky News Australia. "These monthly consular visits have literally been what's kept her going for 20 months."
Children: Not a Single Day Goes by Without Missing Mum
Cheng has a son and a daughter who have not seen their mother for two years.
On the eve of the first anniversary of Cheng's imprisonment, Coyle revealed paintings and messages by the two school-age children of his partner.
"Not a single day goes by without me missing the best mum in the whole world," one of the children wrote.
"I will be strong, just like you taught me, please come home soon, I love you."
In one childlike drawing, Cheng's son and daughter were smiling, and near a plane, boat, and TV microphone, saying: "We miss u, mum!"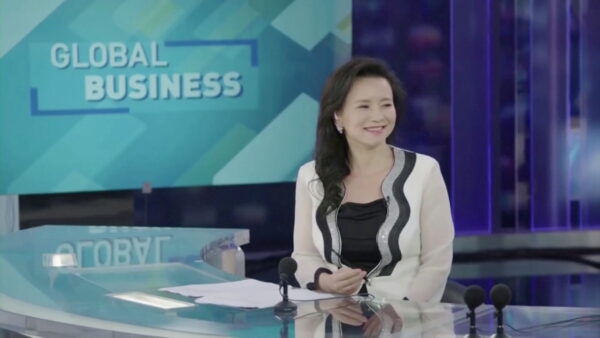 Being the second Chinese-Australian detained by Beijing since 2019 after writer Yang Hengjun, Cheng was detained just months after former Australian Prime Minister Scott Morrison called for an inquiry into the origins of COVID-19.
Subsequently, diplomatic relations between Australia and China began to deteriorate after Beijing began imposing trade tariffs and restrictions on Australian exports.
"On her last video call with Australian consular officials, Lei said she had been dreaming of the kids when they were little," Coyle wrote in an emotional letter to The Daily Telegraph.
"Two years later, the kids still have not been able to hear mum's voice or get anything close to a warm hug."
"We all need those from mum once in a while—and so does mum."