Desperate Sudan Refugees Hunger Strike in Sweden
Young immigrant activist takes up cause
June 2, 2006 7:41 am Last Updated: June 18, 2016 7:54 am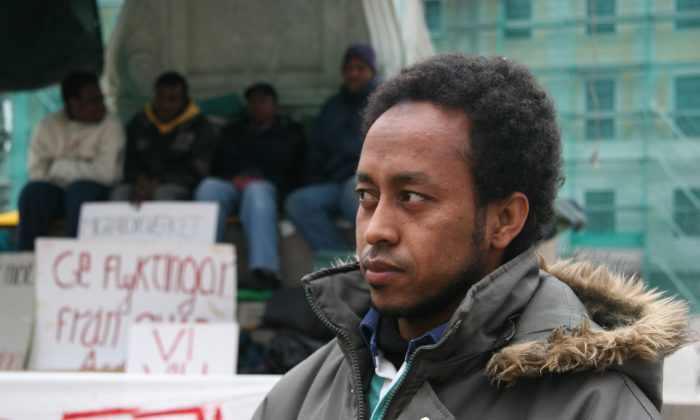 GOTHENBURG, SWEDEN—Desperate after repeated rejections by the Swedish Migration Board to grant them asylum, seven Sudanese men have been on hunger strike in Gothenburg's Gustaf Adolf square since May 21. Another man, who already received a deportation order, is said to be participating while in hiding at an undisclosed location.
"I have been honest in presenting my case, and now I am desperate," says Omar Dafalla, 21, one of the asylum seekers who has been refused asylum in Sweden three times.
Dafalla collapsed on May 28 after two days without drinking water, in addition to not eating. After being released from hospital a few hours later, he returned to the square, and has continued his strike, this time with water.
All the men are between 21 and 34 years old. The Migration Board refused each of them asylum between two and five times, by their own accounts. Dafalla sees the hidden hunger striker to be under the most immediate threat because he could be deported at any time.
"Last year, 14 [asylum-seekers from Sudan] were sent back, and three of them were executed, after [Sudanese] police made a trap for them," says Teysir Subhi, 19, a young Swedish human rights activist of Sudanese and Syrian descent. According to Subhi, all eight hunger strikers have been told by Migration Board officials that they are not likely to get asylum.
When the hidden man was issued a deportation order, they say they feared a fate similar to the executed deportees and panicked.
"We came here [to Sweden] because we have a problem in our country," says Dafalla. "Now we are hunger striking to prove our credibility."
Dafalla's story reads like a deadly adventure film. In a country where inter-tribal racism and violence is the norm, he was born to a Gimir (Northern Sudanese) father and a Masalit (Darfur region) mother. He lived in Darfur until he went to university in Khartoum. There, he joined an underground student organization that exposed to Khartoum residents the atrocities taking place in Darfur. He was soon arrested by police, tortured for information, and raped, he says. Scars on his body attest to the torture.
"It would be very disrespectful and offensive to send these refugees back to Sudan," says Subhi. She vows to continue fighting for the rights of each of the hunger strikers until they are guaranteed safety.
Subhi's desire to help others blossomed early. In her mid-teens, she helped build a basketball court to help immigrants feel more at home in Gothenburg, and later she started to raise awareness of HIV/AIDS. Incredibly, she traveled across Sudan herself and "saw stuff" with her own eyes. That convinced her to begin working for the victims of what the U.S. government has called a genocide.
Board Responds
"For every appeal, we have to look at the actual situation," says Fredrik Beijer, Assistant Director of the Swedish Migration Board.
"Dafalla's case for instance is still open so we must be careful not to presume he will be refused this time also. We know that Sudan is a very difficult country."
The Migration Board is not allowed to deport people when there is evidence that they could be tortured or wrongfully imprisoned, said Board spokesperson Marie Andersson.
Khartoum Residents Ignorant of Atrocities
Back in Sudan, Subhi's message is even less known.
"The people in Khartoum have no idea about what is going on in their own countryside," says Subhi, when asked why there seems to be little momentum within Sudan stop the killings.
"If you watch Sudanese [television] channels, everything is so perfect. They are brainwashed, talk of killing is shown as a U.S. ploy."
The Sudan section of Amnesty International's Report 2006: The state of the world's human rights supports Subhi's claims, describing extensive censorship of media in the country along with stiff reprisals to anyone who challenges it.
"Freedom of expression continued to be repressed [in Sudan], with widespread arbitrary arrests, incommunicado detention and torture. Prominent among the victims were political activists, human rights defenders, student leaders and IDPs in and around Khartoum Newspapers continued to be heavily censored, particularly in relation to Darfur," says the report.
Additional Reporting by Pirjo Svensson in Gothenburg.