Descendants of Genghis Khan Found in Liaoning
March 5, 2007 12:00 am Last Updated: March 5, 2007 12:00 am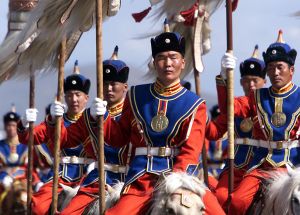 A genealogy from more than 100 years ago suggests that the descendants of Genghis Khan are living in Chaoyang, in China's northeastern province Liaoning. Experts believe that the Bao family are descendants of the 20th generation grandson of Genghis Khan, whose official title in Chinese history is Yuan Taizu (the Great Ancestor of the Yuan Dynasty).
According to Chinese Business Morning, the Bao family recently made public thousands of precious historical documents in three different languages: Mongolian, Manchurian, and Chinese. Among these secretly kept documents hundreds of years old, the "Bao Genealogy" reveals that Bao Guangwen's family in Chaoyang City are the descendants of the Golden Family—Genghis Khan's Golden Family.
Bao Guangwen's mother indicated that the genealogy was found purely by accident. She said that she had found the documents while sorting through a shed in the courtyard in 2002.
The ancestral home of the Bao family is Hohhot, Inner Mongolia. They later migrated to Tumote Youqi, Inner Mongolia. They follow the stringent hierarchical marriage system, which means the aristocracy of the Bao family can only marry the Zasake (tribal leader).
The "Bao Genealogy" is 6 meters long (19.7 feet) and 1.45 meters wide and is written in both Mongolian and Manchurian. The researchers indicate that this genealogy was continued and finished during the Guangxu years of the Qing Dynasty (1871–1908). It is speculated that the Bao family are the descendants of a grandson (either Seleng or Chagun) of the Emubuchuhuer, the 20th generation grandson of Genghis Khan.
What's puzzling is that these documents have been kept in good condition over the centuries in the absence of any systematic preservation.