Florida Gov. Ron DeSantis told reporters Dec. 7 that soon he'll unveil a proposed budget for the 2022-23 fiscal year, which will include "higher budget reserves than we've ever had in the history of the state of Florida."
"We are doing things that matter, that are helping Floridians across the board, and we're being very aggressive on that," the Republican governor said.
"But yet, at the same time, our budget will come in at less than half of the budget of the state of New York—which is the closest state to us in population—we're about 3 million more people than they are."
He made the comments while announcing a proposal that's part of the budget lawmakers will consider: a plan to spend $270 million on 76 projects across the state designed to combat flooding and "sea-level rise." 
When combined with local matching funds, the proposed projects would have a total cost of nearly $500 million, he said.
In the current fiscal year, the state invested more than $640 million to help prepare for the impacts of sea-level rise, intensified storms, and flooding.
"In Florida, our environment and economy are inextricably linked," he said. The plan is designed to make communities in the peninsular state more resilient.
When asked by a reporter about the connection to climate change, DeSantis fumed, "What I've found is when people start talking about things like global warming, they typically use that as a pretext to do a bunch of left-wing things that they would want to do anyways. And so, we're not doing any left-wing stuff.
"What we're doing, though, is just reacting to the fact that, OK, we're a flood-prone state, we do have storms."
As more people move into Florida, having a larger population increases the potential of increased damage in the state, he said. So better, stronger infrastructure is needed now.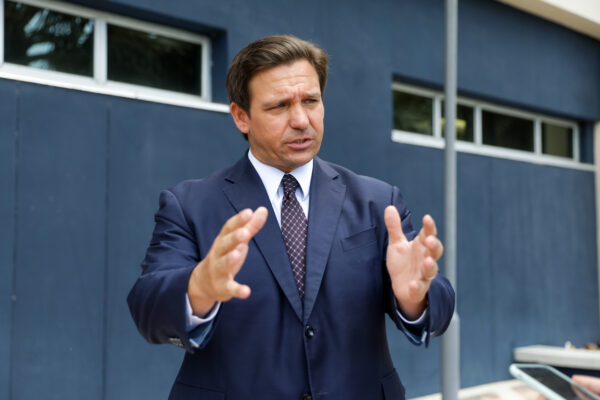 DeSantis recently announced his bid to be reelected in 2022. Though there are 11 Democrats in the field of challengers, analysts regard the top contenders to be Democrats Nikki Fried, the state's Commissioner of Agriculture, and Congressman Charlie Crist, who served as a Republican governor of Florida before switching political parties.  
On the issue of soaring gas prices, DeSantis said the root problem was anti-energy policies.
"We're going to do what we can to relieve the burden," he said. Inflation "is real and it's likely to persist for a long time unless we see a change of course out of Washington."
He said his proposed budget for next year includes a plan for a $1 billion "gas-tax holiday"—a period of time when gas will cost about 25 cents per gallon less.
The plan would deliver savings of about $200 for the average two-car household, according to the state's Office of Policy and Budget estimates. Motorists using more fuel would save more.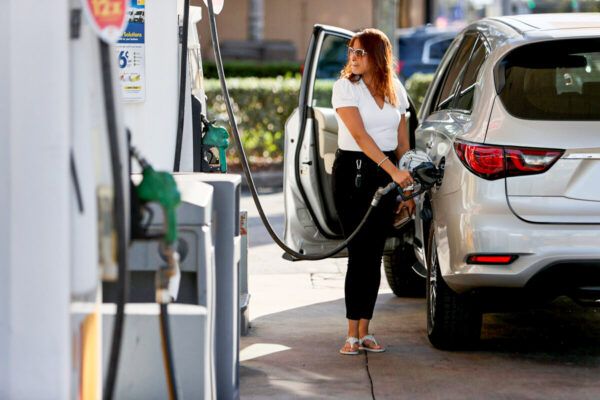 Sales tax is added to the price of goods, or services, and collected from the purchaser at the time of sale.
Florida's general state sales tax rate is six percent, with the following exceptions: four percent on amusement machine receipts, 5.5 percent on a lease, or license, of commercial real property, and 6.95 percent on electricity, according to the state Department of Revenue.
The state has been offering sales-tax holidays for years.
In 2021, there was a seven-day "Freedom Week" in early July, eliminating sales tax on cultural events and sporting goods.
There also was a 10-day, back-to-school, sales-tax holiday in August on school supplies, clothes and other items related to a return to classes.
And there was a 10-day, disaster-preparedness, sales-tax holiday in late May and early June—eliminating sales tax on things like coolers, batteries and generators, which are often needed when storms cause power outages. 
All of DeSantis' recently announced initiatives will be considered by state lawmakers during their regular two-month legislative session that begins in January.
The budget they return to the governor for his signature will fund state operations for the fiscal year beginning July 1. 
The state's $101.5 billion budget for the current fiscal year left $9.5 billion in reserves, funds tucked away to deal with hurricanes and other emergencies.
Other budget proposals DeSantis has announced recently include pay raises for teachers and law enforcement officers, and the reinstatement of a Florida State Guard.
A date for the unveiling of his full budget proposal has not been released.
While Gov. DeSantis was announcing budget predictions in a Florida park, his wife Casey was in nearby Tampa, announcing a proposal for $100 million for cancer research, and care, at three hospitals in Florida.
That's 59 percent more than the state chipped in last year for the hospitals' programs and research.
First Lady Casey Desantis was diagnosed with breast cancer in October.  She is the mother of the couple's three children under six.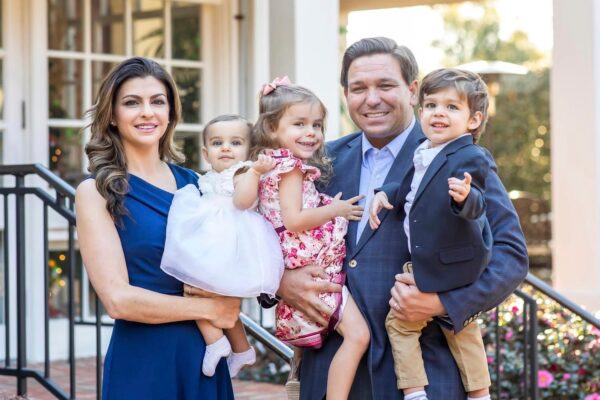 But even though the state has excellent resources for cancer patients, "now is not the time to delay care," she said, urging Floridians to follow-through on needed cancer screenings, despite COVID-19 concerns. 
Her own cancer was discovered when she insisted on a mammogram, despite a doctor's assurances that she didn't need one.
It's believed that nearly 9.4 million screenings for breast, colon and prostate cancers did not occur in the U.S. over the first year of the COVID-19 pandemic, according to a study, released in May, by the University of Kansas Medical Center.
Since 2014, cancer has been a leading cause of death in Florida, second only to heart disease. 
In 2021, there have been 47,000 deaths attributed to cancer in Florida, according to American Cancer Society estimates.