TALLAHASSEE, Florida—While much of the country bundles up around the holidays, Floridians revel in bragging about their "T-shirt weather."
It's not unusual for December temperatures to hit the 80s in the Sunshine State. But what stands out as strange is the number of natives sporting short-sleeve shirts emblazoned with images of their governor, Ron DeSantis.
DeSantis, a Republican, has taken on both rock-star and villain status in his state, depending on who is asked, largely because of the way he has pushed back against policies from Washington and the Biden administration.
Comments during DeSantis's live broadcasts and on his social media pages show that interest in what he's doing stretches far beyond Florida's borders. Posts from users in other states, and even other countries, often refer to him as "America's Governor" and beg him to run for president. Others deride him as "moRon," "Death-Santis" or "DeSatan."
As never before, Floridians proudly wear their feelings for their top executive on their sleeves. When DeSantis shows up in little towns and big cities around the state for his almost-daily public appearances, those in attendance often wear T-shirts blaring a bold—yet unofficial—DeSantis 2024 logo. That's despite the fact that the 43-year-old governor has said over and over that he's not running for president. He filed in November to run for reelection for governor in 2022.
Other fans wear T-shirts in a wide range of designs, many bearing a likeness of him grinning, wearing superhero garb, holding a Constitution in his hands, or appearing in a droopy red hat as "DeSantis Claus." Pro-DeSantis styles often feature the slogan "Make America Florida."
Opponents turn their chests into billboards, too, insisting he's "Killing Floridians with his Stupidity."
Love him or hate him, DeSantis became one of America's most recognizable governors in 2021, going toe-to-toe with President Joe Biden over what DeSantis calls "government overreach." The White House didn't respond to requests for comment.
Under DeSantis's leadership, Florida has taken on a new moniker: The Freedom State.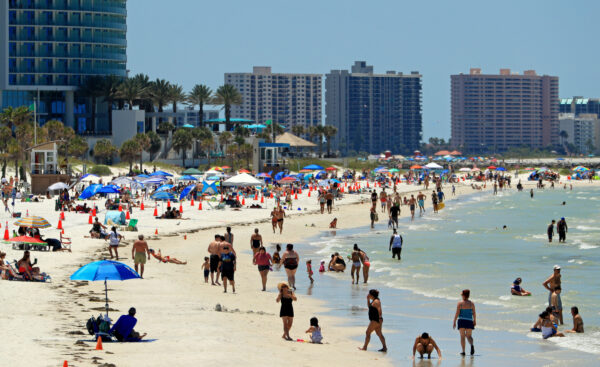 When Biden was pushing for a return to lockdowns, DeSantis vowed to keep Florida's businesses, beaches, houses of worship, and schools fully open, as they had been since he lifted remaining restrictions in September 2020. Residents from other states flocked to Florida—some just to be able to have a dinner out. Others drove moving vans loaded with belongings and hopes for a less-restricted future.
The state grew by an estimated 329,717 new residents between April 2020 and April 2021, according to Florida's Office of Economic and Demographic Research. And Move.org reported that Florida was the No. 1 destination for relocating Americans in 2020. Housing prices skyrocketed and demand outpaced the supply of homes.
Conservatives in Florida had openly worried about whether an influx of new residents fleeing Democrat-led states might bring their left-leaning voting habits with them and turn the swing state solid blue.
Not a chance, soothed Christian Ziegler, vice-chairman of the Republican Party of Florida at an October fundraiser at the swanky World Equestrian Center in Ocala. He promised that Republican voter registration would surpass Democrats for the first time by Thanksgiving. And it did.
People used to move to Florida because of the weather and the beaches, Ziegler told the crowd, but "now it's because of the freedom, and who your governor is."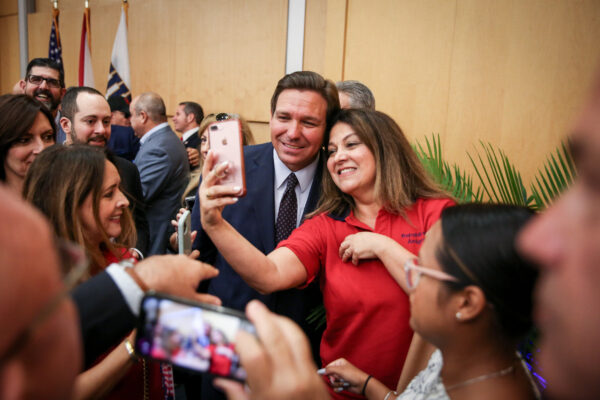 Jeff Wiita, who moved with his wife, Sandy, from Minnesota to a Florida retirement community in May, felt those words described him perfectly.
The Wiitas were frustrated that, to have an evening out at a restaurant, they had to drive 45 minutes to neighboring Wisconsin. They were saddened to be able to see smoke from riots in Minneapolis rising from the nearby city. They were angry when a Trump sign on their property was torn down.
They considered moving to Texas, but felt Gov. Greg Abbott wasn't taking a strong enough stand for freedom. DeSantis's policies drew them to Florida.
Florida Policies Turn Heads Nationally
Across the country, business owners are eyeing Florida, too, as they fret about supply-chain snarls caused by heavy-laden barges sitting idly, waiting to dock, at ports on the West Coast. DeSantis has urged shippers to set sail to Florida to unload. Florida ports bustle 24/7, he said, and can do the job others can't. And many shippers have.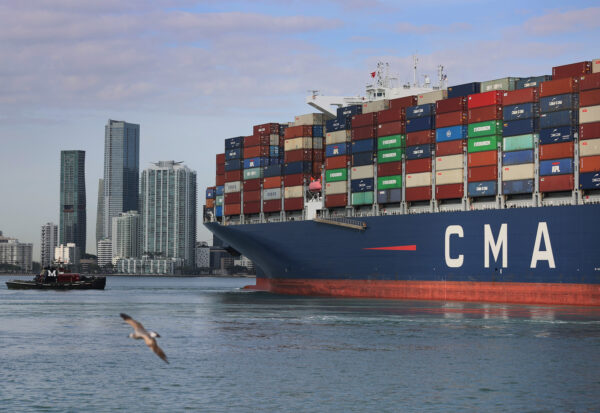 Biden and many in the media called DeSantis reckless for resisting renewed lockdowns this summer, when COVID-19 infections surged in the state. DeSantis insisted that lockdowns hadn't worked before and were a mistake that hurt people financially, mentally, and emotionally.
Lockdowns meant the old and the sick died alone in nursing homes and hospitals, he said. Lockdowns blocked people from being together during life's most precious moments, like weddings and births. They shut down high school athletes' dreams. They kept children out of schools, delaying learning and development. They crippled businesses and caused job losses, blamed for a cascading effect of depression, child abuse, addiction, and suicide.
So when Biden scolded DeSantis and Abbot for not cooperating with his COVID-19-response efforts, DeSantis bristled.
He said Biden was ignoring science and was responsible for letting COVID-19-infected immigrants pour across the Southern border. He warned Biden not to try to burden Floridians with lockdowns ever again.
"If you're trying to ruin their jobs and their livelihoods and their small businesses, if you are trying to lock people down, I am standing in your way, and I'm standing for the people of Florida," he said during a press conference. "So why don't you do your job? Why don't you get this border secure? And until you do that, I don't want to hear a blip about COVID from you."
DeSantis responded to the surge of the illness by launching sites around his state where Floridians could get monoclonal antibody treatments for free without a doctor's prescription. When the Biden administration tapered supplies of the treatment, DeSantis found a way to get more.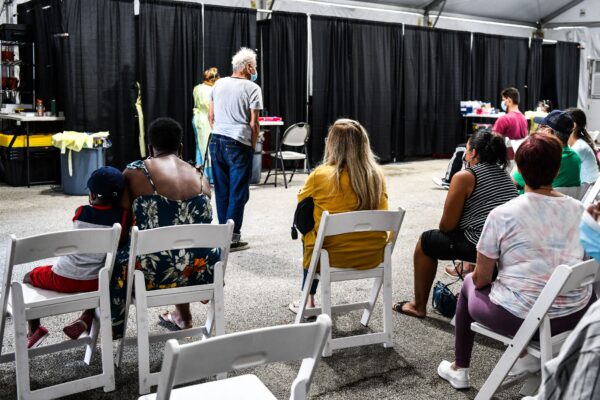 Florida's Recovery Outpaces Other States
By September, a year after Florida reopened, the nation posted an increase of 194,000 jobs, and Florida accounted for 84,500 of those.
Tourism, the state's most important industry, rebounded to pre-pandemic levels by October. And in November, Florida held steady as the state with the lowest COVID-19 case rate nationwide.
"He has been right at every single turn," said Carol Dover, who represents the state's largest industry and biggest employer, hospitality. "Every time he pushed back, people would raise an eyebrow and be concerned, but I always told them, 'Just wait and see what happens.'"
As president and CEO of the Florida Restaurant and Lodging Association, Dover represents more than 10,000 restaurants, hotels, theme parks, and other businesses. Prolonged lockdowns threatened to splinter the state's $111.7 billion hospitality industry—what she calls the economic engine of the state—permanently. The lockdowns caused job losses for many of the 1.5 million people employed in hospitality.
But DeSantis resisted Washington policies and ended the lockdowns that threatened to make the recovery of the industry impossible. Many businesses, she said, were saved by his actions just in time.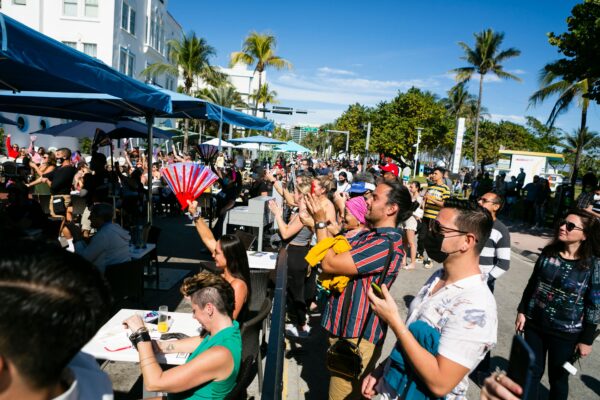 "My clients literally think he has done a stellar job," she says. And even though she represents people on all points on the political spectrum, "they were never divided in that."
Some business owners were concerned after DeSantis signed a new state law saying employees couldn't be fired or penalized for not getting vaccinated for COVID-19, the illness caused by the Chinese Communist Party (CCP) virus. That's because federal rules still required businesses with more than 100 employees to require the vaccines. But then courts ruled against the federal mandate.
"At every turn, he was helping us stay free, and he never put us in jeopardy," she said of DeSantis. "We'll forever be grateful for that."
Now her members' biggest challenge is a shortage of people willing to work.
"We knew from the beginning it was because of all the government handouts," Dover said. "People got used to the luxury of being home, and not having to go to work. And I think that culture change will be with us for a long time."
But people willing to work are reaping rewards. Dover knows restaurant workers who, by picking up extra shifts, now make more than $100,000 per year.
DeSantis has continued to challenge Biden at every turn to the benefit of Floridians.
"We started with 15 days to slow the spread and now it's get jabbed or lose your job. Give me a break!" DeSantis said at a news conference, pushing back against Biden's vaccine mandates.
DeSantis then countered federal vaccine mandates in Florida by calling state lawmakers to Tallahassee the week before Thanksgiving for a special legislative session. Four days later, they delivered bills for him to sign that, among other provisions, required businesses that impose vaccine mandates to provide exemptions on medical and religious grounds as well as for pregnant women. The bills also gave parents the right to opt their children out of wearing masks at school and limited the emergency powers of the state's top health officer.
The governor also vowed that Florida's children would never be subject to a COVID-19 vaccine mandate.
In a jab at the president, DeSantis coyly signed the bills at a ceremony in the mid-state city of Brandon. It was meant to send a message, his spokeswoman said. "Let's Go, Brandon!" has become a viral anti-Biden euphemism chanted by crowds around the country.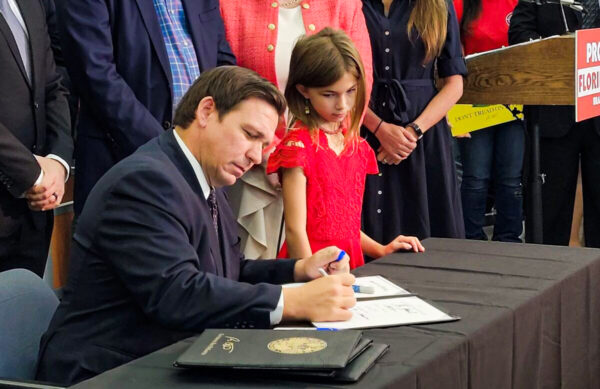 Those bills "saved our jobs," said paramedic Michael Junge, a lieutenant and 18-year member of the Orange County Fire Rescue. He and many of his first-responder colleagues had refused to get the vaccine for varying reasons. For one: he'd already recovered from the disease and believed he had natural immunity. But also, as a paramedic, he had seen terrifying and unexpected emergencies in otherwise healthy young people—seizures, heart problems, strokes—and "the common denominator always was that they'd had the vaccine recently," he said.
"Now the county can't terminate us."
DeSantis has helped first responders—workers he routinely calls heroes for their actions throughout the pandemic—by doling out $1,000 bonuses to them, and promising $5,000 signing bonuses for law enforcement officers moving in from other states "where they weren't appreciated," and taking jobs.
He passed out $1,000 bonuses to teachers, too, and offered them $3,000 bonuses for earning certification showing they're ready to teach civics with excellence. Civics, he says, is an antidote to critical race theory (CRT) teachings, which he banned in Florida schools. CRT, he said, teaches children "to hate our country."
CRT evolved from Marxist teachings of critical theory and paints most of what goes on in society as a power struggle between the race of the oppressor and that of the oppressed. It's the theory that propels Black Lives Matter and demonizes the country's Founding Fathers.
That has no place in Florida, DeSantis has said. Again, that has put him at odds with Biden, who restored the ability for federal agencies to have CRT training sessions, which were virtually banned by President Donald Trump.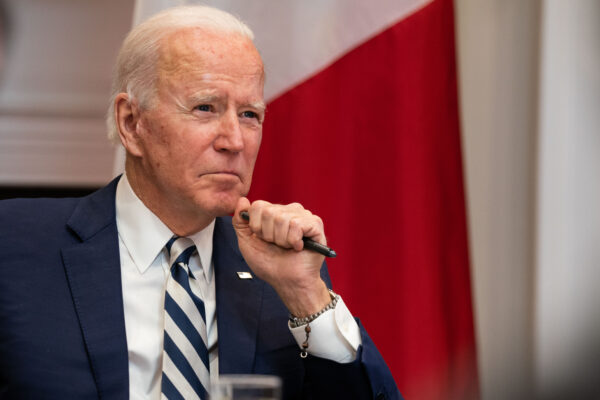 Over and over in 2021, DeSantis took on the Biden administration over issues of national, and sometimes international, interest:
He signed a law banning vaccine passports in his state, with $5,000 fines per violation.
He called on Biden to deport illegal immigrants who had committed crimes. Then he traveled to Texas to witness the border crisis for himself, after sending law enforcement officers to help.
When leaks from federal workers alerted him to secret, middle-of-the-night flights of immigrants into Florida for resettlement, DeSantis accused the Biden administration of "running its own massive human smuggling operation" and demanded information about the illegals flooding into his state.
He promised to resettle immigrants again by delivering them to Biden's home state of Delaware. That wasn't hyperbole, and a plan would be announced soon, spokeswoman Christina Pushaw said in early December.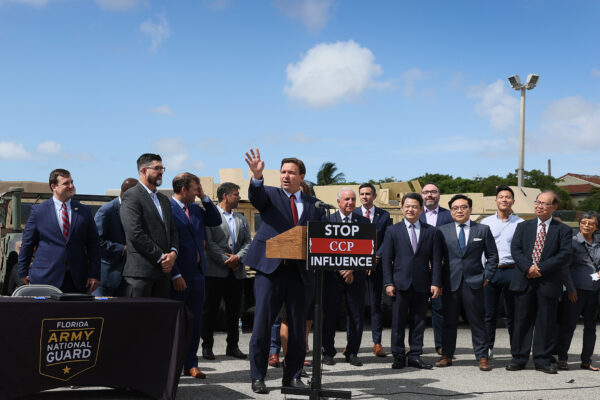 Calling Out Communism and Censorship
In moves that looked more like those of a national leader than a state executive, DeSantis, a self-described anti-communist, took aim at the Chinese Communist Party (CCP) this year. He said it should be held accountable for damage caused by the pandemic, because its leaders allowed the virus to leak from a lab in Wuhan, delayed warning the world, and then tried to cover it up.
He signed laws making it more difficult for the CCP to exercise influence on college campuses and made stealing and selling trade secrets third-degree felonies punishable by up to five years in prison.
And when the communist regime controlling Cuba shut down internet access during anti-government protests in July, DeSantis pressed Biden to take a stand and use U.S. assets to restore online communication. DeSantis also urged the Cuban military to join with demonstrators and overthrow communist leaders. The island nation is just 90 miles from Florida's southern tip.
DeSantis took Big Tech to task, too, accusing Facebook and others of manipulating elections in his state by limiting access to some candidates while boosting the reach of others. He signed a bill—the first of its kind in the country—allowing Floridians to sue social media platforms for censorship. But enforcement is on hold, as the bill faces challenges in court.
He also charged Florida lawmakers with the job of passing new laws to guarantee election integrity in the state. Legislators are set to take up his proposals in January when they return for their regular session.
Standing up for the people of Florida and for people across the country—that's what real leadership looks like, says Heather Quarles, a wife, mom, and church employee in the North Central Florida university town of Gainesville. She, like many in the state, is torn about whether she hopes DeSantis will make a run for president.
"I don't want to lose him here. That does concern me. But having him in the White House could be a win long term."
What she likes most about the former Naval officer is that "he has served our country—he has made the sacrifice, so he understands." Any candidate who hasn't served in the military probably isn't qualified to serve as commander in chief, she says.
It's important for women to like DeSantis if he wants to retain his job as Florida's governor, and it's critical if he wants to be president.
One well-known political analyst, speaking on condition of anonymity, said DeSantis's sometimes crass or arrogant-sounding comments could backfire on him, as they did for Trump.
"His wife needs to rein him in," the analyst said. Casey DeSantis, 41, was diagnosed with breast cancer in October and is the mother of their three children under 6. She's a former anchorwoman who takes an active role promoting her own initiatives and his across the state.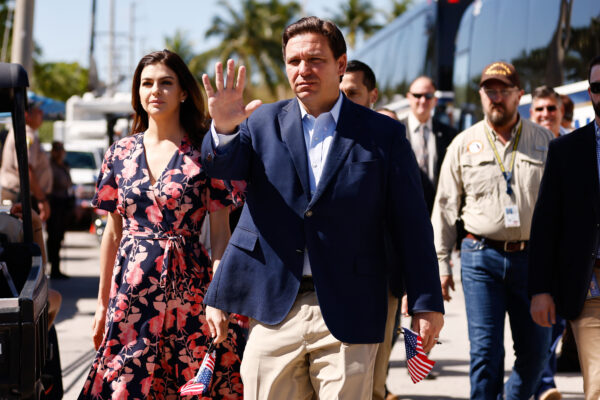 Many suburban, Republican women—voters Trump needed—turned against him because of his steady stream of mean tweets and expletive-laced tirades, the analyst said. Sounding like Trump could work against DeSantis, if he doesn't take a more humble, mature, and professional tone.
Though DeSantis says he's not eyeing the White House, his continual punching at Biden and his travels to other states make it look as though he's positioning himself to run, pundits say.
Historically, political parties look to their group of governors as a kind of "breeding ground" for future presidential elections, said political analyst Susan MacManus. And the "out" party—the one not in control of the White House—is always "looking for someone to be their standard-bearer the next time around."
MacManus has studied—and been sought out for opinions on—Florida politics for about 40 years. She's a historian, author, and professor emerita of political science at the University of South Florida.
DeSantis, she says, has been an unusually active governor "with an element of surprise" that gives him broader-than-normal appeal. For instance, he recently nixed the annual testing of proficiency in Florida's standards. The widely unpopular test contributed to A–F letter grades assigned to schools, and was blamed for a teaching-for-the-test push in classrooms. It was a move many teachers liked, and teachers often lean left, politically, because of their unions, MacManus noted. DeSantis further broadens his appeal by actively advancing environmental issues, such as his recent investment in the Everglades.
"It's common for governors to want to run for president," MacManus said. And that, she added, is probably why former New Jersey Gov. Chris Cristie has just written "Republican Rescue" and is making appearances to promote the book, in an effort to offer himself as an alternative presidential candidate.
Trump has said he can't reveal whether he plans to run again, due to campaign finance laws. He's also indicated he'll wait to see the results of the 2022 midterm elections before deciding. In interviews, he's said he would consider DeSantis as a running mate in a 2024 attempt to reclaim the White House.
Trump's endorsement gave DeSantis a much-needed boost in his election the first time around against the popular Democrat mayor of Tallahassee, MacManus said. DeSantis won by about half a percent. And despite rumors that there's friction between Trump and DeSantis now, MacManus is skeptical.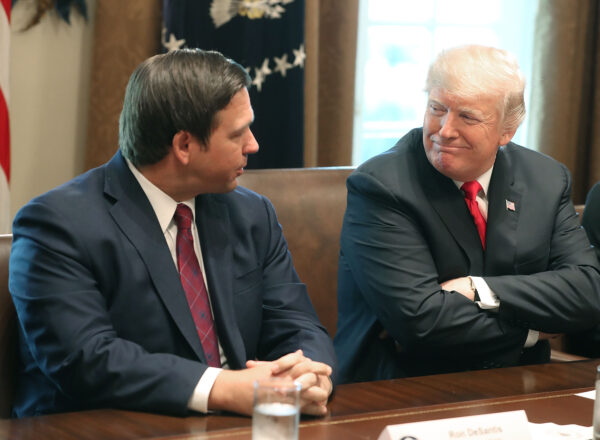 Should he decide to run for president, "he's doing the smart thing by building up networks across the country," by making appearances in other states, she said. An important swing state in national elections, Florida is the third-largest and the most evenly divided by the two major parties, she noted.
So far, 11 Democrats are challenging DeSantis in his bid to keep his job. Also registered for the race are one Republican, one independent, and three candidates listing no party affiliation, according to Florida's Division of Elections.
MacManus says his biggest threats come from two current Democrat politicians: the state's Commissioner of Agriculture Nikki Fried, who says she's a "longtime advocate for criminal justice reform and marijuana legalization," and Charlie Crist, currently a congressman who previously served as Florida governor as a Republican, before switching parties.
Crist had been known in the state as "Chain Gang Charlie" for his tough stance on convicted criminals, but now joins Fried in campaigning largely on legalizing weed. Neither Crist nor Fried responded to requests for comment.
MacManus said people that follow such races closely, and project odds for betting, believe DeSantis has his reelection "in the bag."
"Every handicapper is projecting him to win."