Florida Gov. Ron DeSantis will sign a controversial bill granting immunity to hospitals against lawsuits related to their treatment of COVID-19, according to his office.
Floridians have been bombarding his office asking him to veto the bill because it offers protection from lawsuits only if medical providers follow government guidelines for treatment. For months, DeSantis has said he wants legal protections for doctors, allowing them to provide what they feel is best, even if those treatments don't align with the federal government's recommendations on how to treat COVID-19.
To address that problem, the DeSantis administration told The Epoch Times that the state Department of Health would be updating its policies to expand freedoms in three areas related to COVID-19. One of the updated policies will shield doctors who offer medical treatments they feel are best for their patients and not force adherence to guidelines by the Centers for Disease Control and Prevention (CDC).
The new policies will "buck CDC" guidelines by also eliminating forced masking of employees;  reducing COVID-19 quarantines in schools, child-care centers, and workplaces to five days; and adding treatment guidelines "empowering health care practitioners to follow science" and no the "status quo," the office wrote in a news release being prepared for the announcement. 
Florida Surgeon General Joseph Ladapo, who was confirmed less than 24 hours earlier by the legislature to guide the state's medical policies, told The Epoch Times that the new policies would partly address what made the hospital immunity bill so controversial.
"Basically, what we're saying at the Department of Health is that it's not acceptable for physicians to want to practice medicine in a way they think is appropriate, and for hospitals to get in the way of that, specifically with COVID-19," Ladapo told The Epoch Times.
Federal policies have made doctors feel they can't prescribe what they think is best, Ladapo said. Doctors feel they must administer treatments they believe could be harmful, based on what "the CDC or Dr. Fauci or whoever was saying," he said.
"We're basically saying, 'That's not okay.' And we expect doctors to take care of patients in the way that they feel best, which is to apply their clinical knowledge and their clinical experience," Ladapo said.
"Doctors who encounter a situation where they're being blocked from treating patients in a way that is appropriate have recourse.  They can file a complaint with the Agency for Healthcare Administration (AHA)."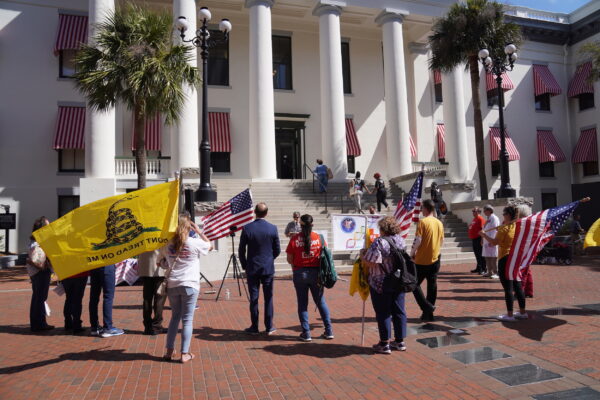 Additional policies set to be announced on Feb. 24 would stop the "terrible, dehumanizing practice" of forcing employees to wear masks when data show masks don't provide meaningful protection, Ladapo said. Masking provides "no benefit for anyone," he said.
Ladapo has faced harsh criticism by media pundits and Democrat politicians for questioning federal COVID-19 policies, challenging mask and vaccine mandates, refusing to discuss his own vaccine status, and urging Floridians to begin to "reject fear" and live with more normalcy again.
Why haven't federal policies moved more quickly to do the same?
"Weak research timed to concur with political objectives—that's been a very consistent thing," he said.
The public announcement of the Department of Health policies came on the first day of the annual Conservative Political Action Conference (CPAC) held this year in Orlando.  DeSantis was scheduled to speak at the mammoth event at 1:30 p.m.
The day marked the deadline for him to either sign or veto the hospital immunity. It was not clear what time he would sign the law, but it would take effect immediately after it is signed. Many Florida residents at the annual conference had been waiting anxiously to hear what he would do, and hoped he would announce a plan to veto.
The original legislation, passed in 2021, protects health care providers from lawsuits related to COVID-19. It was set to expire in March. Florida lawmakers delivered the bill to extend that law through June 1, 2023, to DeSantis' desk late on Feb. 17.
The Republican-led effort to extend the bill quickly passed through the Florida House and Senate. The measure adds 14 months to the law granting near-immunity to health care providers for, among other things, their treatment of COVID-19, as long as they follow "government-issued health standards relating to" the disease.
That's the part that irked so many Floridians, and caught the eye of other lawmakers around the country, as they watched to see what DeSantis would do.
Citizens concerned about the bill flooded the offices of lawmakers around the state Capitol with phone calls, emails, and visits.
"I've never seen this many communications about a bill before, any bill," DeSantis spokeswoman Christina Pushaw told The Epoch Times. Countless people reached out complaining about the ways hospitals had treated their loved ones during battles with COVID-19.
"We've heard all these stories that have been shared with our office," Pushaw said. And those were influential in the creation of the state's new public health policies.
Attorney Jeff Childers had drafted a suggested compromise on the bill and had it hand-delivered to DeSantis' office, urging the governor to extend the immunity  provision to include health care providers who are in "substantial compliance with any treatment requested in writing by the patient, his or her surrogate, guardian, attorney, or outside treating physician, even if such treatment is against medical advice, off-label, or experimental."
Childers also suggested adding a section to the bill outlining "patient rights," which would require that "any hospital licensed in Florida must: publish its full COVID-19 treatment protocol on its website allowing patients to have informed notice of the protocol before being admitted" and "provide temporary admitting privileges to the patient's outside physician so that the outside physician may treat the patient if desired by the patient or patient's surrogate, guardian, or attorney" and "never administer any treatment that a patient being treated for COVID-19 objects to or declines in writing," and "provide patients being treated for CVOID-19 with all rights described in the Florida Patient's Bill of Rights."
The bill to extend immunity for hospitals had put the Republican governor in a tight spot, forcing him to choose between aligning with his party or appeasing the growing number of constituents demanding a veto of the measure.
Going against his party's lawmakers on issues like that shouldn't hurt his reelection efforts, predicted Peter Bergerson, a political analyst with Florida Gulf Coast University and an expert on Florida and national politics and public policy.
With DeSantis' apparent popularity with Floridians, and conservatives around the country calling for him to run for President in 2024, state lawmakers facing serious challenges in upcoming elections need his support as much or more than he needs theirs.
A letter arguing against the legislation hand-delivered to DeSantis' office had swelled to include signatures from 35 leaders of organizations representing a combined total of hundreds of thousands of people in Florida and beyond, according to the letter's author, attorney R. Shawn McBride, of the American Freedom Information Institute.
Signers weren't against protections for health care providers, McBride told The Epoch Times. But tying that immunity from lawsuits to a requirement to follow COVID-19 treatment protocols dictated by the federal government puts Floridians in danger by preventing them from getting other treatments their doctors believed best for them, McBride added.
Republican lawmakers argued throughout the bill's journey through the Legislature that not extending liability shields for health care providers would put Floridians at greater risk by threatening the financial solvency of needed medical facilities.
For months, DeSantis has spoken emphatically about the need to give doctors protection to use treatments they believe best for their patients in the treatment of COVID-19. Doctors from around the country have told The Epoch Times about bullying calls threatening to strip them of their medical licenses or their malpractice insurance, if they're found to be prescribing treatments that deviate from federal treatment guidelines, such as ivermectin.
"We're not going to go after doctors for prescribing ivermectin," Ladapo told The Epoch Times.
Florida is one of 29 states across the country to enact laws shielding medical professionals from liability related to COVID-19. All 50 state governors were urged to put the protections in place by the federal government shortly after the pandemic began nearly two years ago, according to the American Medical Association.