Florida Gov. Ron DeSantis on Friday said that there could be more flights containing illegal immigrants to other locations after he sent around 50 to the wealthy enclave of  Martha's Vineyard.
"Obviously there's going to be buses like Texas is doing" and "there may be some more flights" containing illegal aliens, DeSantis told a news conference in Florida.
The Republican governor did not say whether he would send more to Martha's Vineyard, a Massachusetts island that has long been favored by the wealthy and powerful as a vacation spot.
"There's a whole bunch of other places," he said. "But I would say that all we're trying to do is offer transport to sanctuary jurisdictions" that are "free to the to the alien but certainly not mandatory."
"In that way they're able to go and these sanctuary jurisdictions can put their money where their mouth is they can provide the resources, they can do all of that," DeSantis continued. "And then once that happens, the chance of folks coming to Florida is probably very, very low. So that's why we're doing it and I think I think we're gonna continue to do it."
On Thursday, DeSantis drew Democrat outrage by sending two planes filled with illegal aliens—many of whom were Venezuelans—to the island. The state of Massachusetts on Friday activated its National Guard and within hours sent the aliens to a military base at Cape Cod.
For months now, Texas Gov. Greg Abbott has sent buses filled with illegal immigrants from the Texas–Mexico border to New York City, Chicago, and Washington, D.C. The Democrat leaders of those jurisdictions have said their municipalities cannot handle the influx of people, while some have declared emergencies or have requested assistance from the Department of Defense.
But those leaders have not mentioned the massive influx of illegal immigrants crossing into the United States from Mexico since the Biden administration rescinded numerous Trump-era immigration rules, including ending funding for a border wall and the "remain in Mexico" policy. Instead, they've directed their animus toward Abbott, Arizona Gov. Doug Ducey, and other Republicans.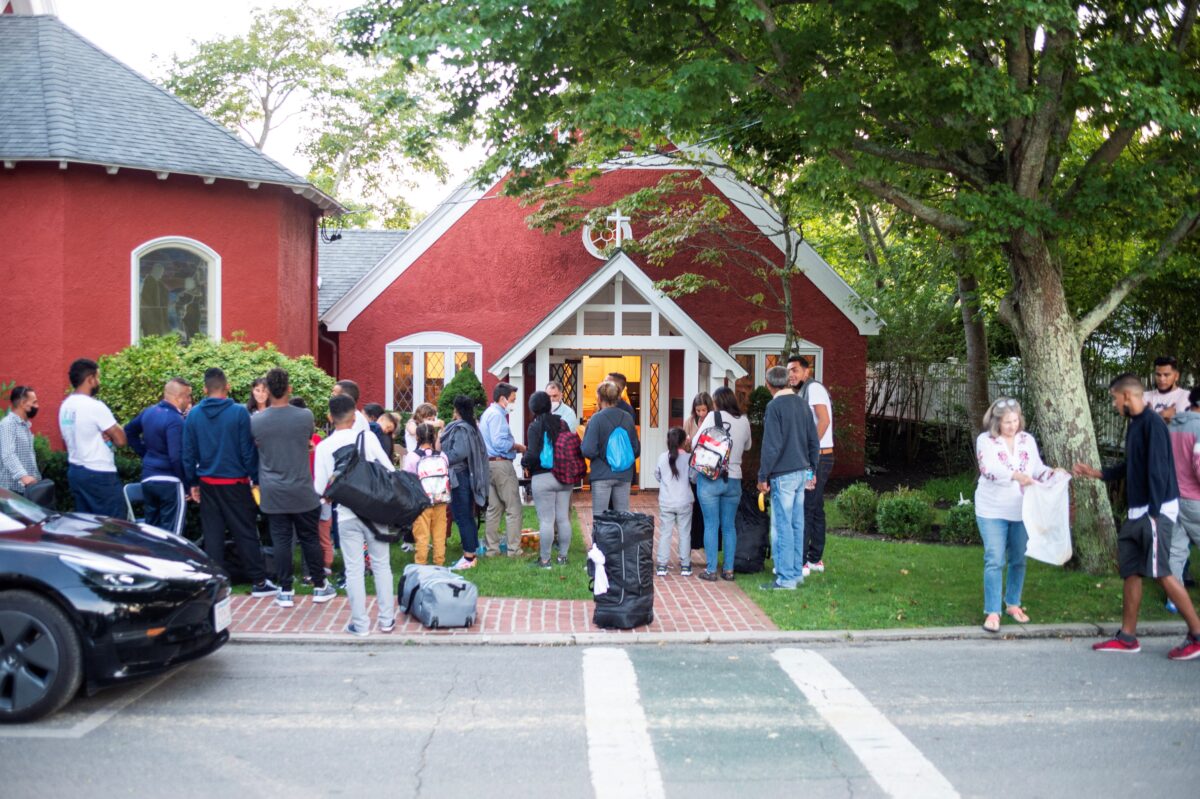 Political Fight
The White House on Friday, meanwhile, suggested that Abbott and DeSantis are engaging in human smuggling and using illegal immigrants for political purposes. Also Thursday, Texas sent buses filled with people who crossed into the United States to Vice President Kamala Harris's official residence in Washington.
"These were children, they were moms, they were fleeing communism," White House press secretary Karine Jean-Pierre said Friday, possibly referring to the socialist government of Venezuela. "And what did Gov. DeSantis and Gov. Abbott do to them? They used them as political pawns, treated them like cattle in a cruel, premeditated political stunt."
Cubans escaping the country's communist regime often try to apply for asylum in the United States to escape political persecution, and Florida has a significant Cuban-American population. Reports have indicated that the illegal immigrants sent by DeSantis to Massachusetts were of Venezuelan origin.
But on Friday, DeSantis contended that it's actually the Biden administration that is using illegal aliens as political pawns.
"What's not humane is what Biden is doing. He's given a false promise [that] the border [is] open, luring people to come here for political purposes, and then basically cutting these people loose and leaving them high and dry," he said.
Last month, the Federation for American Immigration Reform found that illegal immigration has skyrocketed under the Biden administration, with nearly 5 million people illegally entering the United States in the past year and a half. The group blamed the administration's policies as well as its decision to reverse several Trump-era immigration rules.
Jannis Falkenstern contributed to this report.