Florida Gov. Ron DeSantis is not interested in Twitter moving to Florida because it would increase the cost of living for other Floridians, he told reporters on May 2.
DeSantis said even though Florida has "done very well, over the last few years" he is only interested in attracting businesses that are "producing things."
"Importing some tech company from San Francisco has not been high on our list," DeSantis said in Jacksonville. "When technology companies like Twitter relocate, they drive up the cost of living for existing residents, and the state is instead focused on attracting industrial and manufacturing businesses."
The Florida governor made the comments after the state's Chief Financial Officer Jimmy Patronis advocated the move on social media and in an April 5 letter to Elon Musk, and Jacksonville's Mayor Lenny Curry also called on Musk to relocate his newly acquired company to the Sunshine State.
"I think it would be a great landing spot," Curry said on April 28 to reporters. "We're really on the map of a lot of companies representing a lot of employees. A lot of access to talent in the area. So again, come on Elon."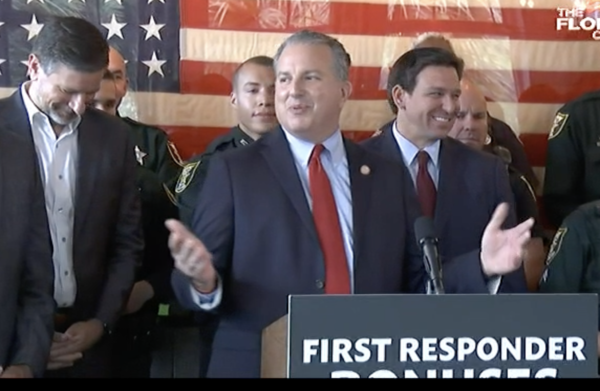 Patronis wrote in his letter that he would introduce Musk to the state's business development arm and help him "find the perfect place to start relocating Twitter headquarters" to Florida and also tweeted out a Florida sunset inviting Musk to the state.
However, Florida is not the only region courting Musk to move jobs out of California, Texas Gov. Greg Abbott publicly urged Musk to move Twitter to the Lone Star State.
"@elonmusk. Bring Twitter to Texas to join Tesla, SpaceX and the Boring Company,"  the Texas governor posted on the social network.
DeSantis said he is "supportive" of what Musk is doing for Twitter and said that it would benefit the state's retirement system which owns Twitter stock.
He also said it was a good move in that the Twitter platform has been used as a "tool to enforce narratives and stifle dissent."
He said the social media outlet was "born to be an open platform."
"I'm very supportive of what Elon Musk is doing," DeSantis said. "He will make that company more valuable; I have no doubt about it, but I don't want to import that necessarily into the state of Florida."
DeSantis said that he is looking to attract more industry rather than tech firms.
"I'd rather have more jobs that will actually be rooted in this state," he said.
"We're working on some good stuff–some good manufacturing and we've done very well with aerospace … and Elon has been a part of that."