LAKE BUTLER, Fla.—Florida Gov. Ron DeSantis gave a rare update on his wife's health Jan. 7, saying, "We're not out of the woods."
For the first time, he alluded to a prognosis.
"We're not through with it. We're getting closer to the end. But … our view is that 2022 will be the year where we can say that she is cancer-free," he said, as the room erupted in applause.
The Republican governor announced his wife's breast cancer diagnosis with a brief statement in early October.
Until Jan. 7, he had declined to provide details, other than to say how much it means to the family to hear that people are praying for her, and that she is a "fighter" who will "never give up."
Through the holidays, DeSantis was criticized in the media by political opponents for not making public appearances on days when, it was later revealed, he had accompanied First Lady Casey DeSantis to cancer treatment.
Gov. DeSantis made the remarks during a news conference announcing the award of more than $3.5 million to the small city of Lake Buter in rural North Florida.
The money will be used to make "critical improvements to the city's wastewater collection and pumping system" to prepare it to handle massive amounts of rainfall.
The improvements are part of the Florida Department of Economic Opportunity's (DEO) statewide plan to improve water and storm-related infrastructure in anticipation of future hurricanes.
Shortly after community leaders posed with the governor and a large check, DeSantis took questions from the media.
A question about the First Lady's health prompted the update.
The Governor's Office and the Office of the First Lady have been largely silent about her prognosis since October.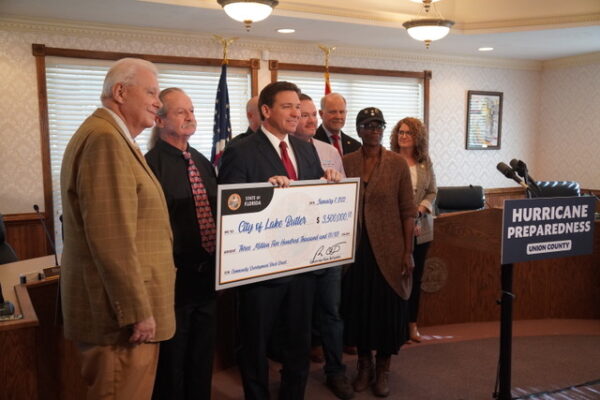 About three weeks after the original announcement, in an exclusive interview with EpochTV, Casey DeSantis spoke publicly for the first time during a horseback interview about the battle she was facing.
She said she decided to share her story in the hopes of prompting others to request cancer screening, if they sensed something might be wrong.
The challenge inspired her to help others, she said, during a visit with young patients being treated for cancer at Wolfson Children's Hospital in Jacksonville.
The visit was scheduled shortly after her diagnosis.
When speaking to reporters Jan. 7, Gov. DeSantis expressed frustration with having to face personal hardships in the public spotlight, especially when political opponents used it against him.
Congresswoman Alexandria Ocasio-Cortez (D-N.Y.) tweeted on New Year's Eve while on vacation in Florida with her boyfriend, "Hasn't Gov. DeSantis been inexplicably missing for like two weeks? If he's around, I would be happy to say hello. His social media team seems to have been posting old photos for weeks."
At the same time, Ocasio-Cortez faced widespread backlash pointed at her for fleeing her own locked-down state to enjoy the holidays in lockdown-free Florida.
"If I had a dollar for every lockdown politician who decided to escape to Florida over the last two years, I'd be a pretty doggone wealthy man," DeSantis quipped at a press conference Jan. 3.
Also taking aim at DeSantis was the mayor of Florida's Orange County.
Democrat Jerry Demings questioned DeSantis' absence from a coronavirus press briefing Dec. 28. Demings' wife, Democrat Congresswoman Val Demings, is currently seeking to unseat Florida Senator Marco Rubio (R) in a November election.
Florida Commissioner of Agriculture, Nikki Fried, is one of 10 Democrats challenging DeSantis in his bid to keep his job as the state's governor in November.
On Dec. 30, Fried joined the criticism of DeSantis, telling MSNBC she didn't know where he was.
DeSantis makes public appearances almost daily, crisscrossing the state, and his office publishes detailed daily updates outlining his schedule.

"A lot of these people, some in the media, but a lot of these politicians, who, you know, are trying to get some traction, they were saying, 'Oh, you know, he's out vacationing'," DeSantis said Jan. 7. "Turns out, we were down in Tampa doing this treatment.
"And it's not easy to go through for her," he said, expressing the pain of watching his wife suffer. "It is a tough thing. She has times where she's really good. And then sometimes, it really takes a toll."
Even since beginning treatment, Casey DeSantis has continued making appearances to further her initiatives as First Lady.
In November, she spoke at a press conference to promote an anti-drug program she's spearheaded. The program is designed to give Florida students a look at how substance abuse decisions can lead to deadly problems.
She also brought two of the couple's three children under 5 to a shoreline event in November to release young and adult redfish into Florida waters, as part of a state fisheries repopulation effort.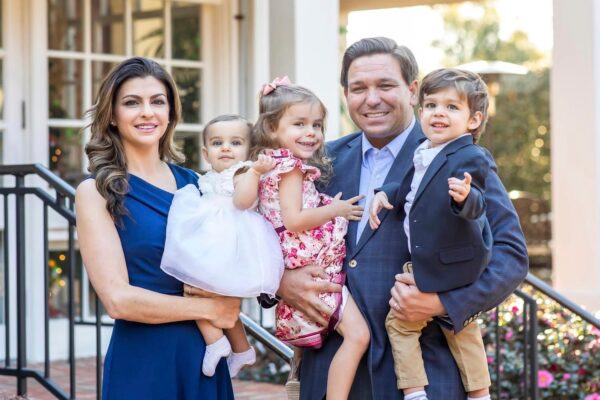 In December, the First Lady participated in a roundtable discussion to further her project, Hope Florida–A Pathway to Prosperity.
The initiative enlists community and faith-based groups to help struggling Floridians.
She made another December appearance to announce a $100 million cancer research funding proposal, part of the budget her husband is asking lawmakers to approve for the fiscal year beginning in July.
The Florida Legislature will consider the budget when representatives reconvene in the state capital next week for their regular session.
"A lot of people care about her, and a lot of people have been praying for, and that makes a huge difference to us," Gov. DeSantis said of his 41-year-old wife.
"We really appreciate it."