PUNTA GORDA, Fla.—To address Florida's teacher shortage, Gov. Ron DeSantis is taking a three-pronged approach to recruitment—bring retired first responders out of retirement, put military veterans on a fast track to certification, and help teachers get advanced degrees in order to teach dual enrollment courses. The governor made his pitch at a press event in New Port Richey on Aug. 16.
The State Board of Education is set on Aug. 17 to hear a rule to formally implement a program for veterans to receive a five-year temporary education certificate while they finish their bachelor's degree. A set of criteria must be met before the veteran applies, as laid out in SB 896 , which the governor signed in March after it received unanimous bipartisan support.
The plan DeSantis proposed on Aug. 16 expands SB 896 to add retired first responders. It would need legislative approval but would include first responders with bachelor's degrees in the existing law. The exam fees would be waived for state teacher certification, and they would be eligible for a $4,000 bonus.
"In the next legislative session to build off our efforts to increase recruitment and retention of great teachers, we are proposing a recruitment program focusing on our heroes," the governor said. "We want them to bring their leadership and wisdom into the classroom."
In addition, "if they teach courses that have really acute shortages … they'll get another $1,000," DeSantis said. "Some of the areas where we've been short, is science, special education, and reading. Those are all very, very important."
Unanimously passed in the 2022 Florida legislature, SB 896 allows veterans who have successfully obtained a five-year temporary teaching certificate to be assigned a mentor teacher for two years to support them inside the classroom. During the five-year period, the candidate must earn a bachelor's degree to be eligible for a full professional certificate, but will not be able to teach a subject area where a master's degree is required.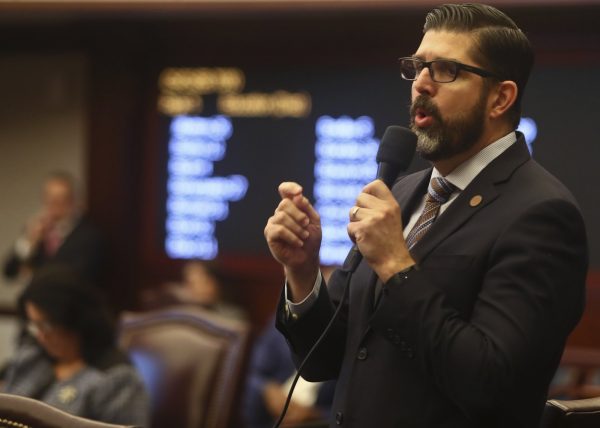 There are two other proposals DeSantis wants implemented—a teacher apprenticeship program and a scholarship program to help high school teachers obtain a master's degree in order to teach dual enrollment classes at their school. Dual enrollment allows high school students to take college classes while they are still enrolled in high school.
"I believe that the teachers that become great teachers don't become great teachers because they're sitting in some university lecture hall, listening to some professor bloviate," the governor said. "I think what makes a teacher great is actually being there doing it; watching experienced teachers and see what they do that works."
The teacher apprenticeship program will allow Floridians who have an associate degree to obtain professional experience in the classroom under the guidance of an experienced teacher or mentor.  During the two-year mentorship, the candidate will complete their bachelor's degree requirements.  The mentor will also receive a $4,000 bonus.
Currently, high school teachers also have the opportunity under the third leg of the governor's plan to obtain a master's degree in order to teach dual enrollment courses.
During the 2021–2022 school year, DeSantis estimated more than 92,000 Florida students took advantage of classes that gave them college credit at no cost.
"Students typically have to travel between the high school campus and the college campus, which is not always the easiest thing to do—especially in rural communities," DeSantis explained. "This will expand dual enrollment opportunities for students because they'll be able to get college credit without even having to leave their high school campus.
He said the scholarship program will help teachers cover the cost of tuition fees and books for their master's level courses as well as the "enticement" of expanding the teacher's horizons.
"This will be a win for the students as they'll have more opportunity, but also a win for the teachers and their professional development," the governor said.
It "expands Florida's existing programs that help our veterans take their talents to our schools, and it will help Florida remain a national leader in education."
Florida Commissioner of Education, Manny Diaz Jr. estimated that there are 1.7 million veterans currently living in Florida, and the governor's initiatives will "bring new pathways to teaching and will positively impact Florida's students."
"Veterans and servicemembers can now work toward their full professional certificate while imparting their unique knowledge and valuable experience in the classroom."
Diaz explained that first responders have qualities that cannot be taught.
"They have discipline, they have commitment, and they're ready to serve" he said. "We can provide mentors and assistance to make sure we enhance the tools in the classroom, but they come with those skills that are ready-made and we can't teach."
The mentorship program described by the governor is priceless in Diaz's estimation.
"I can tell you from my experience, coming out of college, when I walked into that classroom [and] was handed the keys and the textbook," he recalled. "There's nothing in any book or any professor can teach you that you're going to really realize until you face that classroom with the students."
Sheriff Chris Nocco of Pasco County said that as a parent, he could not think of anyone more qualified to be in a classroom than a first responder.
"How great would that be … first and foremost, we talk about public safety issues, and at a time where violence and critical incident are going on," he said to a receptive crowd.
"I can assure you as a parent, I'd be happy to know there was a former first responder there."